Large Tactical Backpack – Exclusive Professional Buyer's Guide for 2022
Backpacks are an essential tool for soldiers, hikers, and avid long-distance travelers. However, with numerous features to choose from, you may find it challenging to select a large tactical backpack suitable for your needs. Here, we provide you with the ideal buyer's guide by explaining why this type of bag differs from others and guiding you in selecting the best model for you. We will also discuss the features of different materials used in making tactical backpacks to help you make an informed buying decision.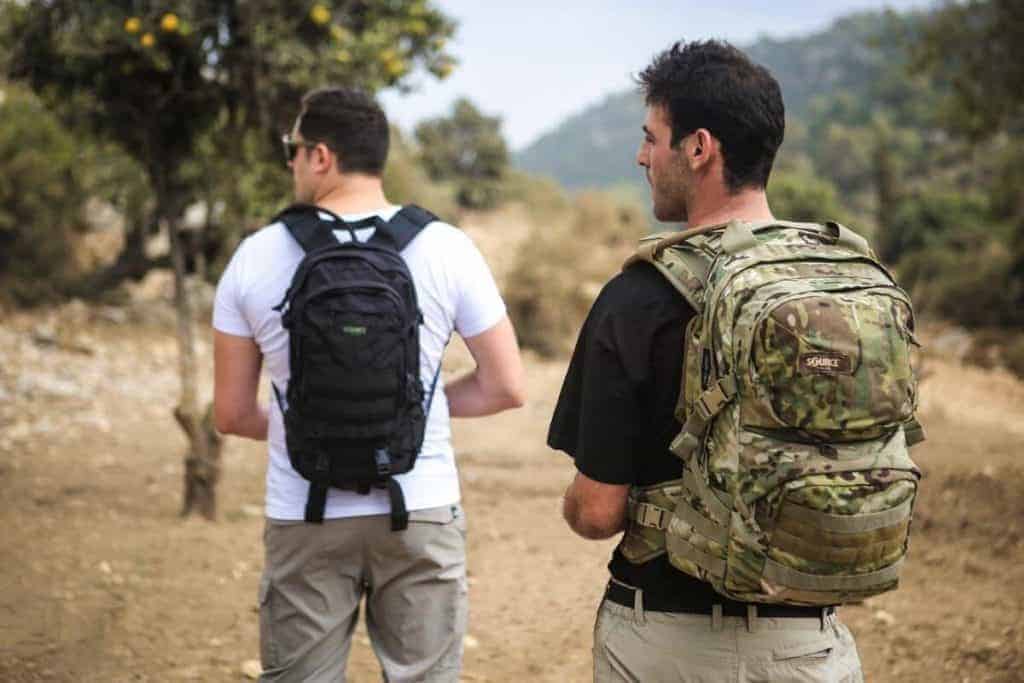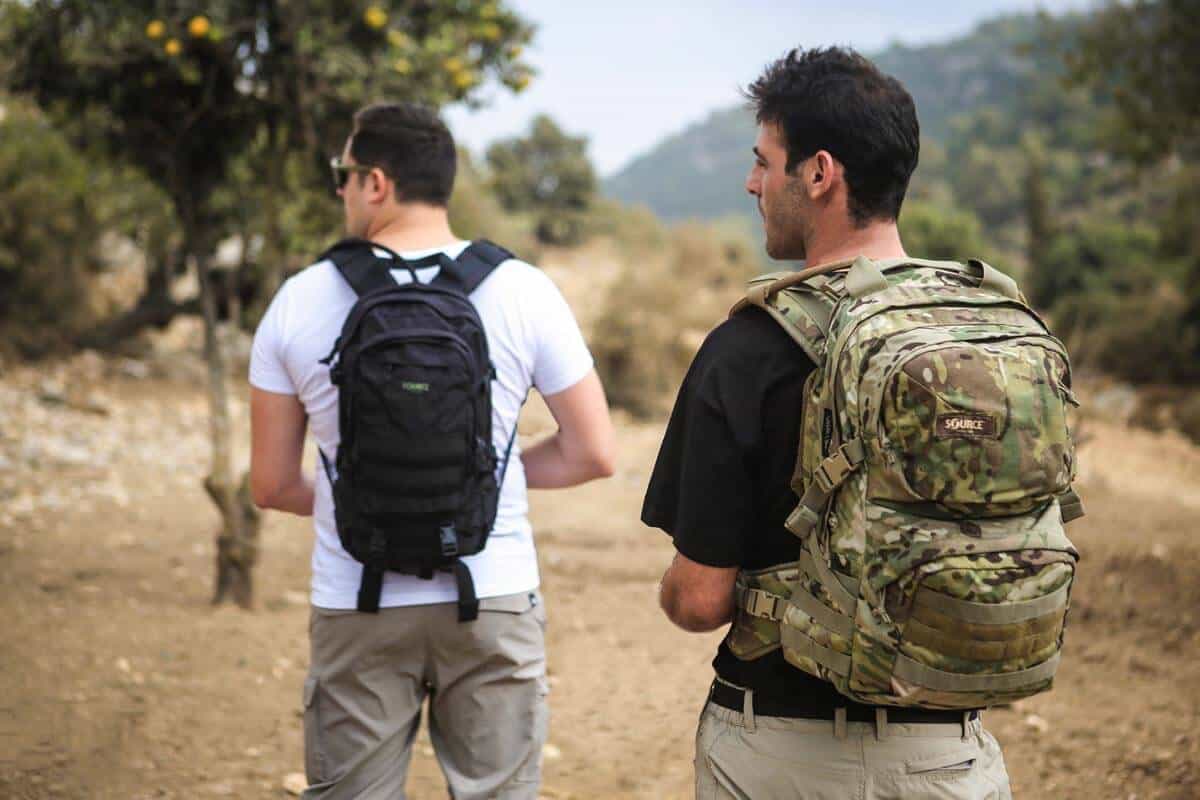 What Makes a Large Tactical Backpack Different?
Large tactical backpacks are popular for their convenience and a broad range of possible uses. They also have unique features that differentiate them from smaller models and other types of bags. Here are some of the aspects that make large tactical backpacks different.
Compartment Size
Large tactical backpacks have bigger compartments than other models, which allows them to accommodate a lot of luggage. In most cases, the compartment size may range from about 35 to 45 liters. In some cases, the bag may also have an expandable pull string storage for more space. Still, you can find an extra-large tactical backpack with a capacity of approximately 150 liters suitable for a multiple-day trip.
Number of Pockets
While most typical large bags can accommodate many things, it may be challenging to locate a specific item. Luckily, large tactical bags have numerous pockets of different sizes to facilitate organization. Depending on the things you intend to carry and the nature of your trip, you can opt for a model with five to seven pockets. Here you can place various items such as:
A fire-starting kit
Flashlights
Defense items
Communication equipment
Hydration Packs
Staying hydrated allows your body to remain stable in hot temperatures and improves your overall well-being. However, you may find it hard to access a water bottle when carrying a large bag. Unlike regular backpacks, tactical models come with hydration bladders and a drinking tube. Some also have expandable side pockets where you can place your water bladder, with an opening for your drinking tube.
MOLLE
Another unique feature differentiating large capacity tactical backpacks from others is Modular Lightweight Load-carrying Equipment (MOLLE): This system involves using nylon webbing and loops to create a space to attach pouches and equipment. Since these loops are wide and located close to one another, they allow even distribution of weight. The MOLLE webbing material is also durable and tough enough to accommodate heavy items.
When Can You Use a Large Tactical Backpack?
Tactical bags have unique features that make them ideal for many purposes. For example, you can use a large military tactical backpack for a one-day trip during your deployment. You can also use it to carry water and safety equipment when hiking or cycling.
When leaving your home or base-camp for several days, you will need to carry more items that may not fit into a regular size tactical bag. In this case, you can get a 3-day tactical backpack with a larger compartment, to accommodate all things you need for the trip.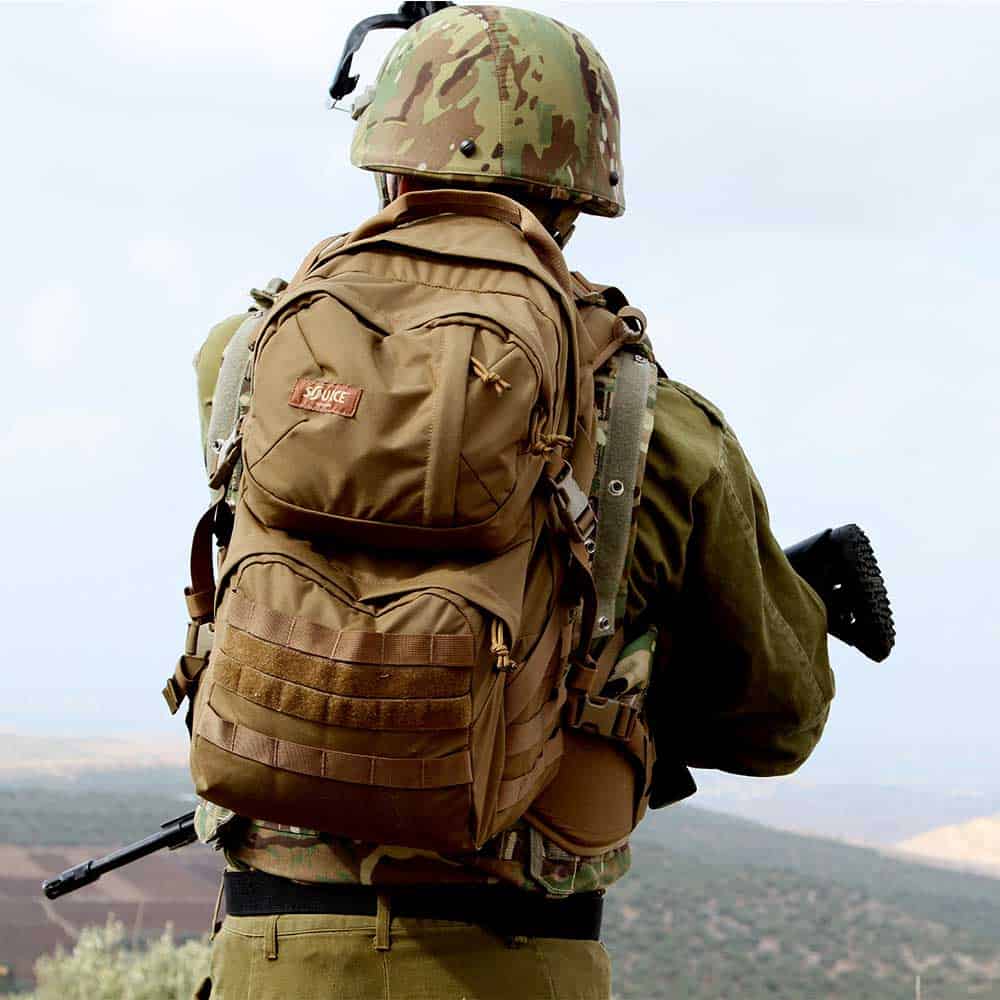 What Material Are Large Tactical Backpacks Made From?
When shopping for the best tactical backpack, it is crucial to consider the material used to make it. Most military grade models are made from tough and durable fabric, yet there are notable differences. Hence, it is advisable to assess the features of each material, including its strengths and weaknesses, before purchasing a backpack.
One of the materials commonly used in the manufacture of tactical backpacks is nylon. This fabric is light, which makes it ideal for making massive bags lightweight. It is also flexible and strong enough to carry heavy items for an extended period without tearing. However, nylon tactical backpacks are not waterproof and can expose your items to damage. Nevertheless, the material dries within a short time and is resistant to mold and mildew.
Another fabric used to make tactical backpacks is Cordura. This material is a dense nylon fiber with a unique fabric structure that repels water. In some cases, it may include a small percentage of cotton for improved wear resistance. Since Cordura undergoes several stages during processing, bags made from it are firm and durable. Besides that, they are resistant to chemical elements and do not form scuffs after prolonged use. However, they may take time to dry and age when exposed to sunlight for extended periods.
How to Select the Right Tactical Backpack Material
The material you select for your backpack can determine its lifespan and usability. For example, when you choose a nylon one, you will carry a lighter load but expose your items to potential water damage. On the other hand, using a Cordura 35l tactical backpack will improve durability, but you may have to wait longer for the bag to dry after washing.
Since all other materials used to make tactical backpacks, such as polyester and canvas, have pros and cons, it is crucial to consider various factors when selecting a bag. For instance, if you travel often and bring along heavy items, you can go for one made of Cordura. Alternatively, if you use the backpack to carry bulky items that are not prone to water damage, you can get a nylon or polyester model.
Which is the Best Large Tactical Backpack?
The best large military backpack may depend on how you intend to use it and what you will carry. However, some models have features that make them suitable for both official and recreational uses. An example of the large tactical backpacks we recommend is the Double D 45L.
Designed with the environment surrounding military work in mind, this backpack model is ideal for multiple uses. It has a wide range of features to distribute weight evenly and allow easy movement. Some of these aspects are:
A rotating boomerang-shaped hip belt
Angled top lid
Contoured shoulder straps
Compression straps
Other than that, the 45l tactical backpack has a top pouch that you can use to organize smaller items like notebooks and pens. It also has a water reservoir compartment and comes with a 3l bladder and a tube route that can go over the right or left shoulder. Since the hydration compartment is insulated, it will prevent your water from getting hot, allowing you to quench thirst. Another feature of the Double D backpack is that it has two buckles that you can use to mount a radio. It also features horizontal straps that help secure and stabilize the radio during movement.
Carrying a backpack for an extended period can be exhausting and sometimes cause shoulder and back pain. Luckily, with the 45L Double D model, you can bear significant weight for more hours with minimal discomfort. The tactical backpack has a suspension system with T-shaped aluminum bars. This feature helps to stabilize the bag as you move, which in return boosts load-bearing performance. Other properties of the Double D backpack are MOLLE webbing, expandable front pockets, and zipper pulls for easier access.
Contact Source Tactical Gear Today for a Large Military Backpack
Large tactical bags are available in many colors, designs, and compartment sizes. At Source Tactical Gear, we manufacture different types of military equipment, including large backpacks and hydration bladders. All our designs are durable, functional, innovative, and simple to use.
Since soldiers design our products, you can be confident that you will get a product with tested durability and functionality. So, if you are looking for a high-quality tactical backpack, start ordering now!