Concept, Features & Handling of SOURCE Virtus Soldier System
The Source Virtus System was developed in the context of the UK MOD tender for the next generation UK infantry load carriage and personal protection system. After years spent on the concept, development, and design of this innovative Soldier System, the equipment was tested in a series of tests and trials to assess soldiers' enhanced performance.
From the UK MOD Press release
In January 2015 SOURCE signed a multi-year contract with the UK MOD to supply integrated personal protection and load carriage systems to the British Military. The awarded contract is for a firm term of three years and can be extended, by the UK MOD, until 2026.Major General Paul Jaques, Director Land Equipment at MOD Defence Equipment and Support (DE&S), said: "DE&S is committed to supporting the Armed Forces by providing them with a high standard of equipment and this new personal protection and load carriage system meets that requirement. In challenging troop trials, we found it performed exceptionally well and was a step-change improvement on the in-service equipment. Key is the integrated nature of the system that enables the soldier to operate far more effectively."The Virtus system is a comprehensive system of integrated
combat and protective gear
developed by Source to cope with the challenges and needs of the modern infantry soldier on today's battlefield.
Concept
Virtus forms the core of a scalable soldier architecture. Designed as a system to address the challenges of the current and future operating environments. Viewing the "soldier as a system" enables an integrated approach to reduce the cognitive physiological and mechanical impact on the individual. Enhancing the operational effectiveness of the combat infantry.
Virtus Scalability
From "just in case" to "just enough" – the Soldier System allows the soldier to choose and combine the components of his combat gear according to the threat level and mission.Scalability to threat and mission is one of the most significant features of the Soldier System. The possibility to adapt the protection level and equipment components to the requirements of an operation presents a major breakthrough when it comes to enhancing the performance and reducing the burden of the modern infantry soldier.
Scalability per Threat: The Scalable Tactical Vest STV
The Scalable Tactical Vest is scalable from a concealed vest to a full-up tactical vest with extremities protection.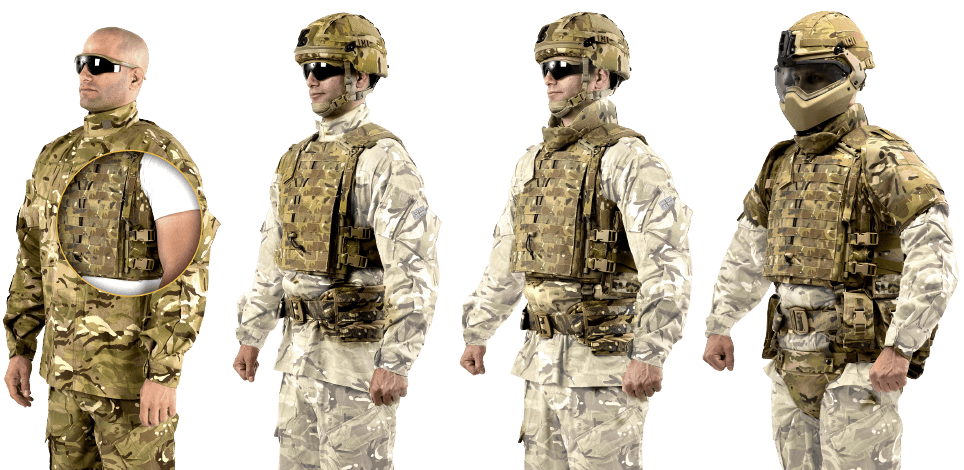 Scalability per Mission: Load Carry and Tactical Accessories
The compatibility of the components of the Soldier System across various levels allows the soldier to choose his equipment according to the length and nature of the mission.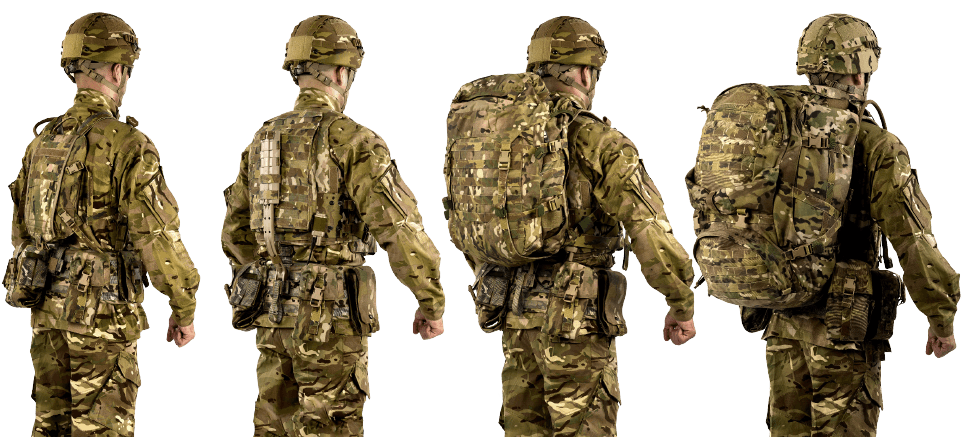 Videos Featuring the Virtus System
Watch these videos and more on our
Tactical  Gear YouTube Channel
to get an impression of the versatility and functionality of central Virtus Soldier System components.