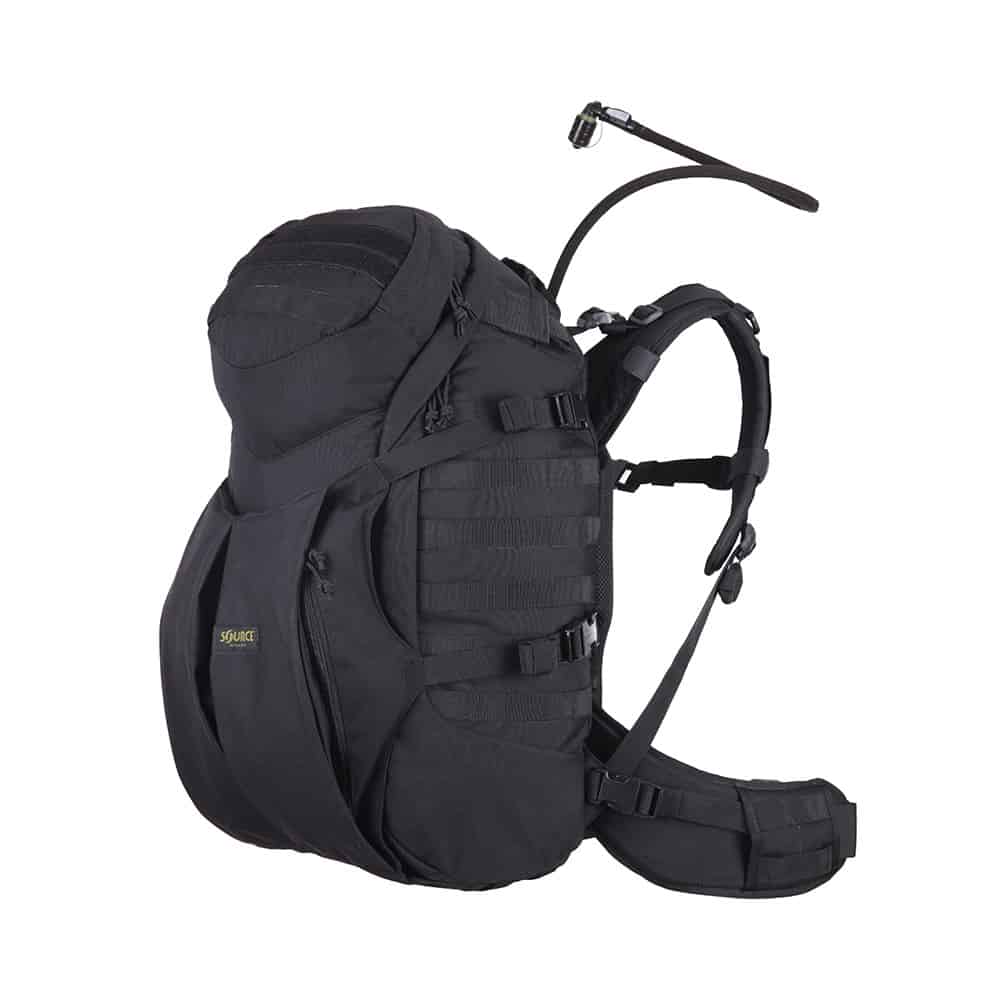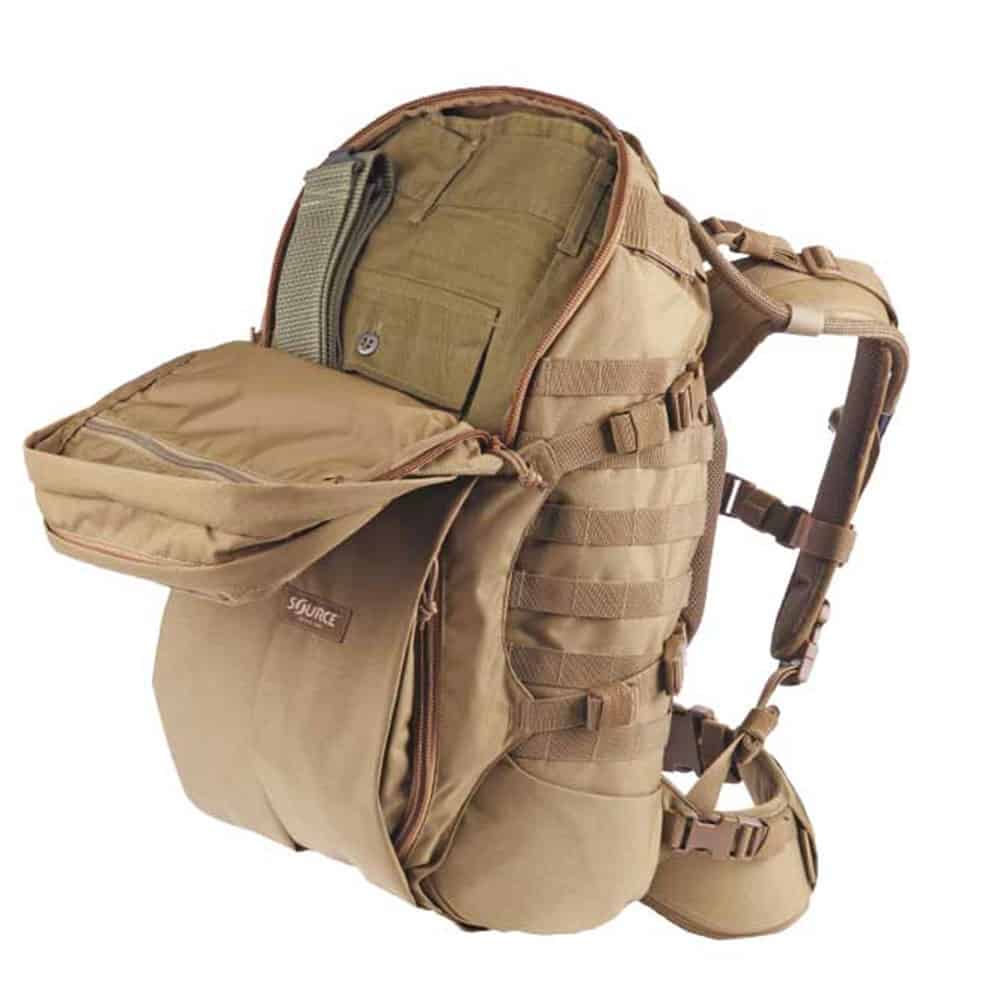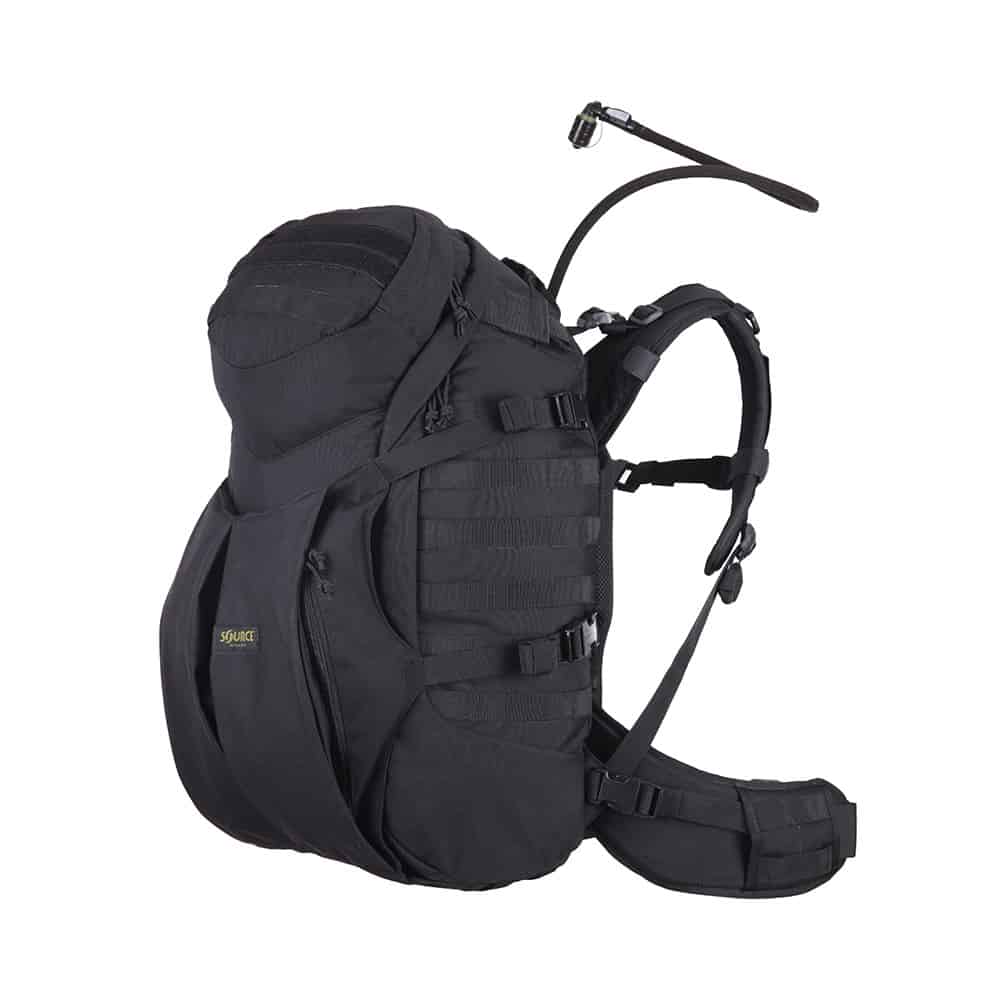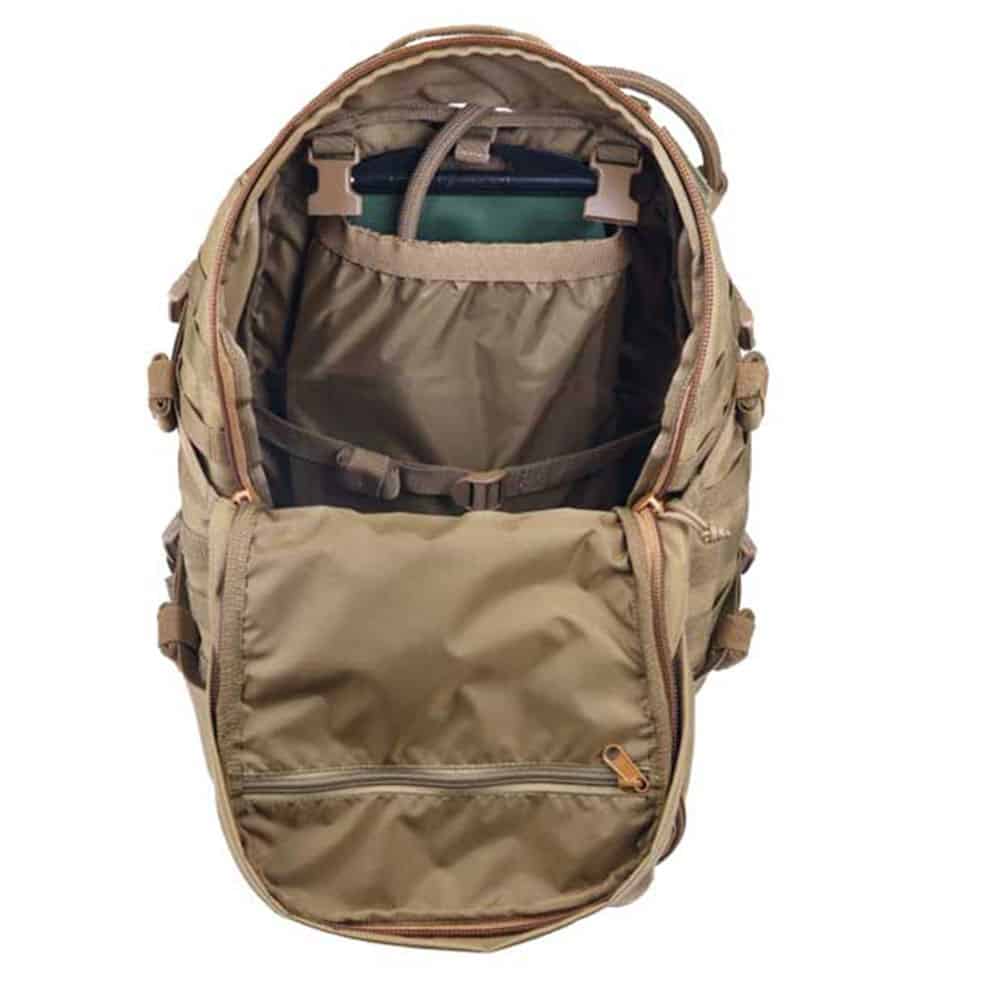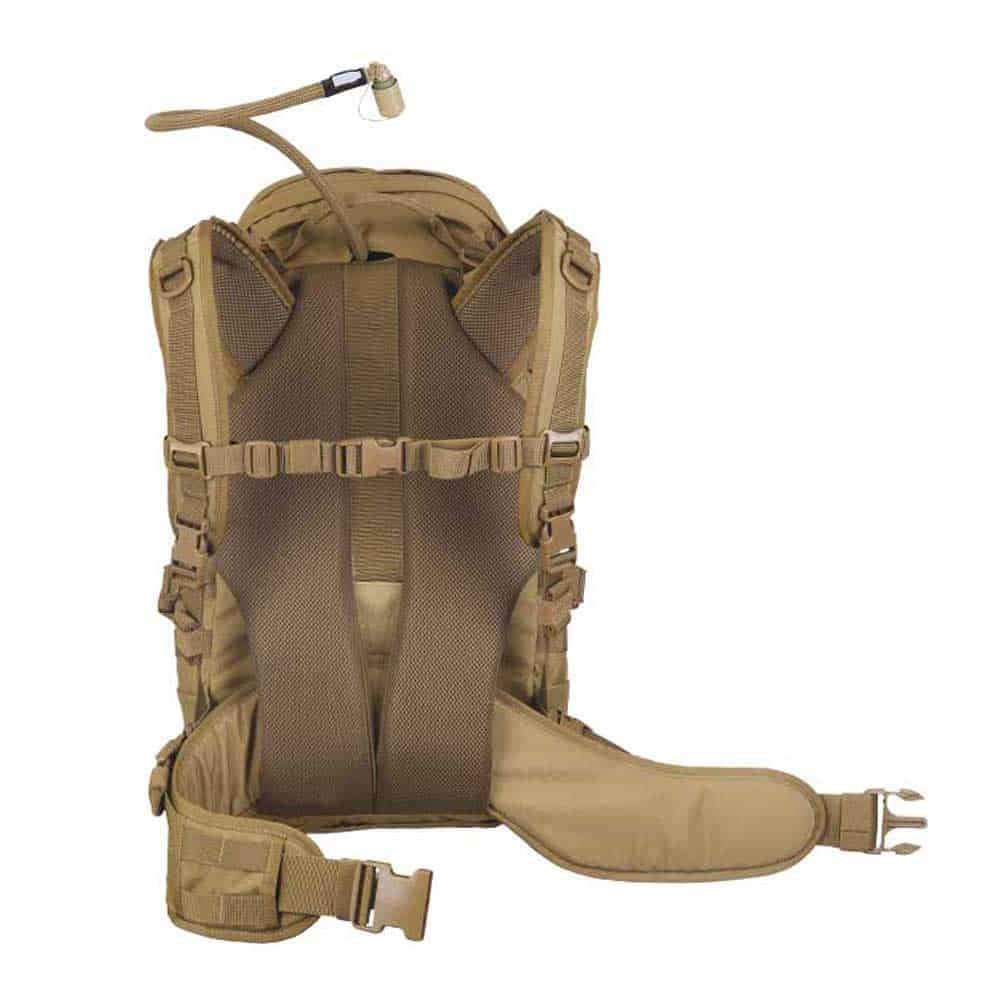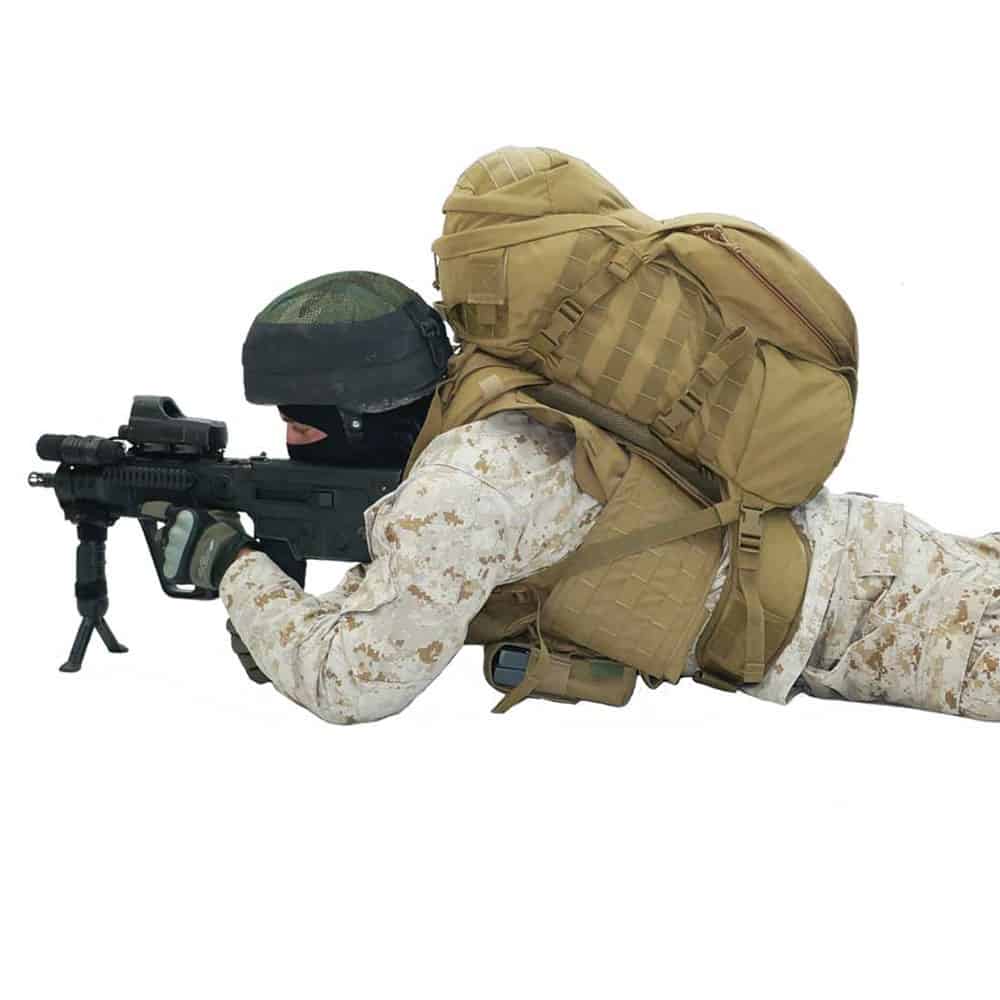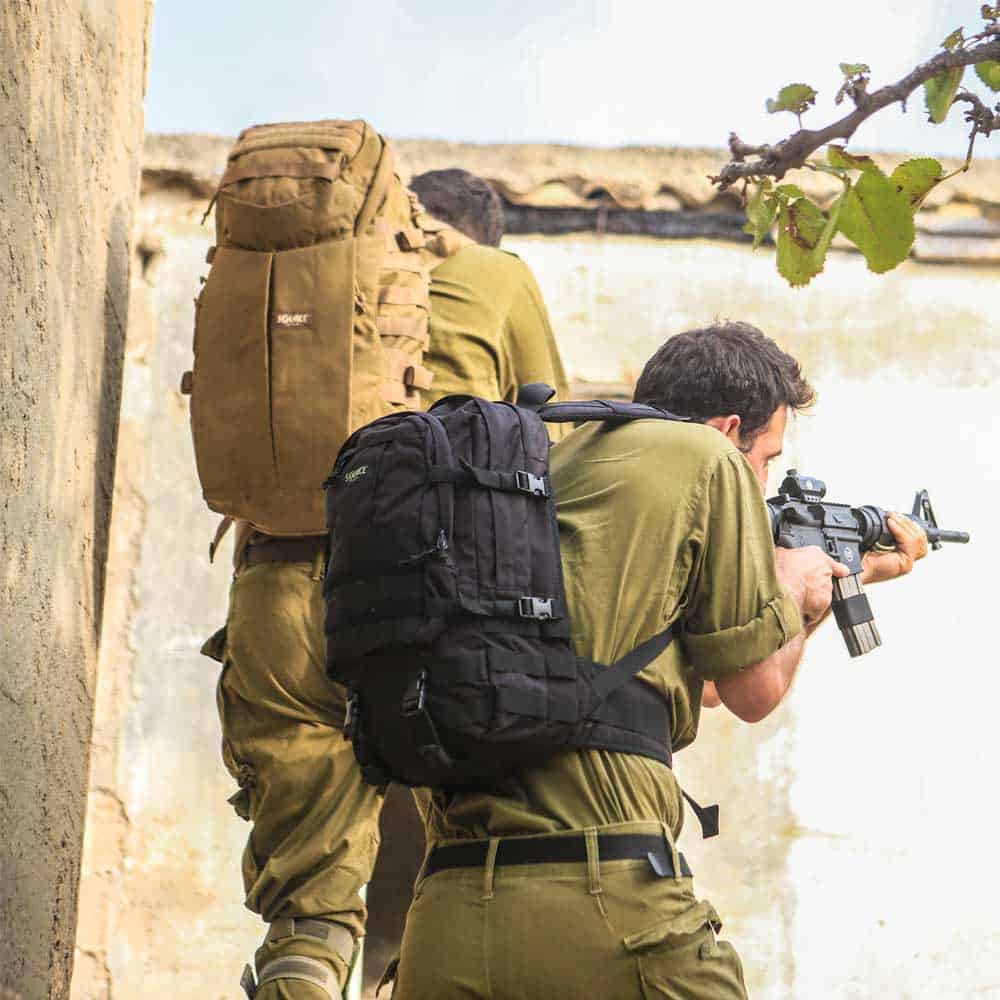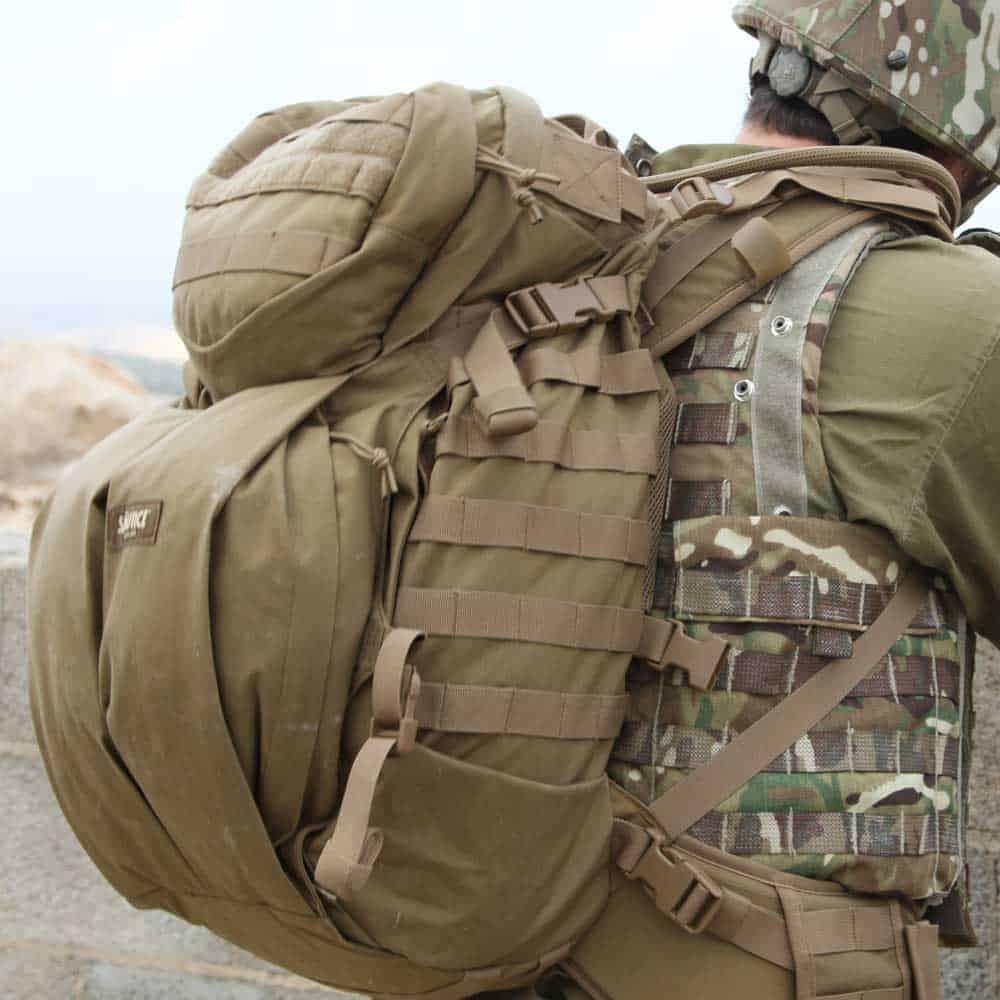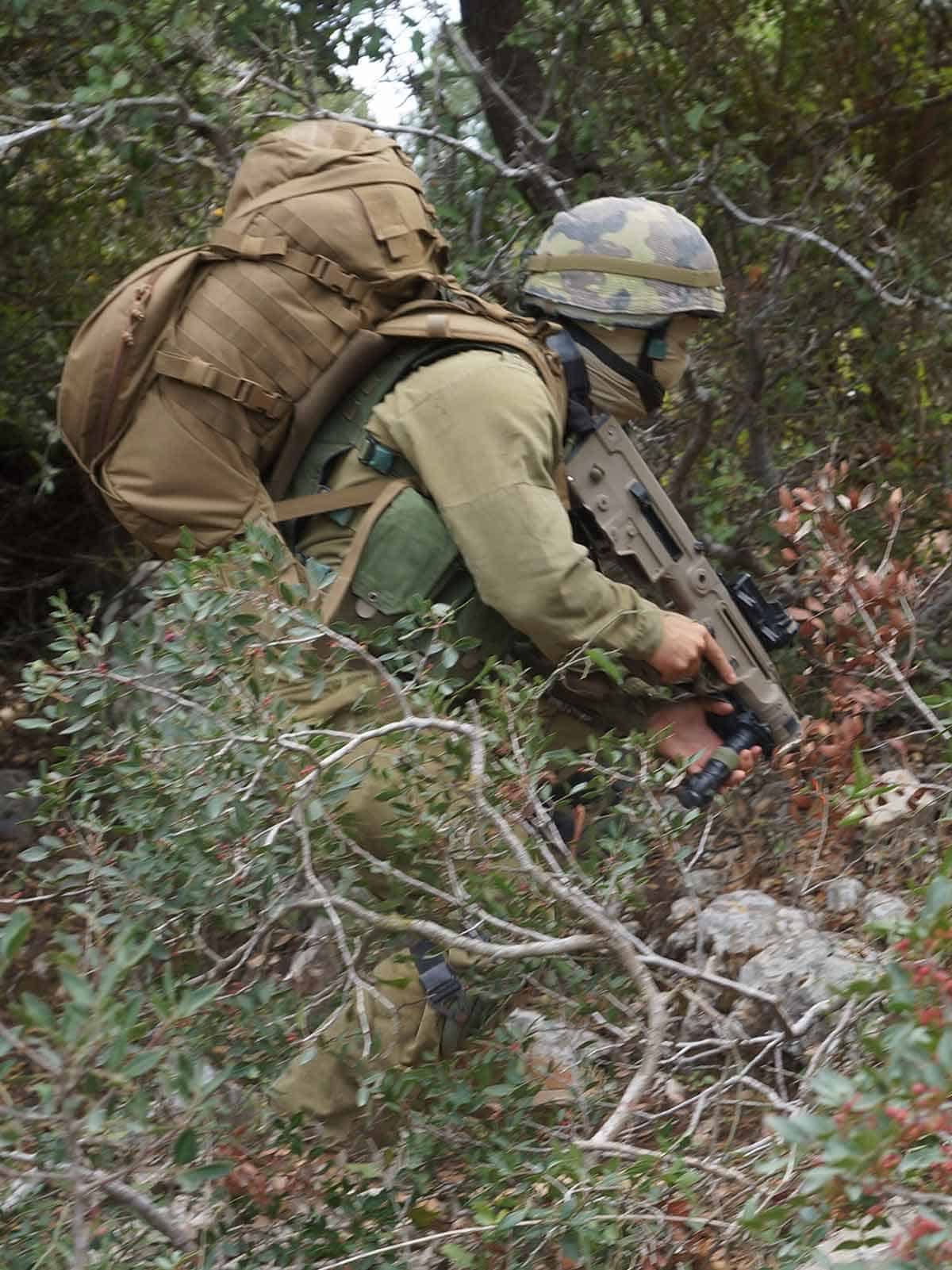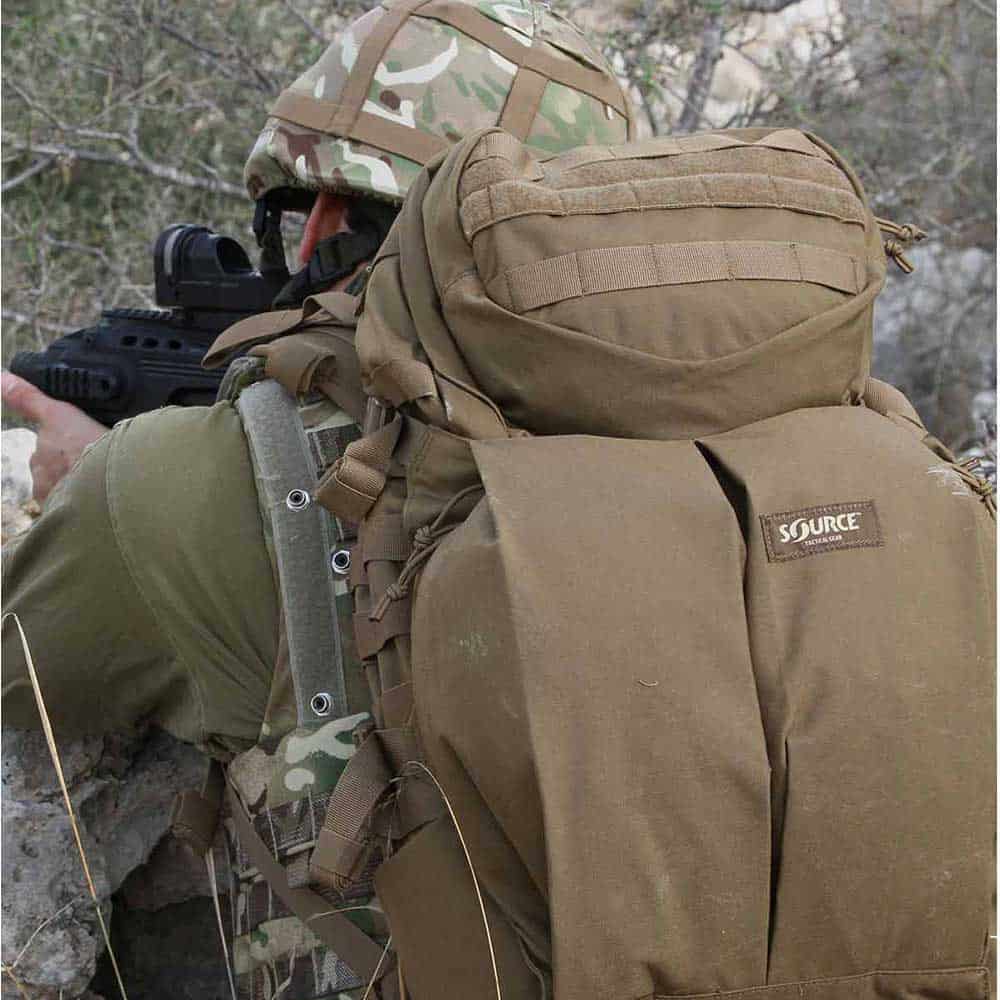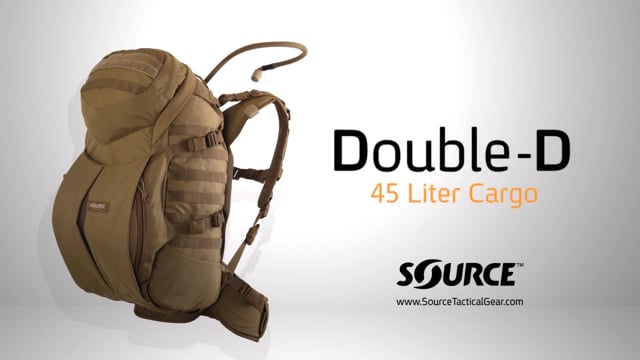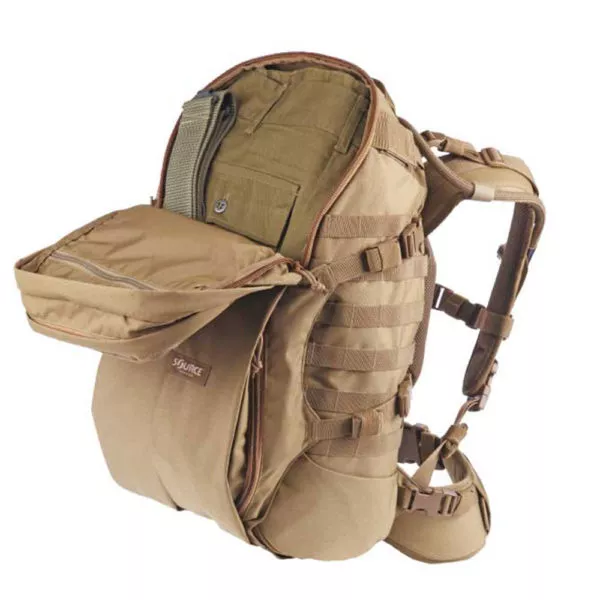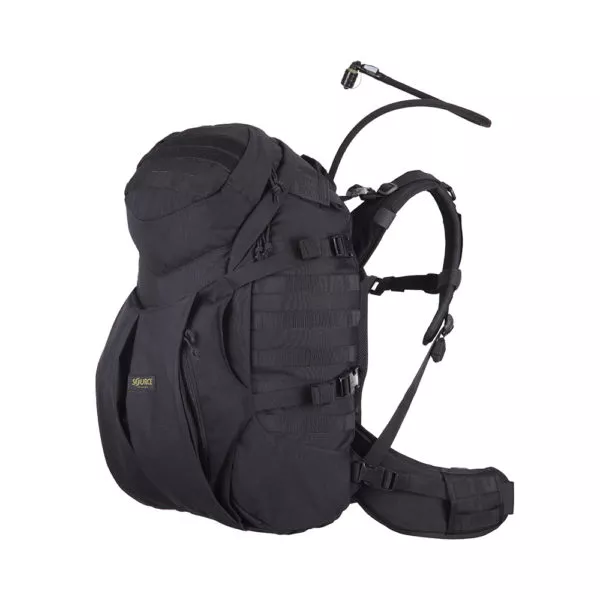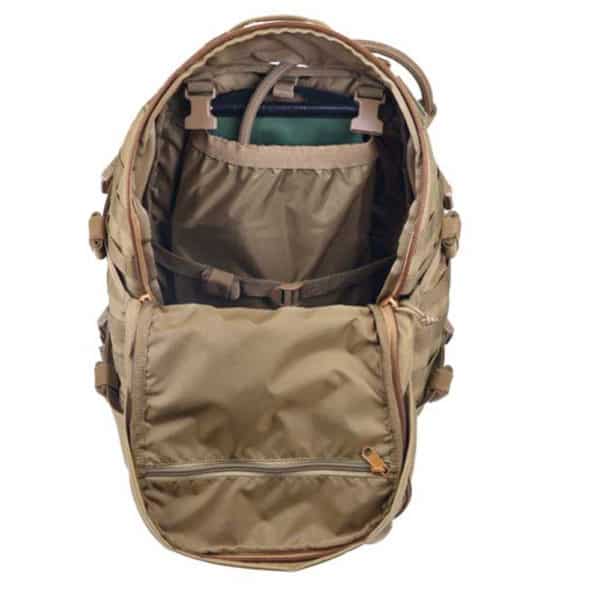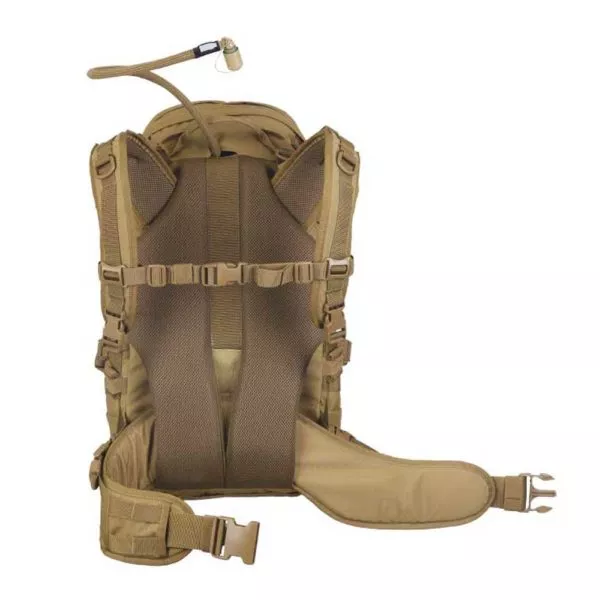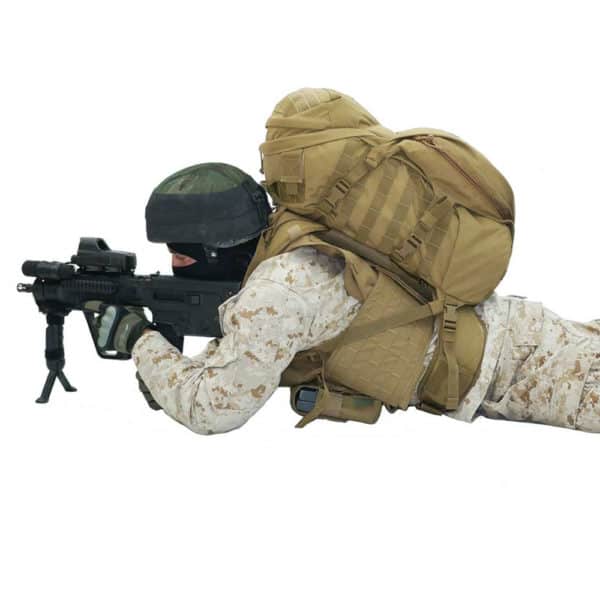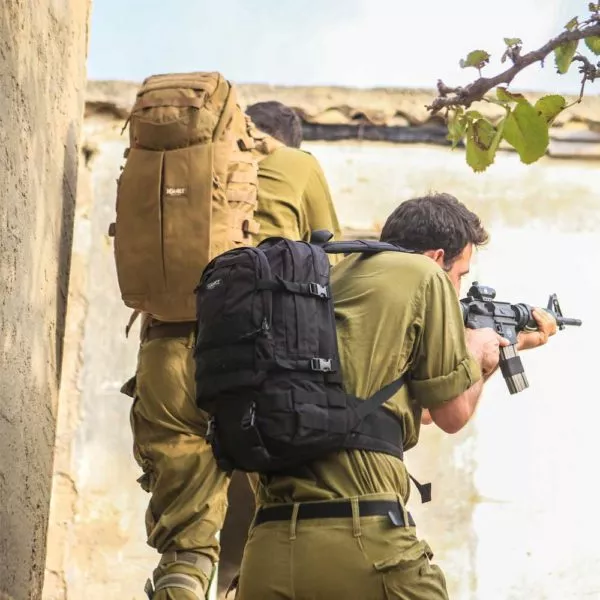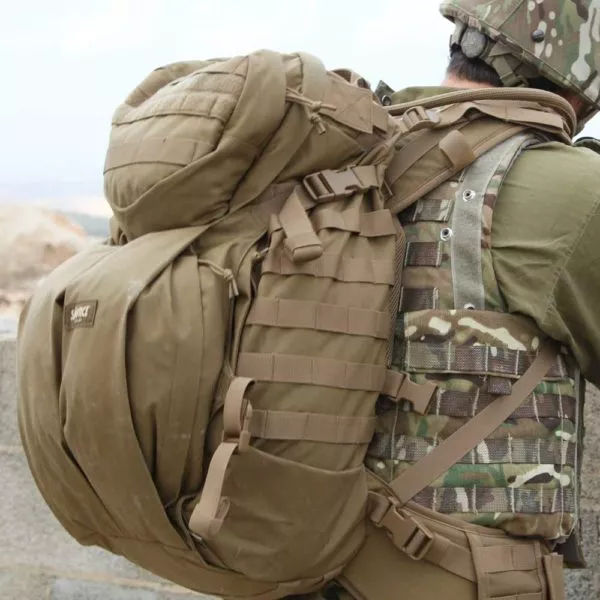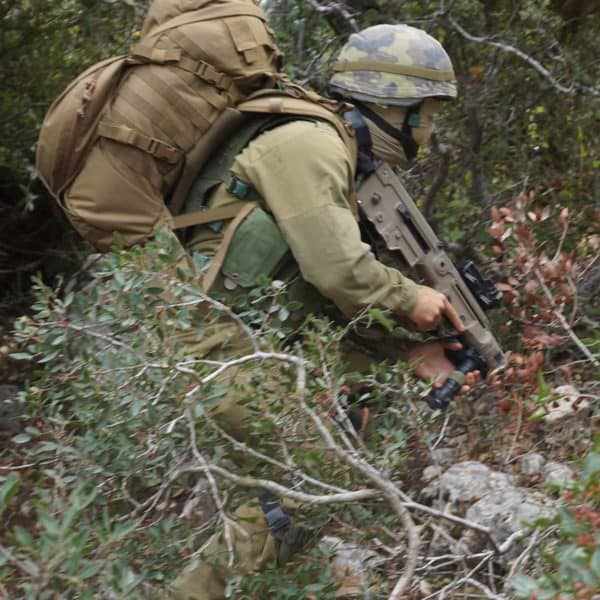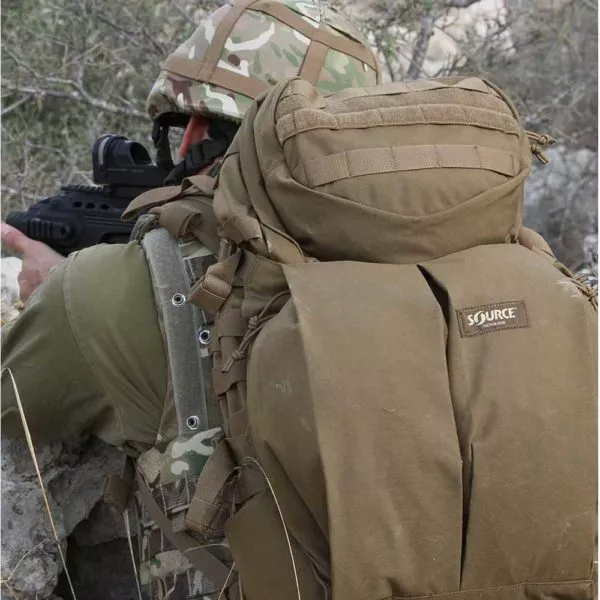 Double D 45L |
Tactical Backpack |
3L Hydration Bladder
The Double D 45L tactical backpack offers smart, spacious compartments with its unique transporter flap with two vertical front pouches. Plus, there are plenty of straps and MOLLE webbing to attach a helmet, tools, and wet or dirty gear on the outside of the pack. This backpack will give you comfort, support, and easily accessible compartments for all your outdoor adventures and missions.
Information
Cargo Load Capacity
45 Liter
Reservoir Capacity
3 Liter
Drinking Tube Length
94 cm / 37 in
Drinking Valve
Storm Push-Pull Valve
Exterior Fabric
Air Mesh+
Cordura 1000
Cordura 500
PES mesh
Liner Fabric
Nylon 210
Nylon 420
Insulation
EVA foam
PE Foam
Adjusting Straps
Heavy Duty PP
Dimensions (cm)
36 × 25 × 60 cm
Description
The Double D military backpack is designed for action in the field. It ensures the soldier's agility and mobility with it's many features. Such as the contoured shoulder straps, a rotating boomerang-shaped hip belt for easy body armor integration, compression straps, and an angled top lid to ensure free head movement also when operating in a prone firing position.
For pack stability and enhanced load-bearing performance, the Double D features a Suspension System with "T" formed aluminum bars. High-quality materials ensure the protection of the gear stored and durability against tear, abrasion, and rough usage while keeping the backpack as light as possible. MOLLE webbing on the front and sides of the backpack makes the attachment of gear, tools, or helmets convenient and easy, and the 3D mesh provides comfort and coolness of your back.
The WLPS Low Profile 3L bladder is included in its insulated hydration compartment. This Source backpack is designed for ballistic vest integration,
Backpack Compartments
38L main compartment with zippered inside pocket.

Generous top lid compartment for quick over-arm access to small essentials while on the move.

Two 3L expandable front vertical pockets in the transporter flap.

Wand side pockets for use together with compression straps to hold long items.

Top pouch with internal organizers for admin items (pens, notebook).

Water reservoir compartment for 3L bladder with central tube routing and hands-free drinking (over left or right shoulder).
Backpack Features
Angled top lid with a 45-degree angle enables free head movement, especially while operating in the prone firing position.

The "boomerang" shaped removable Hip Belt with MOLLE webbing and Suspension System with T-formed aluminum bars allows for easy body armor integration without interference with body movement, while keeping the backpack close to the back of the user.

Radio carrier compatible: equipped with two 25mm buckles for mounting a radio holder carrier with an additional horizontal compression strap to stabilize the radio.

Radio and antenna slots for easy antenna routing with an additional slot for cable routing.

Transporter Flap for external storage of helmet, jacket, etc.

3D mesh on back and shoulder straps for enhanced ventilation and heat transfer.

Contoured shoulder straps pivot and adapt to shoulder width, also when worn with a vest, armor, or jacket.

D-Loops on the shoulder straps for the attachment of smaller items.

Zipper Pulls on all zippers for easy handling in the dark or when using gloves.

Adjustable reinforced sternum strap prevents shoulder straps from digging into armpits and evens load distribution.

Inside straps and D-loops keep equipment in place.

Side straps keep gear stable and close to the center of gravity.

Top stabilizers keep the load stable and close to the back.

Top-load and front access to cargo for top or suitcase-style loading or suitcase-style packing/unpacking.

3 rows of MOLLE webbing on the front of the backpack, 6 rows of MOLLE webbing on the sides of the backpack.

Elastic retention loops keep loose strap-ends from dangling.
WLPS Low Profile Water Bladder
The Double D includes a SOURCE 3L WLPS low profile hydration bladder with tough 3 layer construction featuring Glass-like™; Taste-Free™ Grunge-Guard™ antimicrobial material.
Leak-proof Widepac opening.

Self-sealing SQC™ connecting the drinking tube to the bladder: simply disconnect the drinking tube when inserting/refilling the bladder.

Drinking valve connected with quick coupling allows quick attachment of accessories like SOURCE UTA Rapid Refill Adaptor, Helix Valve, or filters without spilling.
Customer Reviews
10/09/2021
Okoi J.

CH
Double D 45L Review
Great piece of kit. Very comfortable and well thought out design. The hydration system is fantastic!
07/06/2021
JC

United States
Double D
Probably the nicest pack I've owned and smartly designed. For a 45L pack, it can haul a lot of gear or compress a little gear into a tight package. For about the first week I kept finding this detail or that, and each makes for a custom fit (at first I wasn't so sure it would fit my frame well but got it dialed in without too much bother, very adjustable). I also appreciate that it doesn't look like it got puked on by 10 miles of MOLLE webbing and sheets of Velcro...every ounce serves a purpose. The photos don't do justice to the vertical pockets on the jacket panel, perfect for a small stove and fuel, shelter cloth, light sleeping pad, and other necessities. With a medium load it also fits well in most US commercial airline overhead bins which isn't possible for lots of comparable packs. As I don't carry a radio, I'll probably modify a pouch for a small first aid kit to clip to the internal 25mm buckles (I have a Voodoo brand rectangular bag that should work well). I think that a line of accessories from Source to fit those buckles would be a nice option.
Related Products