Best Tactical Gear for Civilians: 3 Things You Need
Putting together a solid set of top tactical gear as a civilian can be challenging. This isn't the military where the brass decides for you what you need, so you have a lot of decisions to make. There are endless choices to pick from, whether it's different brands, different weight restrictions, and a host of different features. So for those of you getting started, here's a primer on putting together a set of tactical gear that will suit your needs and tell your fellow ruckers/backpackers/airsoft teammates that you're serious.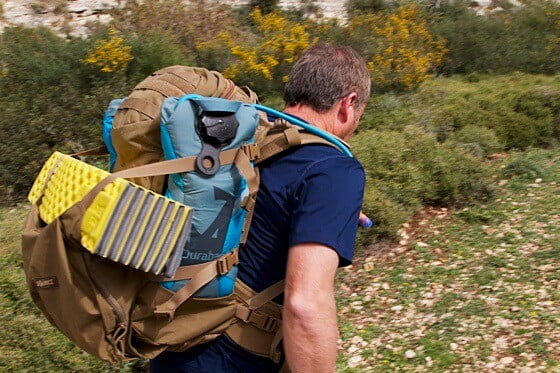 1. Tactical backpack
What are you carrying? That's the first question to ask yourself when choosing a backpack. Will it be large or heavy equipment? Enough provisions for days out in the backwoods? Or is it just a few clips of spare ammo and a hydration bladder? Tactical backpacks come in a variety of sizes, so make sure you pick the backpack that will hold everything you need. Other things to look out for are comfort–how comfortable is this bag to carry around for long amounts of time or during a tough run?
You want to make sure the storage in the backpack is optimized to your needs. Do you want a lot of small pockets to carry various small items? A large pocket for a sleeping pad? A great feature in any tactical backpack is MOLLE web, which will allow you to attach more pockets and other add-ons within hand's reach as needed (read more about MOLLE here).
The color of the backpack is important too–bright, attention-calling colors are generally a bad idea. Instead go for more muted colors that match your surroundings, whether that's black, sandy brown, drab olive, camo, etc.
Red flags to look out for in tactical backpacks:
Straight shoulder straps. This is your first clue that the backpack was built for form over function. You want curved shoulder straps for a more natural ergonomic fit. Another design you might see is a one piece strap that connects in the back over your shoulder blades. This is a good option too, and it's there to increase the bag's durability.
Heavy-load backpacks without a hip strap and/or frame. If your load is going to be over 20 pounds, you'll want a hip strap and/or frame to help distribute the weight between your shoulders and your core for carrying. If the huge backpack you're looking at has no added frame or hip strap for this purpose then it likely isn't a good one.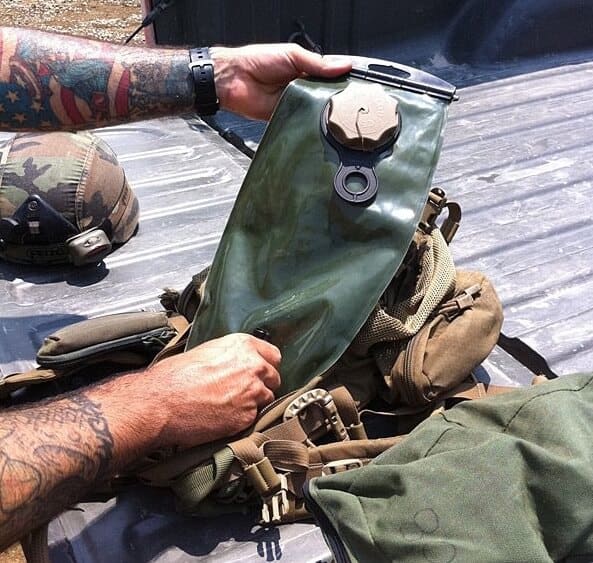 2. Hydration Pack/ Hydration Bladder
No matter what you're setting out to do, good hydration will decide whether or not you succeed. The first thing to decide on when picking a tactical hydration option is size.
Hydration bladders, or hydration reservoirs, generally come in sizes between 1-3 liters, and your planned activities will help you choose which is best for you. 1 liter is good for a shorter hike or timed activity–like one hour playing airsoft. 2 liters is great for longer and more strenuous activities and in general gives you the best balance of weight to water supply (2 liters comes to about 4.5 pounds for reference). 3 liters is only necessary for long-term trips or backpacking in locations where there is little to no water for refills.
Once you've picked the amount you want to optimize the water bladder to suit your needs. It should have tubing so you never have to reach for your water, instead taking sips whenever you need. If you're planning activities in the cold, your hydration bladder should be optimized for that, with insulation to prevent the water from freezing. Other features you can get are bite valve on/off switches and quick-disconnect tubing.
Your tactical backpack should come with a pouch or pocket to place your hydration bladder, but if it doesn't, or for whatever reason you want to attach it externally, you will need a tactical hydration pack to hold the reservoir. The pack should be made of strong material to protect your water supply and we recommend a pack with MOLLE so you can attach it to a larger pack, as well as attach smaller items to the hydration pack itself. Good hydration bladder manufacturers will offer a pack option to put them in.
Red flags to look out for in tactical hydration:
High Maintenance. Hydration bladders should not require a ton of cleaning in order to keep them free of bacteria and mold problems. Check the listed features and customer reviews to ensure the hydration bladder you want performs well without poisoning the drinker or requiring hours of maintenance.
Weak Materials. Your hydration bladder should be made of sturdy material that isn't easily broken or punctured. Nothing will stop a ruck in its tracks quite as well as your water reservoir breaking–the water will soak the rest of your supplies, causing damage and discomfort and more critically: you'll be out of drinking water.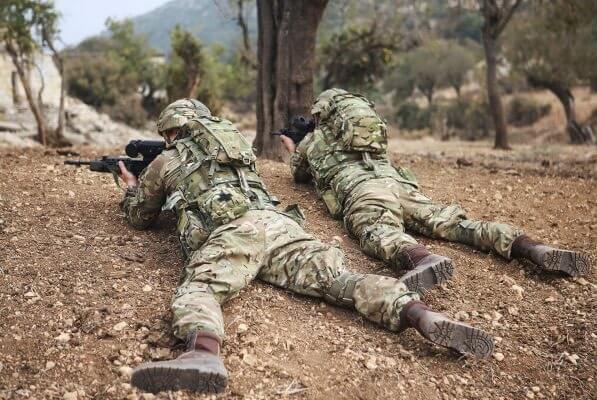 3. Tactical Pants
Tactical pants are too often overlooked as a vital piece of gear. They are not like average pants and top to bottom are designed to suit your next hardcore adventure. They come in a variety of styles, whether overt–to announce to the world that you're armed and ready; or covert–a good option for concealed carry; to tactical jeans–great for casual wear but optimized for hardcore use.
A good pair of tactical pants will likely fit differently than your standard pants–cinching higher up to make room for a tactical belt and allow you to carry more weight without bringing them down, and will be designed for function over form, though you can also find them in many attractive styles and designs if that is your thing. Tactical pants come with every type of pocket imaginable, whether disguised, cargo, knee–pad pockets, as well as specialized pockets for spare ammo magazines, knives, and even your smartphone.
Make sure your tactical pants are a good fit. Some companies run smaller or larger than standard sizes, so you won't know for sure until you try them on. A standing fit isn't enough either–run the pants through some basic exercises to stimulate the activity you plan to do in them and ensure they won't inhibit your movement and the pockets can store your gear comfortably.
Red flags to look out for in tactical pants:
Form over function. Tactical-looking pants go in and out of mainstream style, with pants being designed for the casual wearer that mimic the tactical style, but don't offer any of the protections or durability of a real pair of tactical pants. Some hints that what you're looking at isn't the real deal are bright colors, a snug crotch or knees, pockets that close with buttons (a vintage military look that is long outdated), and a lack of belt-loops.
Too Heavy. Good tactical pants are made from a host of high-quality fabrics optimized for durability and comfort–often ripstop fabrics, and various blends of cotton, polyester and nylon, among others. The strong weave and multiple pockets/carrying options for pants means that you could end up with a pair of pants that are too heavy for you, and will inhibit your movements instead of easing the way. Do a test run with your chosen set of pants, with the pockets filled with your chosen gear to ensure that the current weight load doesn't wear you out or inhibit your movement.
A tactical backpack, hydration system and the right pair of pants will set you on the path toward having a great set of tactical gear–and lucky for you, you can purchase those items right here at sourcetacticalgear.com. Discover why our tactical gear is some of the most popular on the market for civilians, in addition to many of the world's top militaries.