Hydration Belts, Packs and Bladders – Runners' Guide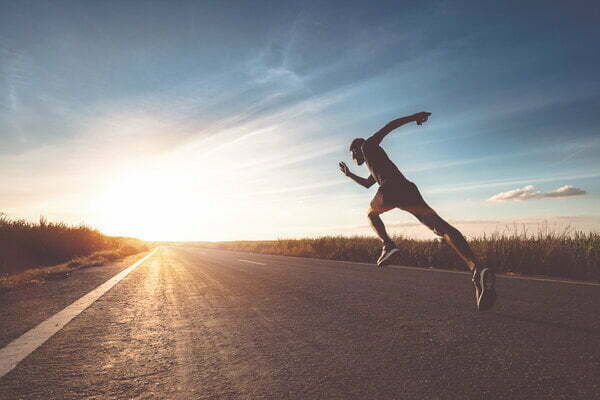 Whether you're an experienced long-distance runner or new to the running world, you have definitely come across the issue of how to stay hydrated during your run. Do you hold your bottle, which can be inconvenient and heavy, especially for longer runs, or do you try and go without, hoping to come across a water source on the way?
Luckily for you, there are several options of ways to stay hydrated during your run. This guide has covered the ins and outs of hydration belts, hydration packs, and hydration bladder belts.
What Are Hydration Belts?
Simple hydration belts strap onto your waist while holding 1-4 water bottles (around 500ml – 1 Liter of water). Yet many hydration belts can do a lot more than just holding a small water bottle: They offer space for your keys, phone, and a few small essentials to carry on your run, some even allow you to carry an extra layer or two as well. And a few models even come with a fitted hydration bladder (more below). 
Hydration Running Belts – What's Important?
Water Capacity
Depending on the length of your run, you may require more or less water for your run. Choosing your belt that has the right amount of water-holding capacity for you is one of the first things to consider. Some running belts allow for 2-4 water bottles to be held; others allow one big one or some allow just one small one – and some belts come with a tailored water bladder.
One advantage of the belts with a bladder is that it takes up only as much space as you fill it with water – once it's empty, the belt is super-light and takes up almost no volume.
Weight
Running belts will add weight to your waist, which can have an impact on your run. If you decide you want as much water as possible on you, this can get heavy and could drastically change your running pattern. It is important to consider the weight before choosing your running belt.
Adjustment and Fit
Most belts are designed to fit on your hips, in line with your belly button, and can come in various sizes, with possibilities for adjustments. However, some are nonadjustable but come in multiple sizes.
If the belt is too low, it will risk falling off. Furthermore, if it sits higher up near your waist, this is likely to put pressure on your stomach and will be very uncomfortable when running. If you're unable to try it on, it's recommended to take measurements and choose the right size for you.
Material
Ensuring that the material is comfortable while strapped onto you is crucial to ensure no excessive build-up in sweat. While it's advised to wear a t-shirt tucked in under your hydration belt, if the material is not breathable, this can still lead to chafing and extreme discomfort. Choosing a breathable, comfortable, yet sturdy material for your hydration belt is something to consider when selecting your hydration belt.
Ease Of Access
Hydration belts vary in design, meaning the water bottle can be accessed from either the front or back. Ensuring that the bottle – or drinking tube – is easy to access and grab comfortably while running is critical. Some people find that if the bottle sits in the square of your back, this may be comfortable to run, but may cause difficulty when reaching behind.
Extra Storage Capacity
Some belts give you extra pockets to hold essentials such as keys, phone, and sometimes even an extra layer. If you get a belt that has plenty of extra space, we're talking about a proper waist pack. Yet if you don't carry anything except your phone and keys, then this will be an excess, inconvenient weight to carry on your run. Similarly, if you need an extra layer but don't have the space in your hydration belt, this will be an added inconvenience to you as well.
Some packs (like our Hipster Waist Pack) solve this dilemma with intelligent compression straps, letting you reduce the excess volume on the run. But working out what you need when running will define the extra storage capacity you require from your hydration belt.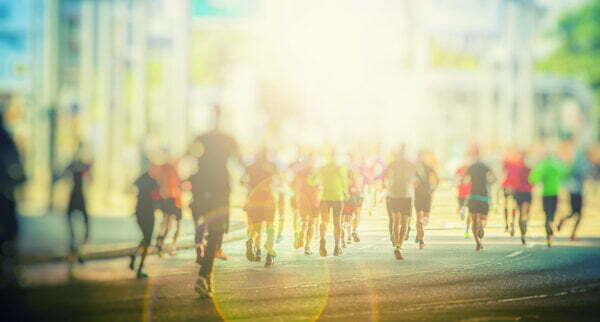 How To Fit Your Running Belt
Fitting your running belt is extremely important and should be tested to ensure that you're wearing it correctly.
Here is a simple guide which you can follow.
Ensure You Have The Correct Size Bottle
Some running belts come with a bottle when purchasing, and others don't. Either way, you should ensure that your water bottle fits the water bottle pocket well so that it's less likely to fall out on your run. Foldable bottles are convenient as they don't take up space when empty, such as our JET foldable flasks, designed for running belts and vests.
Tuck Your Shirt Into Your Trousers
This will help to prevent the running belt from rubbing against your skin and will be more comfortable. It also allows for ease of access to water once running.
Place The Belt On Your Belly Button Line
The belt shouldn't be too high, as this will put pressure on your stomach; alternatively, if it's too low on your hips as it could fall off when running.
Adjust The Straps
If the straps are adjustable, adjust them to ensure that the belt is securely tightened before running but still comfortable.
Insert The Water Bottles
Insert the filled water bottles last to avoid getting wet.
Re-adjust And Check The Bottles Aren't Moving
Ensure that the bottles are securely fastened and don't move if you jump up and down.
Problems With Hydration Belts
Hydration belts have some downsides to them. The major one is that if they are poorly designed they can chafe, ride up or simply fall off. The belt can also be painful to your stomach due to excessive bouncing, and the water bottles are likely to fall out if the belt bounces. If you are not able to try the product on, make sure to read reviews and to get advice online from other runners' experiences.
What Is A Hydration Pack?
Hydration packs are an alternative offering hands-free hydration while running. Generally, the integrated hydration systems are composed of 3 main pieces:
A hydration bladder, also known as a bladder, which fits into any pouch, waist-pack or backpack.
The bladder has a drinking tube attached to it that loops through the backpack to the front.
The tube is equipped with a drinking valve with mouthpiece that allows for hands-free drinking while running.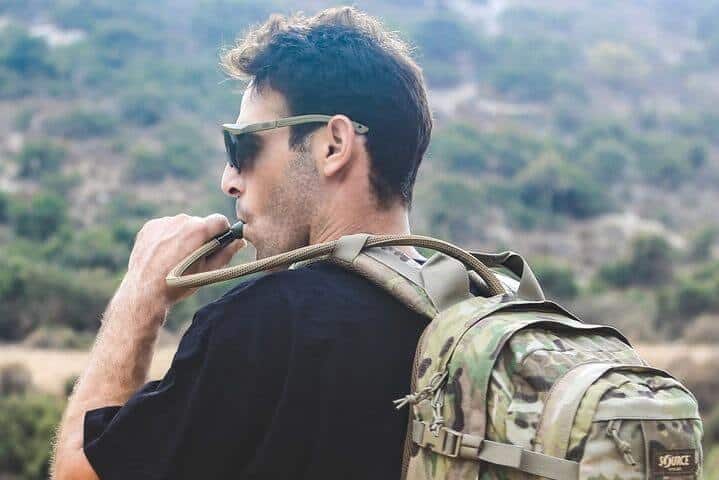 Benefits Of A Hydration Pack Over A Hydration Belt With Bottles
Hydration packs can hold more water than hydration belts, generally up to 3 liters of water
The bladder is guaranteed never to fall out because it's strapped onto your back
More storage space depending on the size pack (for nutrition, phone, essentials, an extra layer, gloves …)
For heavy loads easier to carry because the weight is spread out over your back rather than concentrated on your hips
Easy accessibility guaranteed with hands-free drinking from the tube
SOURCE's tactical bladders feature Glass Like and Grunge Guard technology to prevent bacteria growth in the bladder and the tube
No need to wash the bladder. Thanks to SOURCE's Glass-Like technology, as long as you fill it only with water, your bladder will stay clean itself
But what happens if you don't fancy running with something on your back? Is there a way to get the usefulness and security of a bladder while having your back free? If you're in this situation, then the hydration bladder belt is the one for you.
The Perfect 2 in 1 Solution: Hydration Belt With Water Bladder
Our SOURCE Hipster Hydration Belt combines the best aspects of hydration belts and hydration bladders in one.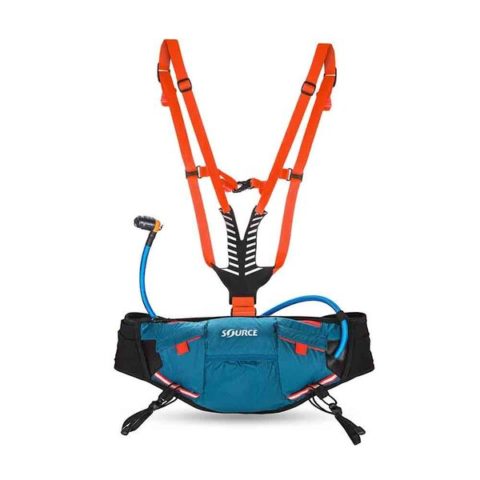 The water is conveniently placed inside a 1.5L bladder that rests on your hips and will never get you out of balance. The drinking tube with Helix bite valve allows you to easily sip water while on the run – with arms and back uninhibited and free.
The harness adds stability when you're going for extreme moves. Experience shows though that for walking, even running (and especially for biking) most experienced Hipster users detach the harness. The belt is designed to hold in place also without the harness.
Again, you should never need to clean the bladder; as long as you only fill it with water, it will stay clean and fresh for you!
This hydration belt combines the best of both worlds: It gives you the comfort, peace of mind, and stability that a hydration bladder does, without it needing to be strapped onto your back.
Summary
We discussed 3 options on staying hydrated on your run: the hydration belt, hydration pack, and waist pack with water bladder:
Hydration belts with bottles might seem convenient, but they can become uncomfortable easily and cause problems.
Hydration packs are the most useful if you wish to carry a lot of water comfortably, plus extra layers in the backpack.
If you wish for the best of the two, SOURCE Hipster hydration belt and waist pack is the best choice for you.
Either way, it's essential to stay hydrated on a run, so be sure to do your research, test the product out, and work out which product is the best to accompany you on your runs.