If you're the owner of a hydration pack, you may know that maintenance and care can be tricky – depending on the brand and model. Here's a look how to be at ease and know you've always got tasty fresh source of hydration with you.
Take Good Care Of Your Backpack
The backpack is the heart-piece of your equipment and deserves extra attention and care. Whether you regularly brush it down, wipe it with cloth or throw it in the washing machine, depends on how muddy and dirty you go – and on the make of your pack (pay attention to the tag, and to the care & use directions that come with your pack).
Here's general advice on how to give the pack some love and attention before a serious outing – and especially after pulling it out of storage, say after the winter months:
Open all pouches and pockets, make sure the zippers are zipping just fine.
Check for brittle plastic pieces and order replacements if needed.
Check the seams for potential ruptures.
Clean the pack inside and outside with a cloth, mild soap and warm water.
Check if the backpack still fits your back properly.
Then air it in a dry place until heading outdoors.
One last thing: don't wait till the last minute to go over this checklist! Give yourself a few days to react and possibly get an upgrade from our line of tactical backpacks in all sizes.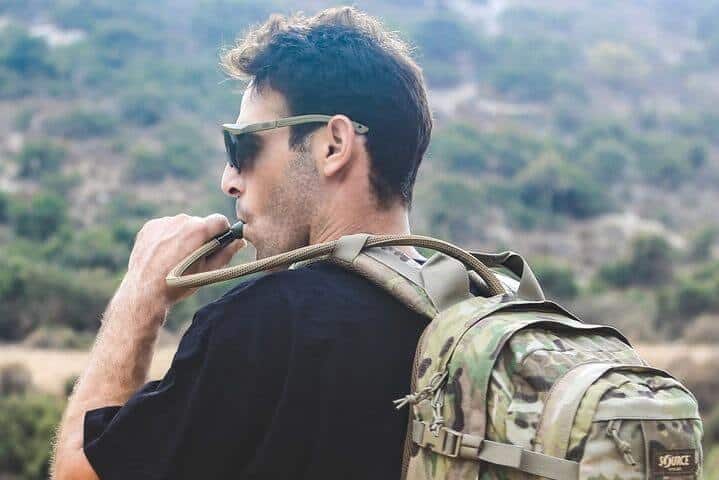 As we're talking Hydration Packs, the care and use of the backpack (or any pouch or pack) is important, but any dirt is mostly a cosmetic problem. Not so with the actual water bladder: any dirt or pollution may cause a bad taste and worst case a health-issue. So here's an in-depth look at the hydration bladder hygiene.
How To Clean a Hydration Bladder
How often should you clean your tactical hydration bladder? First answer: it depends on the brand. If used with regular water, SOURCE reservoirs do not require specific cleaning, drying or draining. If used with sweetened, flavored and isotonic drinks, or before extended storage, we recommend the following cleaning procedure:
Step 1: Clean the Reservoir
Disconnect the drinking tube and remove the Widepac closure from the bladder
Wash the bladder with soapy, lukewarm water and scrub with a soft brush if needed; rinse well;
Hang the bladder upside down and let it air-dry – do NOT use a hairdryer!
Pro-tip: Place the drinking tube or a paper tissue or any other non-sharp object inside the bladder, to keep the bladder-walls apart.
Step 2: Clean the Drinking Tube
To clean the tube, connect it to the bladder;
Open or disconnect the valve and press water through the tube by rolling up the reservoir top-down; rinse the tube with soapy, lukewarm water;
To clean the tube thoroughly from residue of sweetened drinks, consider cleaning it with our Tube Brush
Pro-tip: To dry the tube, hold the tube by the valve and swing it a few rounds in a circle (only recommended outside with plenty of airspace).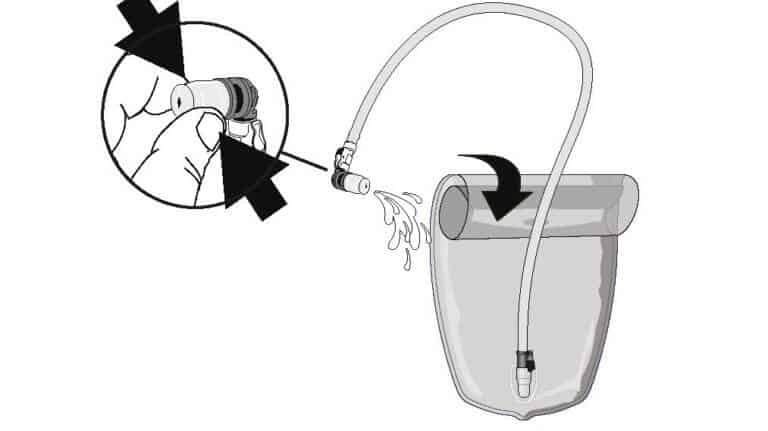 Step 3: Clean the Drinking Valve
After regular use with water, the valve does not need to be disassembled and cleaned; just rinse it with soapy, lukewarm water.
Deep-cleaning the valve is only recommended when your valve got pushed deep into the mud or if it's for some other reason completely messy and dirty; disassemble the Helix drinking valve as pictured below.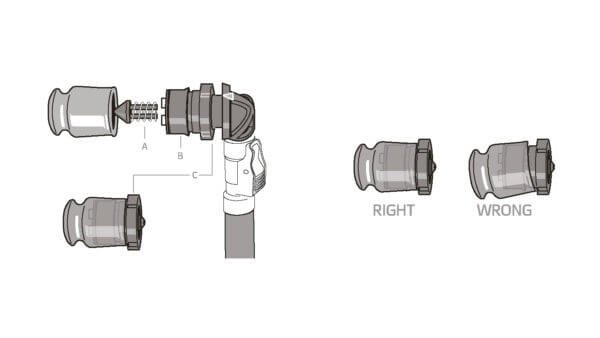 How to Store Your Tactical Hydration Bladder
Make sure that all components of your Hydration System are completely dry.
Connect all parts (bladder, drinking hose and drinking valve).
Store the Hydration System in a clean and dry place (no direct sunlight and no extreme temperatures).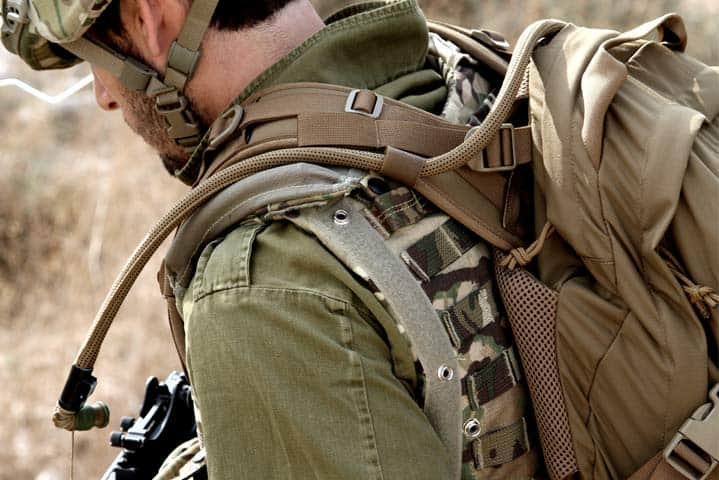 SOURCE Hydration Technologies
Our tactical hydration bladders are extremely low maintenance, reliable and durable, thanks to a number of hydration technologies which SOURCE has developed over the course of the last decades.
One main advantage of SOURCE bladders in comparison with market competitors is the GlassLike technology: made of multilayer Polyethylene (PE), our reservoirs are 2,000 % smoother than those made from Thermoplastic Polyurethane (TPU), which is used by most other major brands.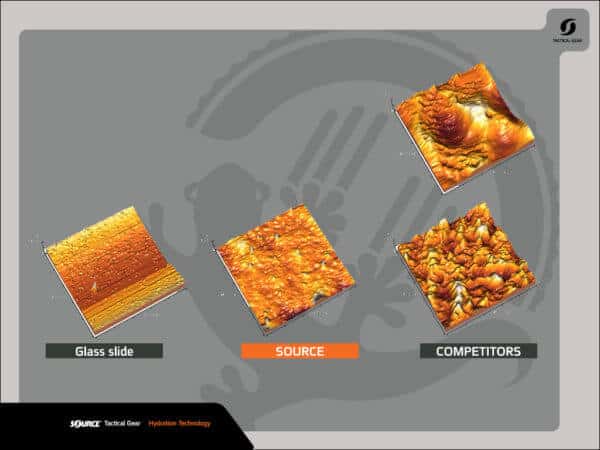 With the surface smooth as glass, biofilm and bacteria cannot build up, thus preventing any moldy taste in the water. Additionally, we have embedded an antimicrobial agent inside the multilayer film of the bladder and drinking tube – the GrungeGuard – to guarantee a fully functional bladder over years of use.
Click here to find out more about our revolutionary SOURCE Hydration Technologies.
As with all good things – they evolve to become better. We are proud to announce new components developed by Source for the VIRTUS Soldier System, and to take a short look at the main features here in our blog.
With the ground breaking step in how the soldiers gear is designed – treating the soldier as a system – SOURCE have continued to improve the VIRTUS Soldier System to meet the changing demands of the modern soldier. New components available for the SOURCE Virtus Soldier System include a new Bergen, the Assault pack, and updated MOLLE Belt and Yoke.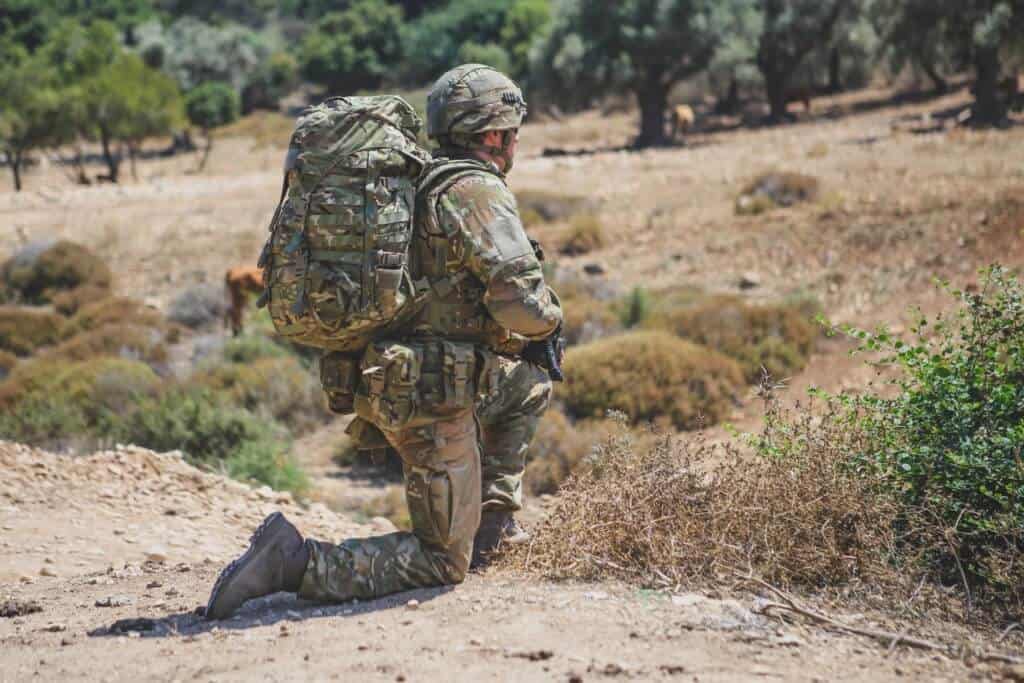 Short Back Bergen
The Bergen has undergone a significant redesign and now offers the same load capacity in a short back frame with a removable hip belt that allows use of the DWD for when the MOLLE Belt is worn. A much simpler design with a large top flap the bergen is significantly lighter further reducing the soldier burden. The side pouches capacity is increased from 5 litres to 7.5 litres.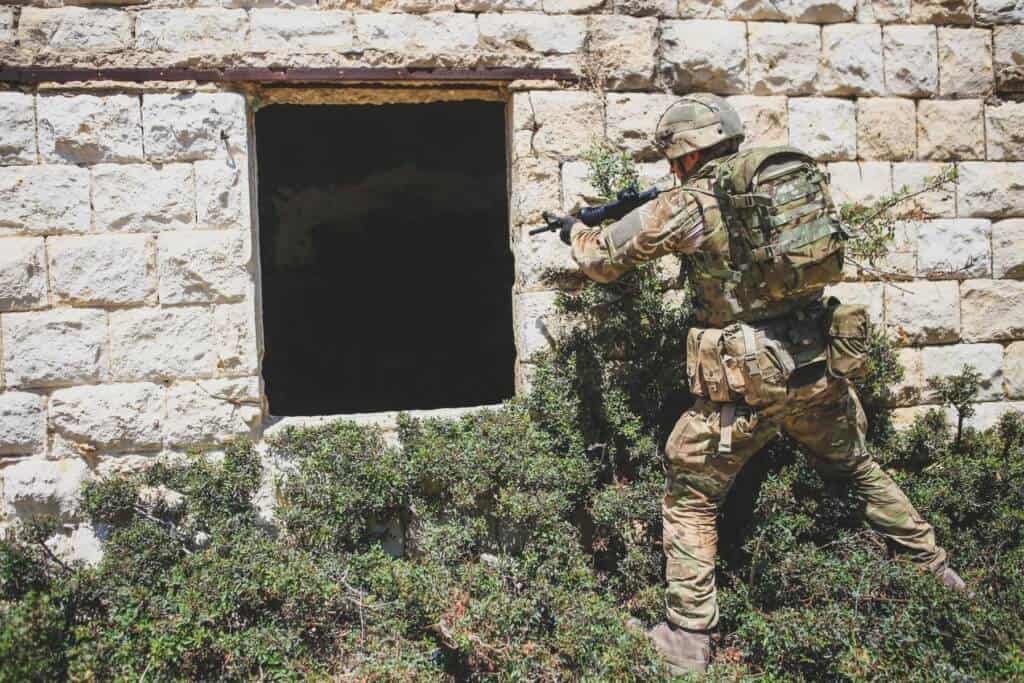 Assault Pack
A small pack designed to carry the essentials needed by the soldier on the assault, our Assault pack offers a hydration pocket, NVG Padded pocket and a main compartment for communications equipment, ammunition and rations or other essential items. The pack can be worn with its own shoulder straps or used attached to the new H Yoke with the integral zips or attached directly to the STV via the MOLLE Zips – Zips that attach to the rear of the body armour vest enabling even simpler load carriage attachment.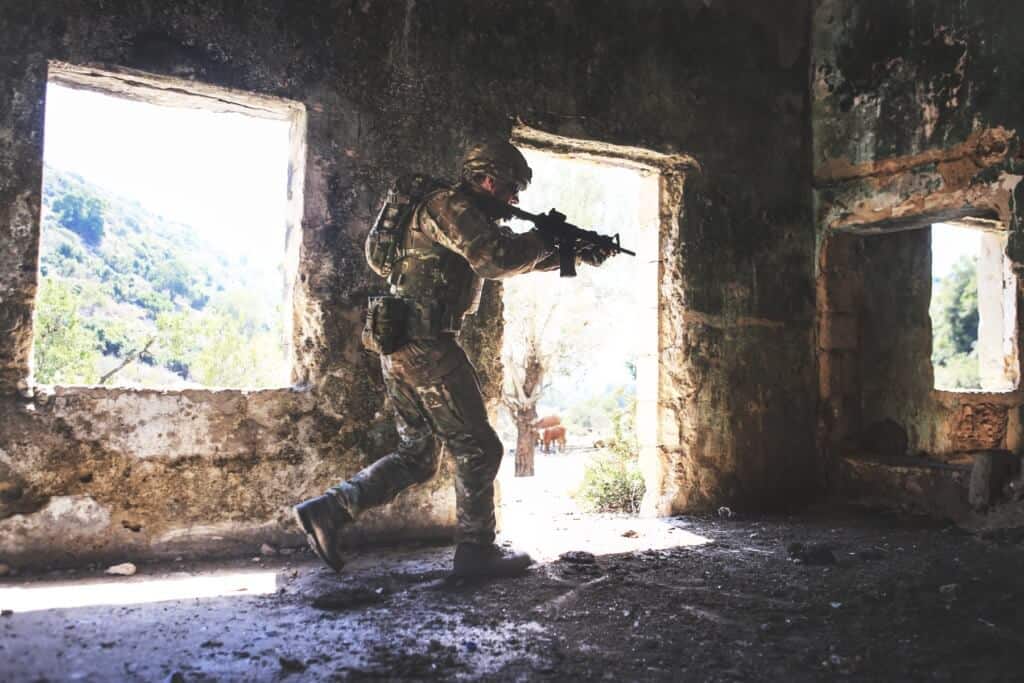 MOLLE Belt & Yoke
The Virtus MOLLE Belt and Yoke finally have had other improvements made to it with the Jungle Yoke being introduced. The Jungle Yoke offers increased padding, MOLLE on the front straps, 4 Point connection to the MOLLE Belt, Rear zips to attach the Hydration Side Pack, Side Pouch or Assault Pack to and the option to route the straps like a rucksack; providing greater comfort and stability when the Assault Pack is worn. The Jungle Yoke can be worn under or over the STV, dependent on the users preference.
SOURCE VIRTUS – SOLDIER AS A SYSTEM
Virtus forms the core of a scalable soldier architecture. Designed as a system to address the challenges of the current and future operating environments.
Viewing the "Soldier as a System" enables an integrated approach to reducing the cognitive physiological and mechanical impact on the individual. Enhancing the operational effectiveness of the combat infantry.
The story of SOURCE started with a groundbreaking invention more than 20 years ago: Our X-Strap technology for hiking sandals. And we keep inventing. Just recently we registered our SPRESH Squeezable Bottle and the Universal Tube Adaptor (UTA) with the US Office of Patents and Trademarks.
We're not trying to re-invent water. It's perfect. But at SOURCE we look for more intelligent, convenient and sustainable ways to store water, to take water along, to bring water wherever you're thirsty. We invent simpler and better ways for you to hydrate, to drink water, whatever you are doing. And we've had some good ideas over the years. Today, SOURCE holds almost a dozen patents.
SOURCE holds patents in Hydration Systems Technology and in Footwear
The first patent SOURCE registered was the SOURCE Outdoor Sandal's unique X-Strap system. It was the starting-point for the success of SOURCE Sandals, more than 20 years ago. Until today, 20 years later, that patent protects the unique strap-system that make SOURCE Hiking Sandals so comfortable and successful all around the world. Of course, we also keep improving our Sandals, just recently with the addition of Cupron Copper-Oxide.
New patent on the technology inside the SPRESH Squeezable Water Bottle
We're proud that very recently two new patents were accepted by the United States Patent And Trademark Office.
The latest patent registered concerns our SPRESH Squeezable Watter Bottle.
The unique technology inside the SPRESH lets you drink with a light squeeze from your hand, without lifting and tilting the bottle. As with everything, the simple idea is the best idea: It's like you're drinking from a straw. Try it, order your SPRESH online!
The Universal Tube Adaptor (UTA)
The SPRESH patent joins the line of inventions SOURCE registered over the years. Also just recently, we've registered the unique concept of our Universal Tube Adaptor (UTA).
UTA lets you refill your hydration bladder from a bottle or a tap without removing it from your pack.
The Widepac and more to come …
Best known – next to the mentioned X-Straps Technology in sandals – is the SOURCE Widepac bladder. The patent makes sure, there are no low-quality copies out there, just the high-quality SOURCE Original Widepac featuring the unique, wide opening with the slider, the patented "Sealing device for flexible liquid container". And looking ahead, this is our promise to you: We'll keep inventing!
SOURCE hydration bladders are practically self-cleaning. One of the key reasons: The unique Glass-Like™ Film Technology, which makes the surface of our bladders almost as smooth as glass. To visualize the fact, we had specialists perform microscopic imaging of our bladder's surface.
The surface of our multi-layer Polyethylene film for the SOURCE hydration bladders is almost as smooth as glass. The microscopic detail is one of the key elements for long-lasting taste-free and hygienic storage of liquids. The Glass-Like™ surface prevents bio-film build up, making the system practically self-cleaning. The test shows: SOURCE's Glass-Like™ Film is 2,000% smoother than standard TPU films. It's obviously SOURCE – Better by technology.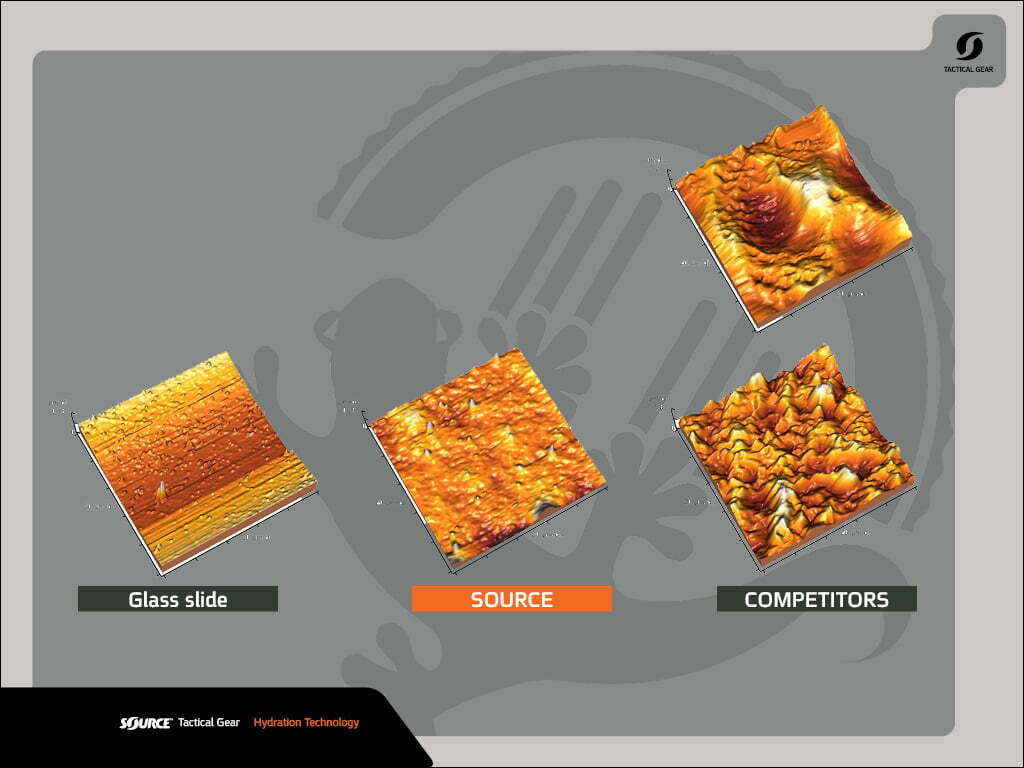 There have been several scientific studies and practical reports about the positive effect of Cupron copper oxide, embedded in SOURCE Socks and SOURCE Sandals. Now the effectiveness of Cupron fibers has also been officially assessed by the U.S. Environmental Protection Agency (EPA).
In awarding the Public Health Claim, the EPA found that Cupron's copper-enhanced textile material can kill Trichophyton mentagrophytes, the active fungus in athlete's foot, by more than 99.9% after 12 hours of contact with the fiber. "Fungal skin infections such as athlete's foot are a common and irritating affliction, a condition that has been difficult to prevent and treat successfully," said Alastair Monk, Cupron Director of Clinical and Scientific Affairs.
Scientific testing proves efficacy
In order to submit these claims to the EPA, Cupron had to achieve a 100-percent pass rate at an independent testing facility under the highest laboratory standards. The samples were tested with simulated wear conditions, environmental conditions and cleaning protocols. They also had to maintain their efficacy after repeated exposure.
SOURCE applies Cupron succesfully in Sandals and Socks
The positive effects of SOURCE Cupron Socks have been praised by consumers and top athletes since SOURCE went to market with Midweight and Heavyweight socks. The effect of Cupron socks in terms of comfort, skin-condition and (little) smell, especially in difficult, humid conditions, has been confirmed in many report.
Also, we've had very positive feedback on the 2013 new generation commercial SOURCE Sandals Gobi and Streamer from customers confirming improved skin appearance after wearing the sandals. Try it for yourself!
More on this topic:
And the winner is … Our products usually don't compete with shavers, radios and grills. Just the more reason for us to be proud that the jury of the Australian Design Award awarded the new SOURCE iVis Hydration Pack with the AustralianGood Design Award in Commercial and Industrial Design.
The iVis is a high visibility Hydration backpack incorporating the WXP low-profile, wide mouth water bladder low-profile, wide mouth water bladder with a flexible hose. It's the ideal partner to take on the road, when all you need is water and a small essentials pocket. The Firefly will make sure you're seen in any weather condition, and will keep you hydrated. The tucked away straps and hydration tube help you maneuver around without getting caught.
High visibility and all advantages of SOURCE Hydration Systems
The WXP low-profile bladder features all the advantages of SOURCE Hydration Systems: tough 3 layer construction with Glass-like™ PE liner, it's Taste-Free™ and Grunge-Guard™ antimicrobial, it has a leak-proof slider with wide opening, external fill port, self-sealing QMT™ with push button convenience and a built in shut off mechanism which allows our Universal Tube Adaptor (UTA™) or valves to be disconnected without spilling.
Now in the running for Australian International Design Award
We are very happy that the jurors decided to award the iVis Firefly with the Good Design Award in Commercial and Industrial Design. The iVis Firefly is now in the running for the Australian International Design Award (official website). We recommend, the jurors will take our Firefly for a spin outdoors! A big round of applause for our product designers!
More: iVis Firefly product page
We are proud to introduce our new Double D «3 day pack»! Jon, active duty US Marine Corps infantry officer, was one of the first people outside of SOURCE involved in testing and improving the prototype. And he did some serious testing: taking the pack over 130 Miles by foot – heavy to fully loaded with about everything you could possibly need. See what he has to say! And then go ahead and take the new Double D on a mission yourself.
"SOURCE provided a prototype of this new planned 45L offering in the fall of 2011 and asked for test and evaluation input. I used that prototype to hike the 26.2 mile Bataan Death March Memorial marathon in the 'heavy' category.
About a year later, a production version arrived and I continued to conduct T&E on the concept. This review provides observations gleaned from both packs which are structurally almost identical.
I've written my observations from the perspective of a guy who has rucked Med/Lrg ALICE, MOLLE, ILBE, and have messed around with (but not rucked) FILBE. I also own an ATS RAID and Karrimor Sabre 45. I'm 6'2″, 205 lbs, and wear a size 44L coat.
Double D Design
The Double D's pockets at the bottom of the sides are perfect for stabilizing longer items that you want to secure with the beavertail's compression straps. They have the capacity to hold up to (4) 60mm or (2) 81mm rounds in their fibers, as well as secure the bottom of an extra hydration carrier, rifle buttstock, etc.
The pack was excellent at stabilizing any load I put in it, and that contributes to less fatigue and energy consumption on the move. Most of this stability came from the detachable waist belt, with the rest coming from the well-contoured shoulder straps.
The basic orientation of the pack seems more alpine styled, and that allows the carried weight to ride closer and higher on the body. The pack is also well-built, but not over-built, which can create a weight penalty for little gain.
The load lifters allow adjustment on the move and also minimize fatigue. The sensible interior organization provides a means to secure a hydration bladder, radio or other bulky object, without unnecessary or excessive straps and material.
Double D Advantages
The beavertail concept is smart and functional. During the Bataan march, I carried four water bottles in the pockets and was able to extract them on the move.
This component is where SOURCE's conceptual designs start to shine. I've secured a lot of odd-shaped items to the outside of the pack, from a rolled up bivvy sack, air mattresses, a helmet, ammo can, etc.
The 3 liter pockets are perfect to stash warming layers, components of MREs, water bottles, extra magazines, you name it. The waist belt has the perfect contour to avoid interface issues with armor. Having just read this, understand that if you wear a warbelt, you might have some issues in that department depending on the thickness of the belt and what you have attached to it. It's always a game of compromises; get it to work with armor and your 2nd line and you'll have drama with the 1st line, and vice-versa.
This situation helps make some of the case for a minimized gunbelt if you can expect to run all three (pack, armor, and 1st line belt) frequently.
Double D Comfort
The PALS sewn in along the bottom of the pack could be stitched more towards the outside edge, so large items that are lashed down do not interfere with the wearer's legs.
Although the pack can't be blamed for the laws of physics that afflict the majority of comparable packs over armor, the shoulder straps dug in to my armpits when I put a full load of about 50 lbs. in it and wore it over an Eagle plate carrier with front and back SAPIs. A Mystery Ranch strap-cinch solved the problem and the pack rode very comfortably.
There were no comfort issues when worn without armor.
Double D Durability
I've run the prototype and production versions of the Double D across 134 miles (yes, that's not a typo) of ruck marching, to include 20 miles while wearing a 1st Gen issued Eagle plate carrier with front and back ESAPIs.
Some of it was during my workup to the Bataan Death March and the event itself. I've carried a variety of loadouts, from bags of rice, dumbbells wrapped in sleeping bags, and a complete 72-hr gear list (minus six stripped MREs).
Weights averaged between 40 and 50 lbs, and Meni Keinan (head of military design) told me that it's designed to hold up to 55lbs.
All straps and stitches have held up fine, despite the deliberate beating I put on the packs during T&E.
Double D Bottom Line
This is a very good pack with capacity for carrying a 72-hr tactical load across a broad climate range, including mission-essential equipment such as small arms ammunition, demolitions (e.g. M18 Claymore) C2 or leader tools, or biometric equipment.
It appears to have the basic organization, capacity, and stability to carry a sniper's ancillary equipment and sustainment load.
It would also serve a suitable role for certain hunters, outdoor enthusiasts, and folks with a need for preparedness and resources that are staged and ready."
Thanks to Jon for his thorough testing and feedback! Please note: His views are not an official endorsement of SOURCE products, nor are they any affiliation with the Marine Corps. For all the technical specs of the pack: Visit the Double D product page in our online-store.
UTA is a revolutionary solution for refilling your hydration system while on the move.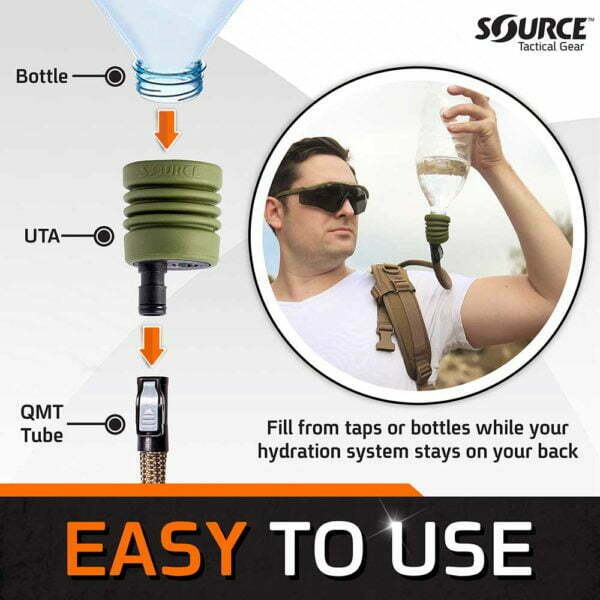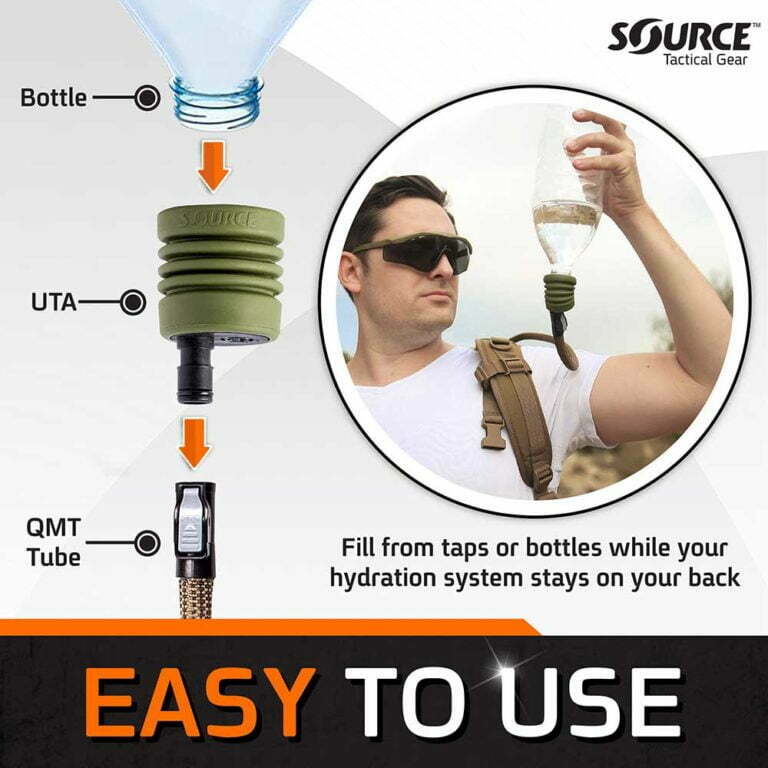 UTA allows the reservoir to be filled directly through the drinking tube, eliminating the need to remove the hydration pack from the back, thus saving the soldier time and hassle.
The product concept was developed following a visit with allied troops deployed in Afghanistan. UTA has been designed to fit and standard tap or water bottle but also to work with the 500ml bottles used to supply water in the field.
Small and lightweight, UTA's flexibility allows it to fit a range of tap/spigot sizes as well as standard size mineral water bottles. To prevent overfilling, UTA visually indicates when the reservoir is filled and will automatically disconnect to prevent damage caused by overfilling.
UTA is compatible with all Source systems featuring QMT (Quick Mate Technology). Simply "click out" the drinking valve from the end of the tube and "click in" the UTA.
Source also offers an Upgrade Kit that will convert non-Source hydration reservoir systems for UTA use.
All available UTA products can be viewed at the following link:
http://source-military.com/12-hydration-accessories
Technical information:
Filling from a bottle – fits a variety of water bottles.
Filling Time from a 1.5L bottle: 50 sec.
Filling from a tap – Designed to fit a wide range of indoor and outdoor taps.
Filling time from tap – 2L in 45 sec, 3L in 1.05 sec.
UTA will begin to expand when reservoir is filled and will automatically disconnect if reservoir is accidentally overfilled.
UTA is compatible with all of Source QMT (Quick Mate Technology) systems.

Click here to download the UTA datasheet.

For more details please contact Source's sales team: