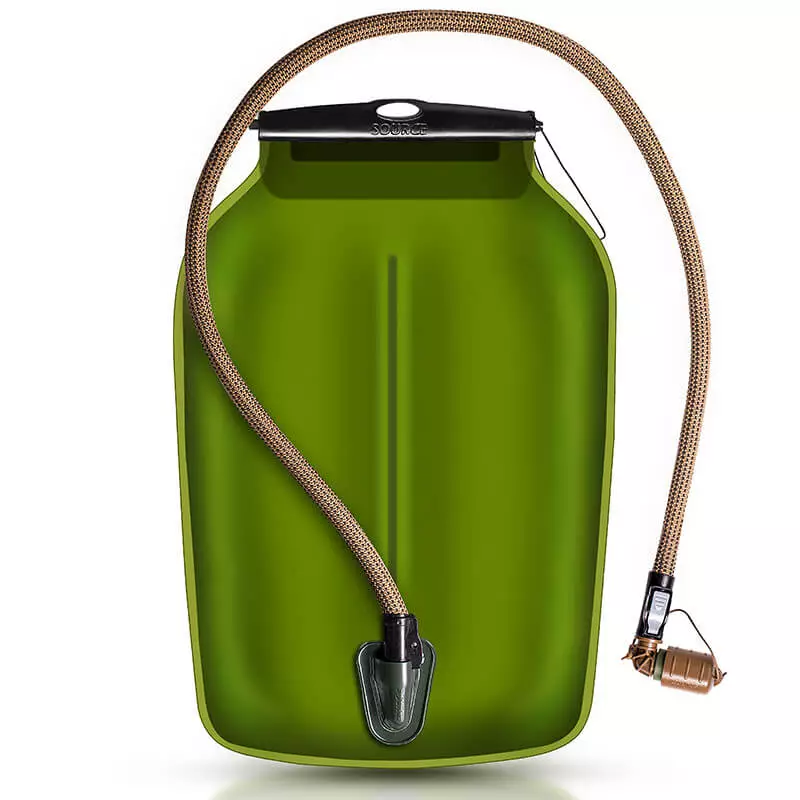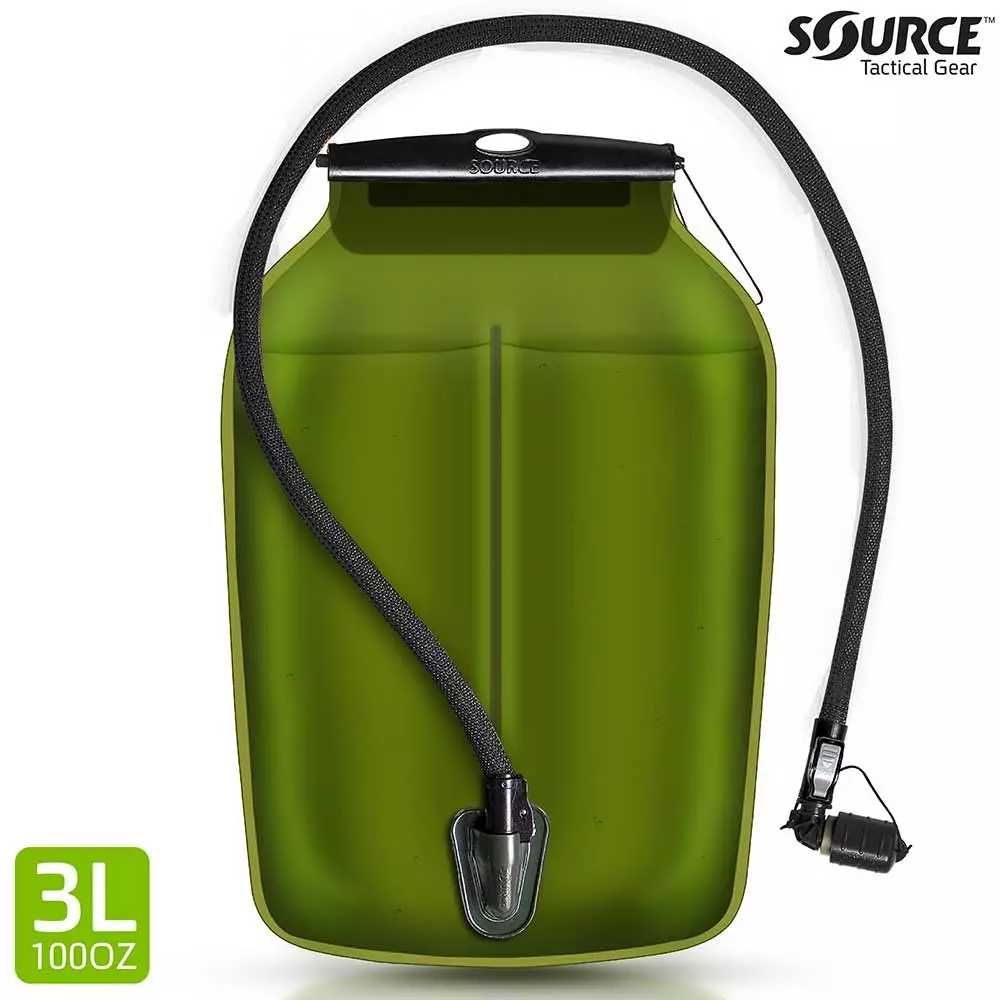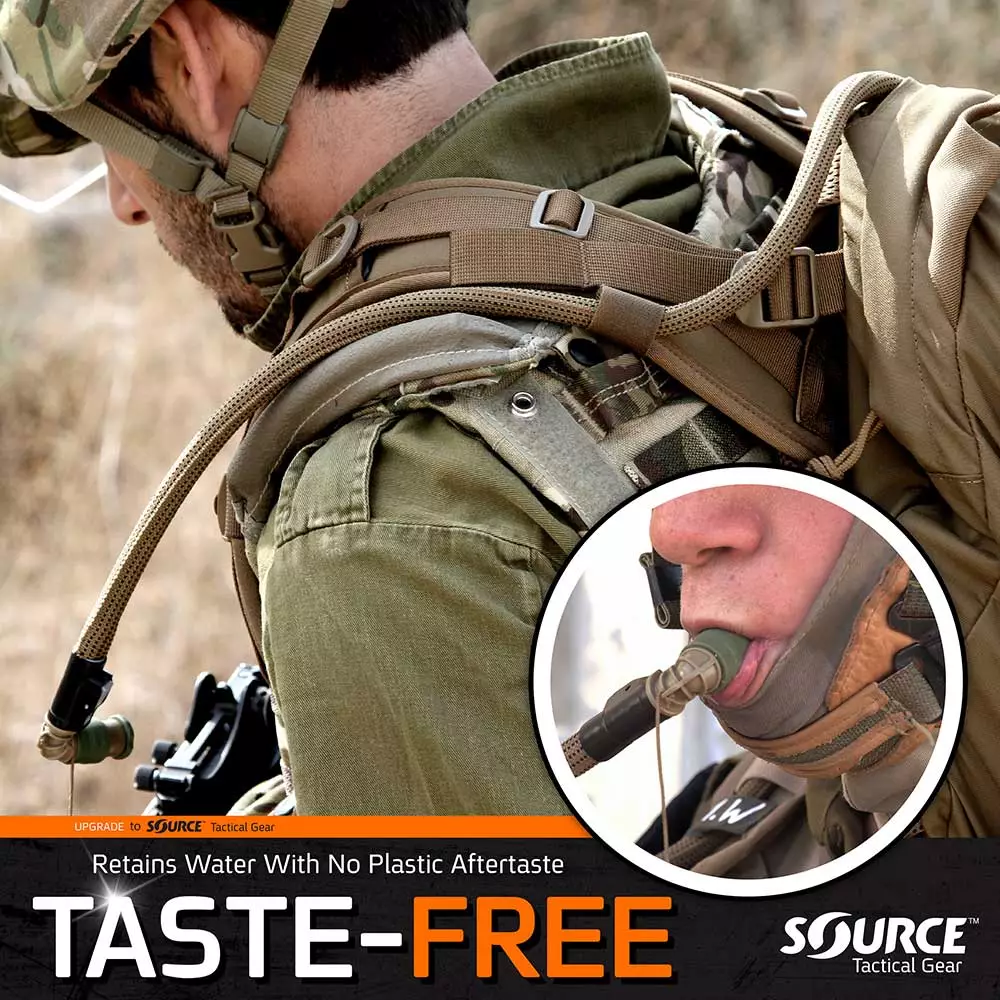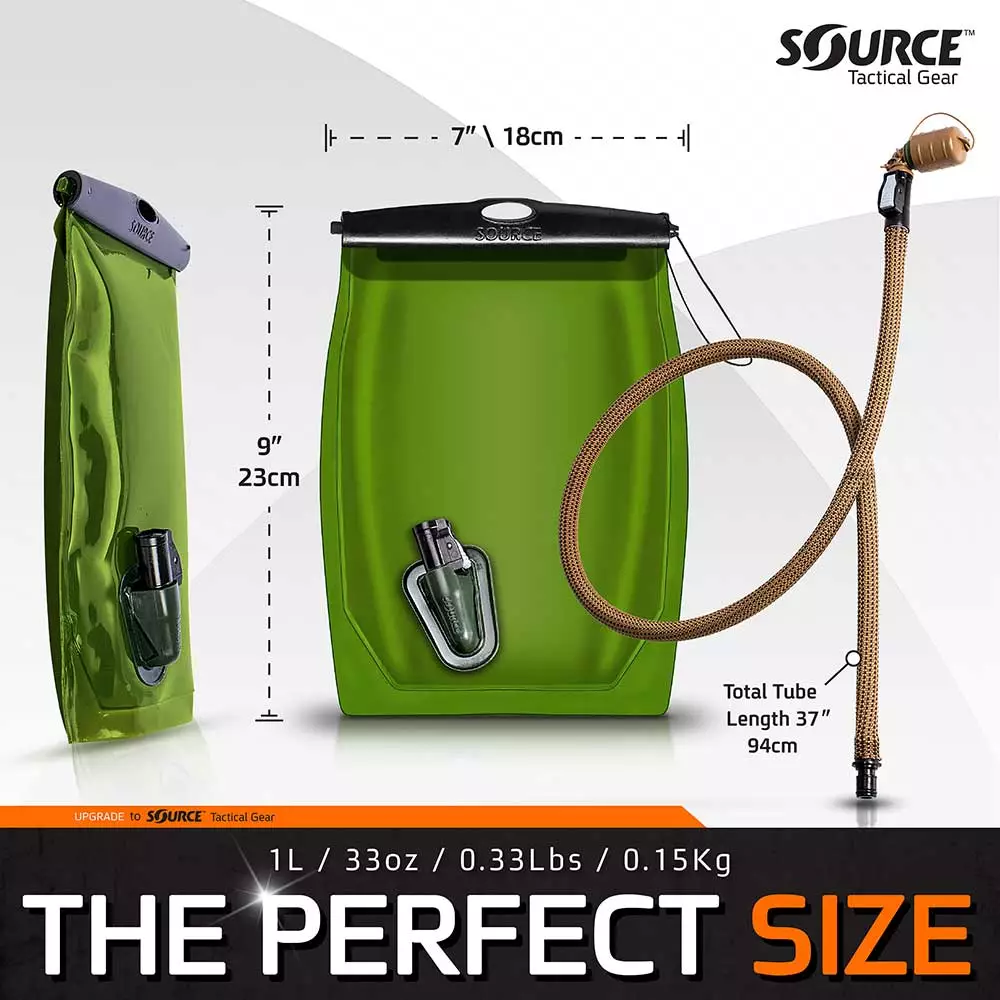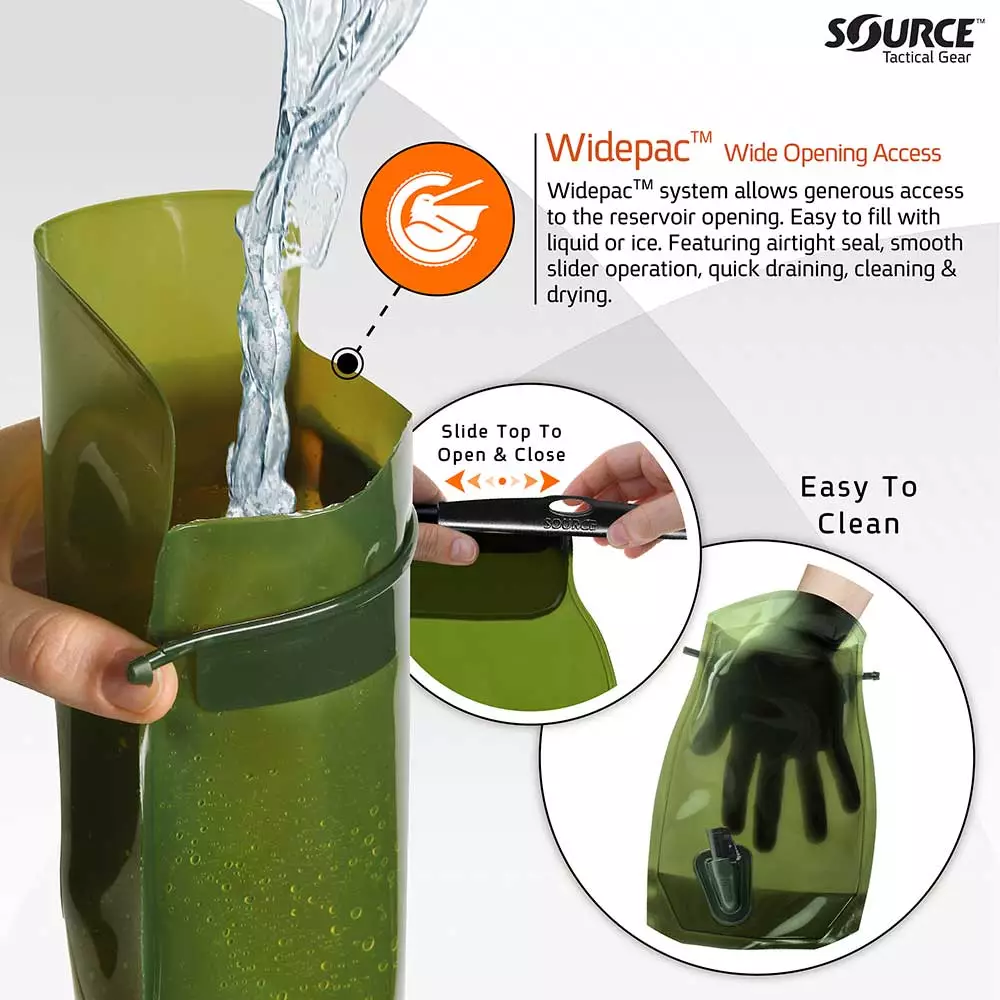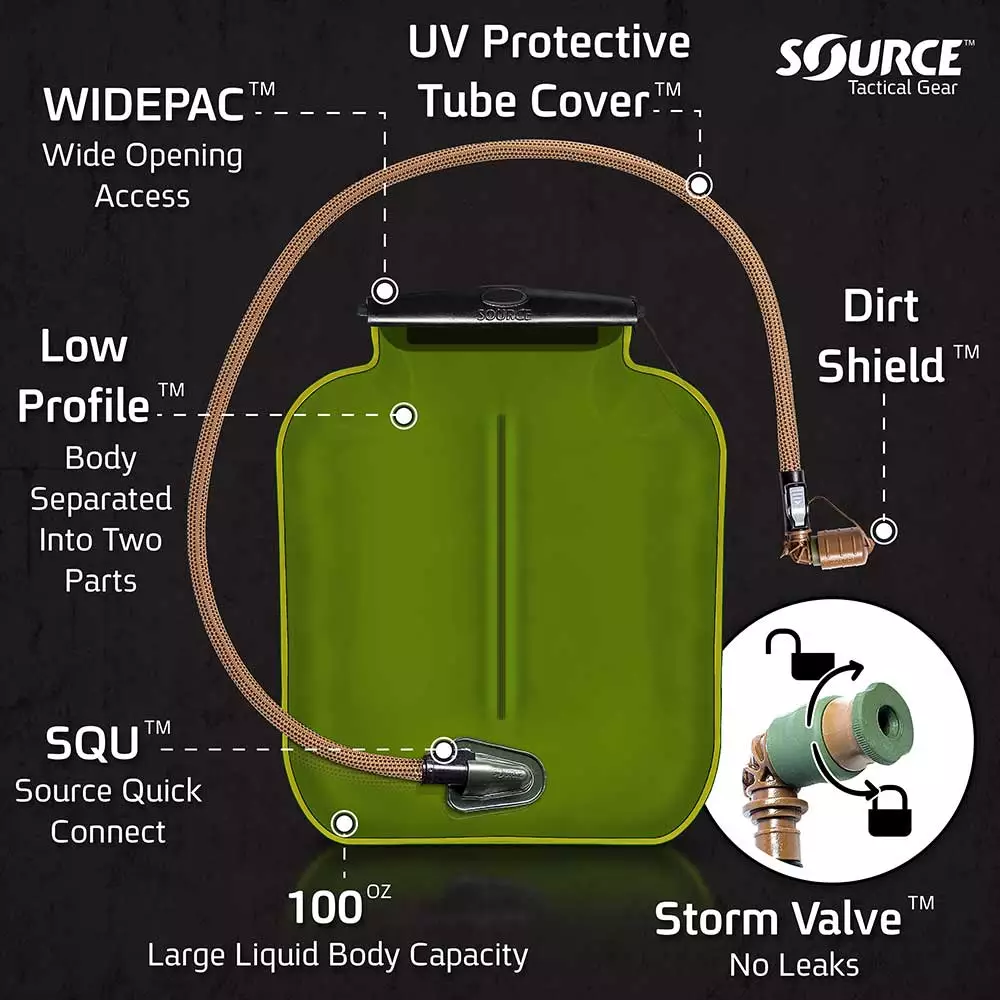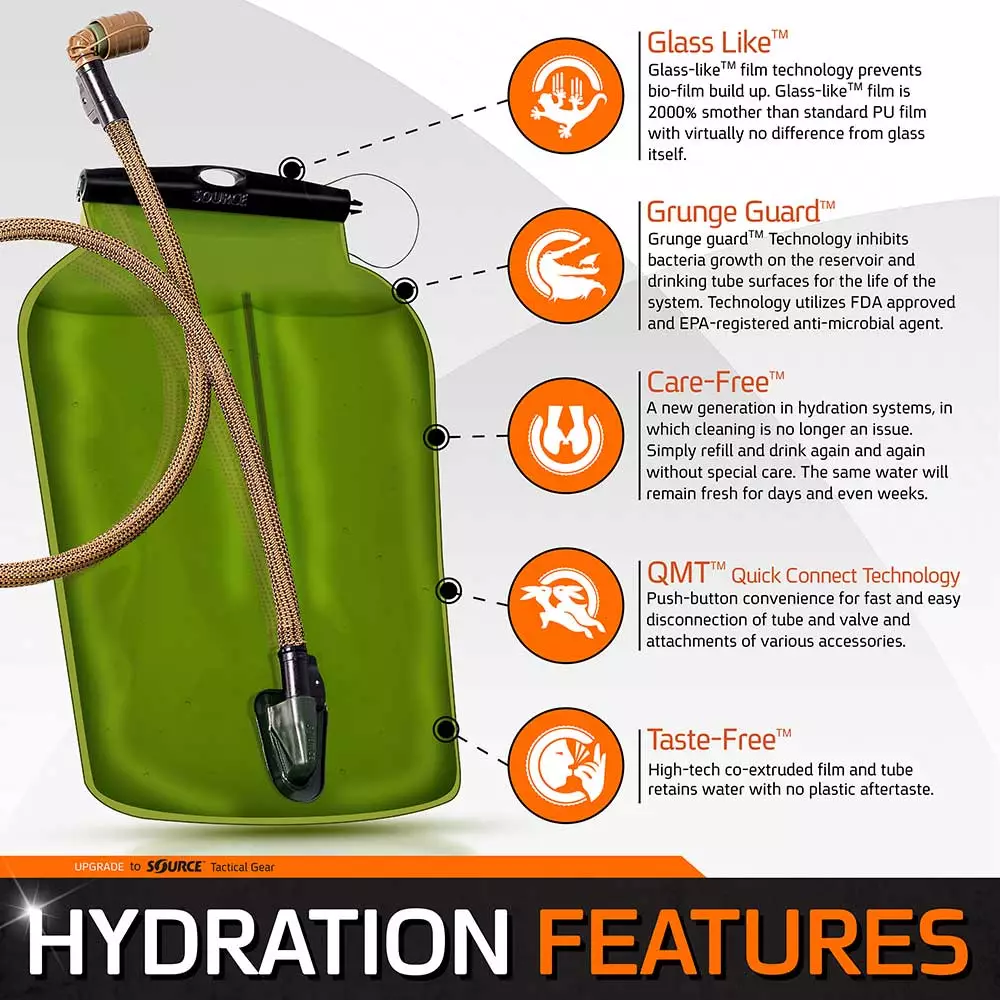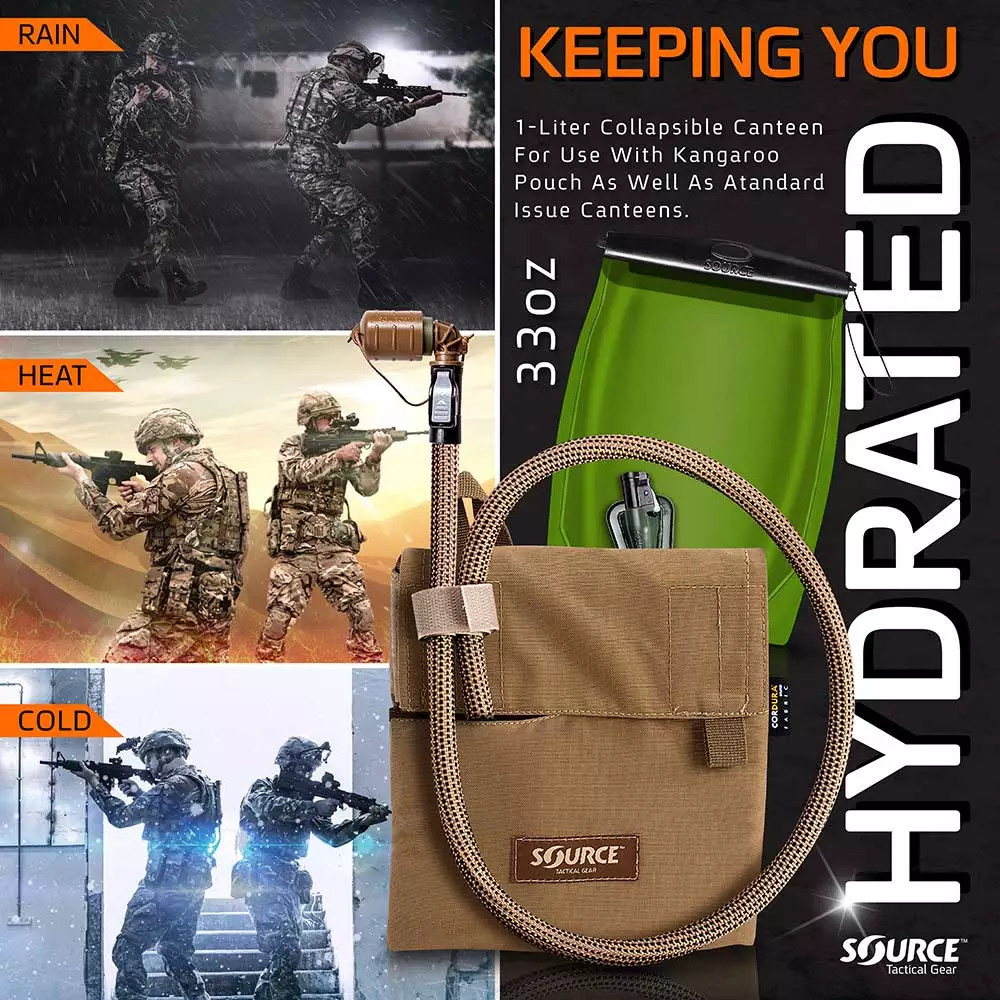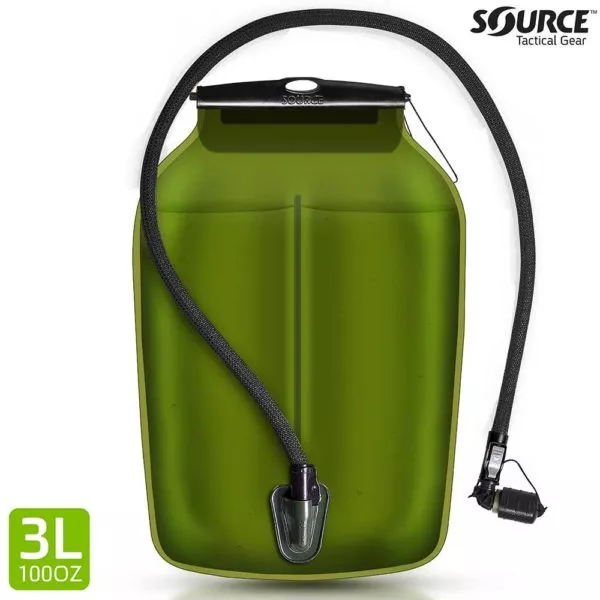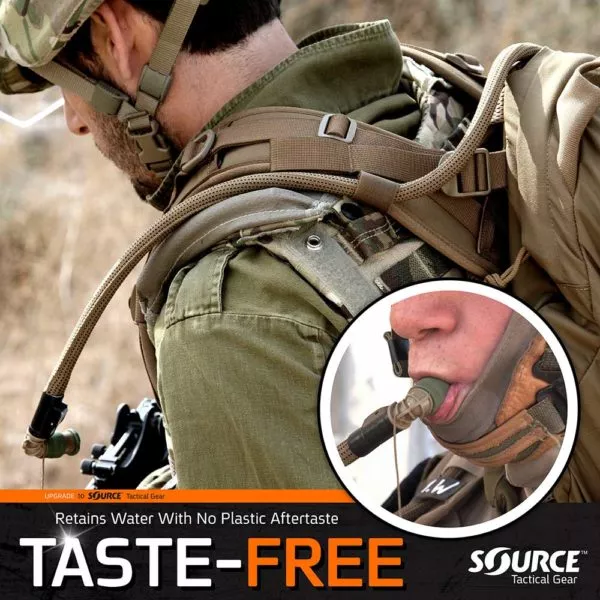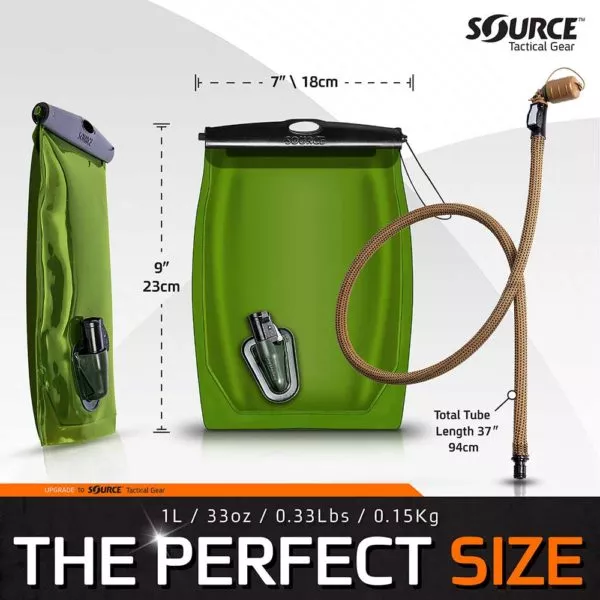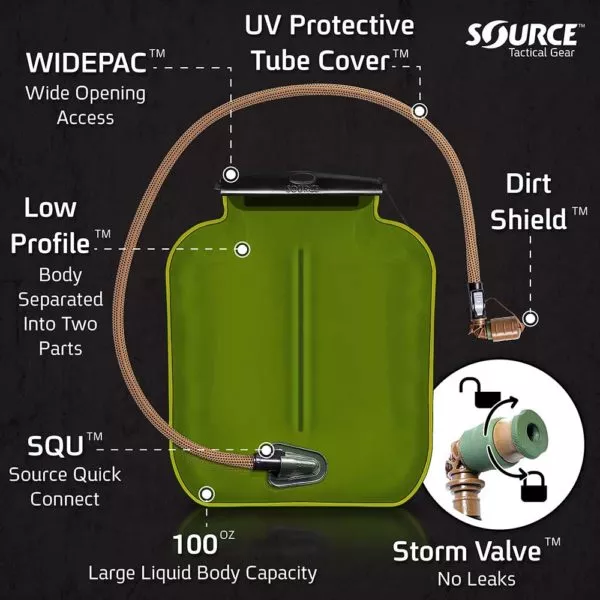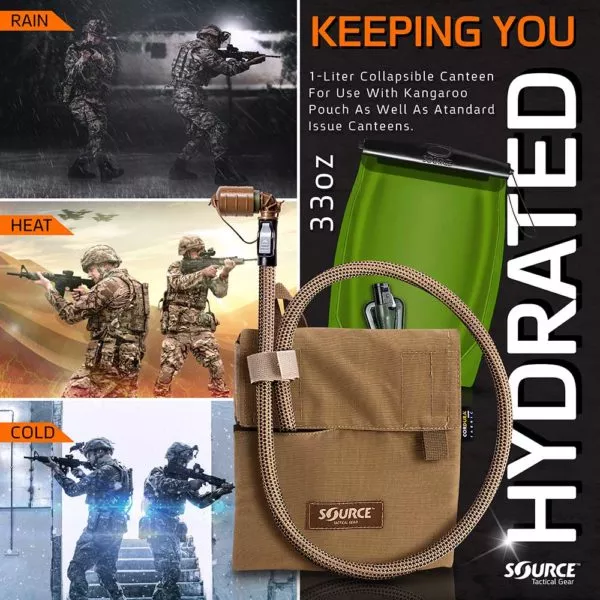 WLPS | Low Profile
Hydration Bladder |
3L (100 oz.)
Low Profile 3L water bladder compatible with hydration pouches, vests and backpacks. Low profile design with baffle-wall reduces the profile and depth of the carrier.
Information
Reservoir Capacity
3 Liter
Bladder Design
Low Profile Bladder
Widepac Opening
Drinking Tube Length
94 cm / 37 in
Hydration Extras
Dirt Shield
Tube Cover
Drinking Valve
Storm Push-Pull Valve
Color
Black
Coyote
Foliage
Dimensions (cm)
36 × 25 × 6.7 cm
Description
The WLPS tactical bladder is designed for low profile hydration carriers like vest-compatible MOLLE pouches and packs (such as our Razor Low Profile Hyration Pouch and Rider Low Profile Hydration Pack).
The Widepac wide opening is ideal for filling, ice-insertion, emptying and drying the bladder. The SOURCE technology and materials make this bladder unique in its low maintenance properties: Fill and just refill – water stays fresh for days and weeks in our bladders.
Hydration Bladder Features
Low Profile: Baffle wall keeps the bladder low profile and the weight spreads evenly. From full to empty – no bulging at any time.
Shipped with our high-flow Storm valve with no-bite push-pull operation. Compatible with our Helix Bite Valve (sold separately).
Dirt shield valve cover to protect mouthpiece from dirt is included.
Quick connector with auto-seal mechanism allows quick and easy removal of tube and valve with no leaking even under pressure. Allows also attachment of accessories like our UTA Quick Refill Adaptor, water filters and more.
Cool Weave Cover Tube: Insulates and blocks UV-light; water stays cool and inhibits bacteria growth.
Widepac Closure: Patented slide closure for easy draining and cleaning; airtight seal.
SOURCE Hydration Technology & Materials
Taste-Free System: Co-extruded PE film retains pure liquid taste without plastic flavor; BPA and phthalate free.
Glass-Like Film with Grunge-Guard Technology: Inhibits bacteria growth, and makes the bladder virtually zero maintenance.
Care-Free: cleaning by simply rinsing the system and hanging it open until dry (if used with water).
Widepac Closure: Patented slide closure for easy draining and cleaning; airtight seal.
Customer Reviews
01/12/2022
Shannon B.

US
Great hydration bladder, very reliable
I use Source bladders weekly for endurance events and training, as does my family. They are reliable even after many uses in extreme conditions.
09/02/2021
Lucas M.

US
Works very well, just a couple of minor annoyances
I'm quite pleased with this hydration bladder. I bought this to be used in my 5.11 Rush 24 backpack. It fits in the hydration slot of my backpack perfectly, and the hose is an okay length (maybe a tad bit short, would be cool if Source offered different hose lengths to swap out). The rib in the center of the bladder does a great job of keeping it flat on my back when full. The slider closes the bladder with absolutely zero leaks and fits very snug; I have no worries of it coming loose. The hole on the slider fits the velcro hanger inside the backpack that keeps it from slumping down as it empties. My only minor complaints are with the storm valve. This is my first time using this valve, where I previously used a traditional bite valve on my old Camelbak, so maybe it'll just take getting used to. I struggle to operate and secure the storm valve with one hand. When I try to twist the valve to unlock it, usually the whole assembly rotates so I have to stabilize it with my other hand to actually twist it locked or unlocked. Furthermore, there is very little retention on the plastic protective cap. It slides off with relative ease, and there have been a couple times where it came off unexpectedly and allowed the storm valve to get dirt on it. Meanwhile, my old Camelbak bite valve with its ball-valve closure and rubber protective cap easily allowed for single hand use, and did a great job of keeping dirt off the bite valve. These are only minor annoyances, and I'd still take these storm valve issues over the reliability and durability issues I had overall with my old Camelbak bladder. I've noticed that Source sells a bite valve as an alternative to the storm valve. I may try one of those and see if my experience improves. Overall, I'm happy with my purchase of this bladder so far and would recommend it to anyone with a similar use case to mine.
Related Products