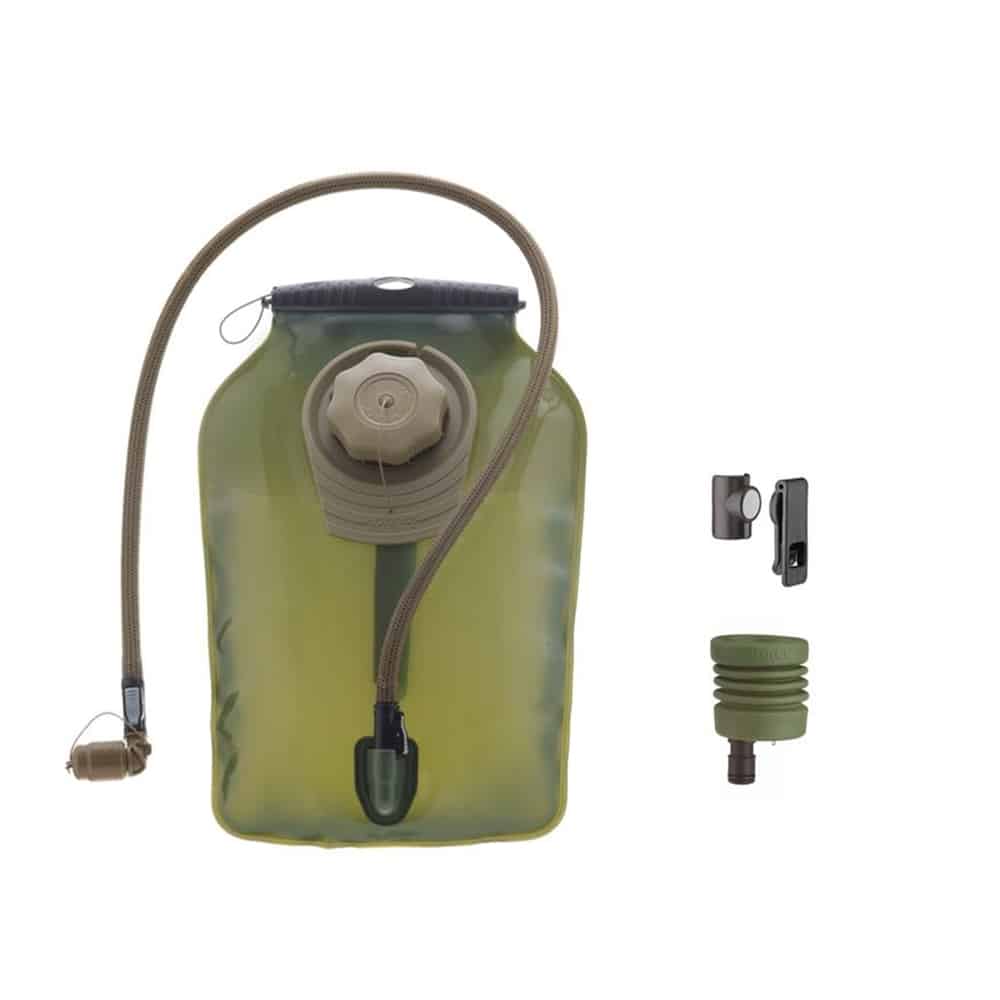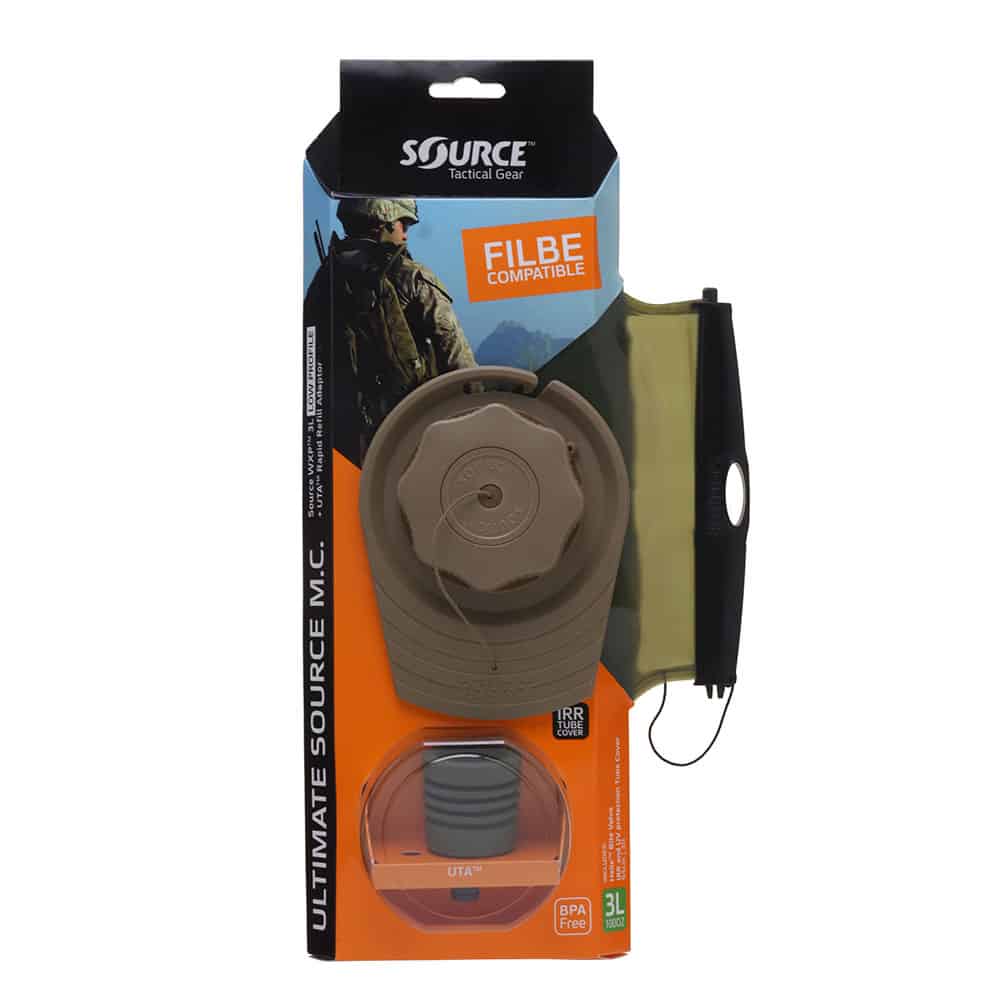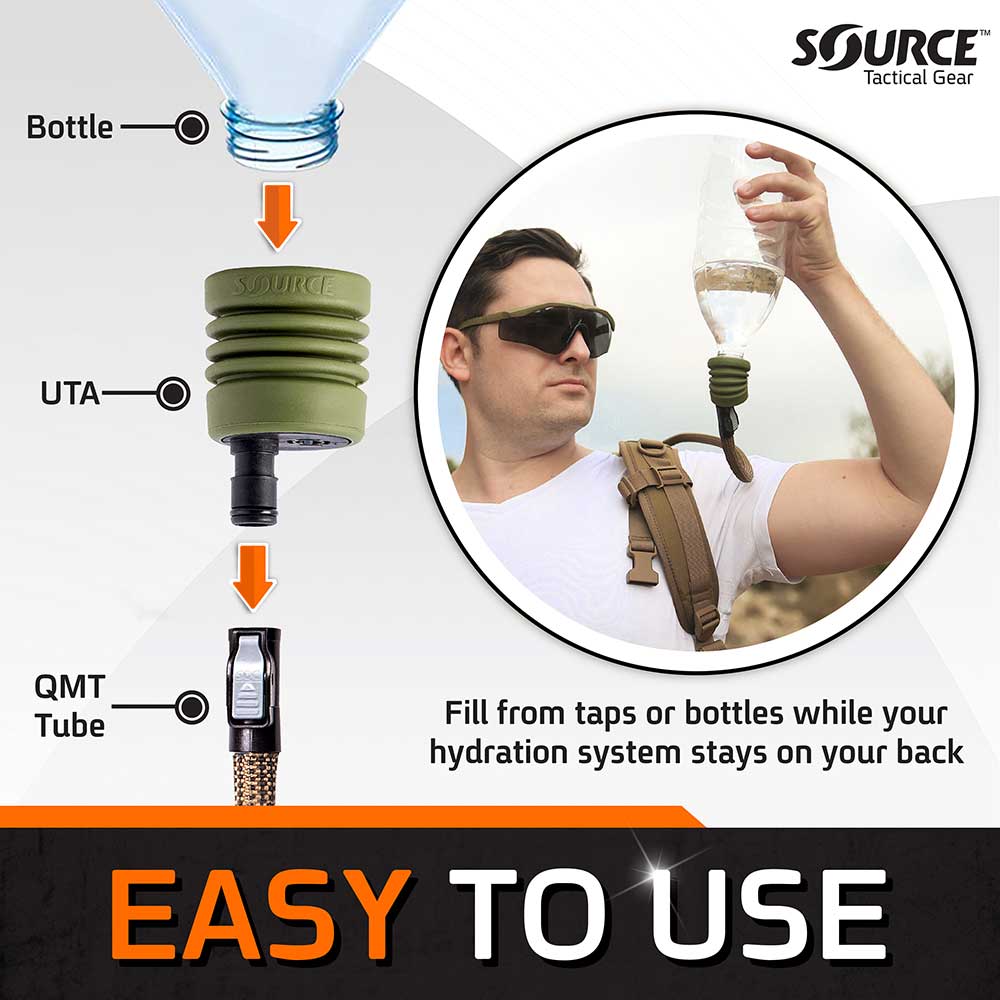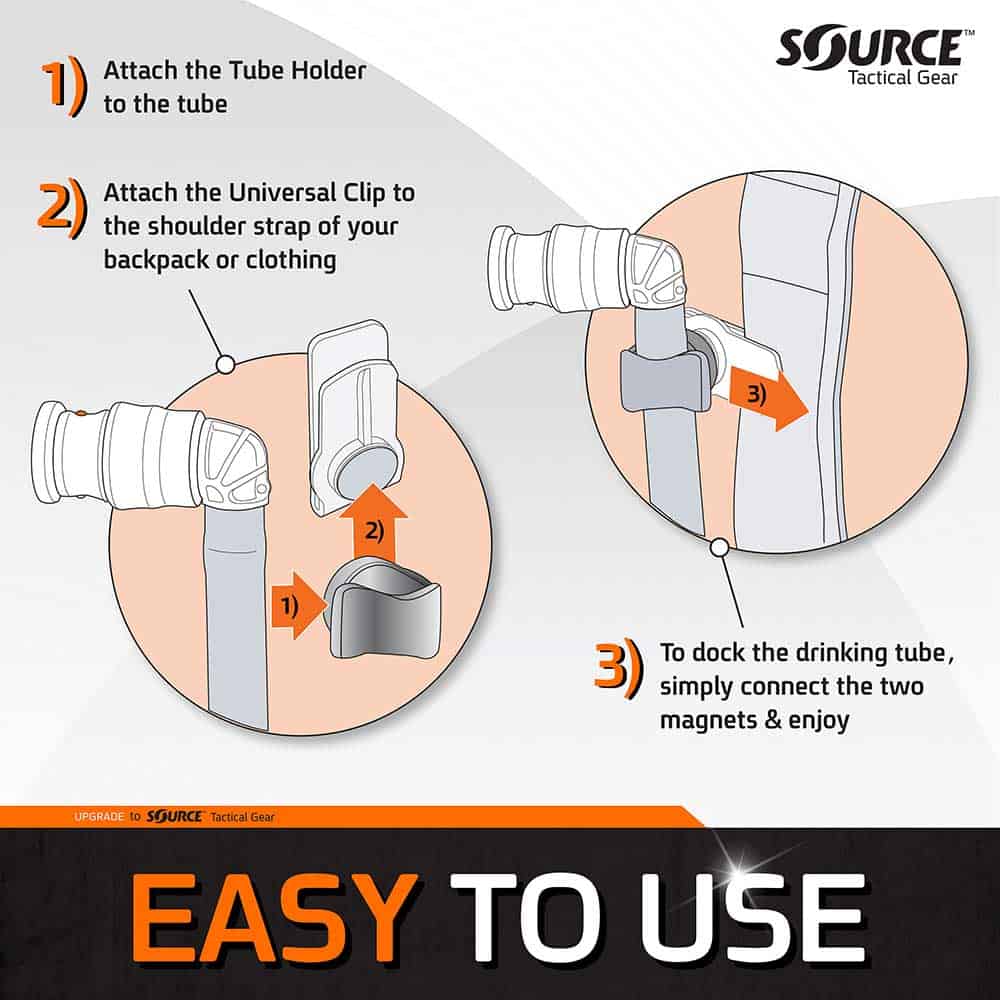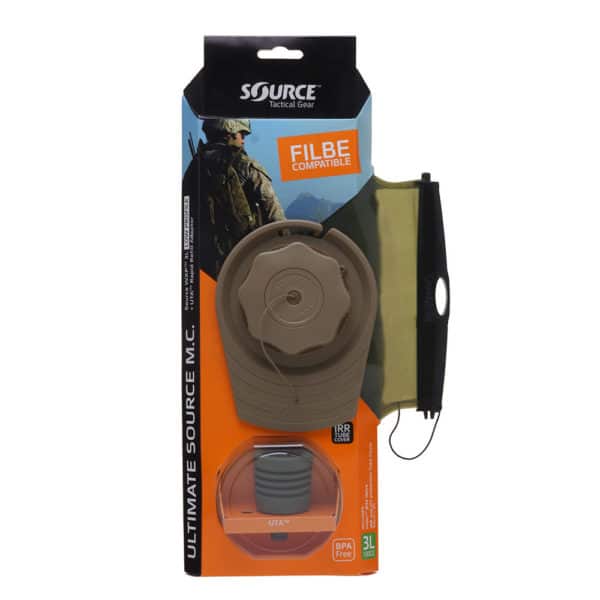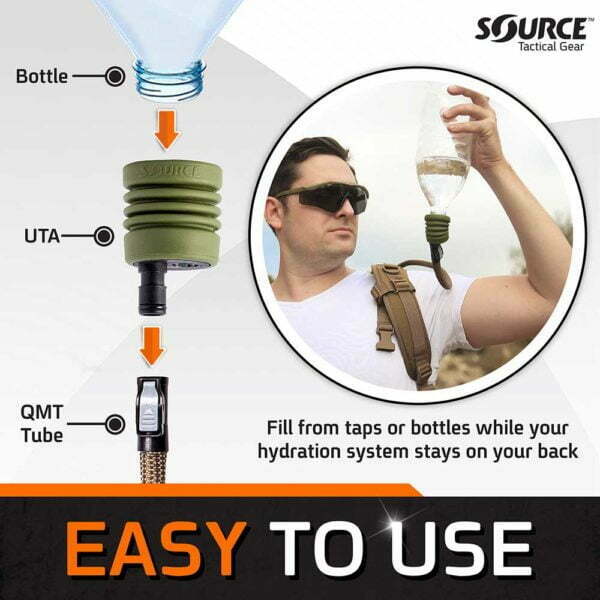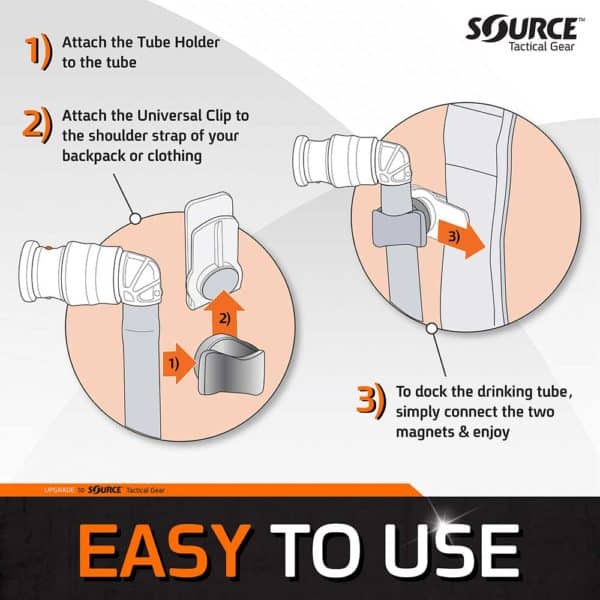 Ultimate SOURCE M.C
Hydration Bladder |
3L | (100oz)
The FILBE compatible Ultimate Source WXP Low Profile Hydration System with XL filling handle is usable with most common hydration systems of competitors. The revolutionary UTA Rapid Refill Adapter lets you refill your Hydration System through the drinking tube without removing the bladder from your backpack or vest.
In stock
Information
Reservoir Capacity
3 Liter
Bladder Design
Low Profile Bladder
Screw Cap
Widepac Opening
Drinking Valve
Storm Push-Pull Valve
Drinking Tube Length
94 cm / 37 in
Hydration Extras
Dirt Shield
Tube Cover
Dimensions (cm)
36 × 25 × 8 cm
Description
Our low-profile Ultimate Source M.C. 3L Hydration Bladder is designed to fit US Marine Corps FILBE gear. This low profile blatter features all the Source Hydration advantages, including care-free, taste-free and glass-like technology. The UTA Rapid Refill Adaptor lets you refill your hydration system on the move.
Perfect for adventure lovers, hiking enthusiasts and outdoor admirers, the SOURCE 3L hydration bladder will support you in all your endeavors. Having the SOURCE water bladder by your side will provide you with constant hands-free drinking, for up to 3L of fluid. This hydration bladder fits perfectly into a hydration pack, or a SOURCE tactical backpack so you can carry everything you need, hands-free.
Ultimate M.C. 3L Hydration Bladder Features
Angled SOURCE Storm drinking valve turns 360 degrees for perfect valve/mouth orientation; allows the tube to be 25cm shorter resulting in less excess tube bouncing around the chest, less snag hazard.

High-flow drinking valve is a SOURCE Storm push-pull valve that gives you full flow with no effort. Valve is exchangeable with our Helix bite valve (sold separately).

Low Profile: Maximum utilization of low profile technology reduces the depth of the carrier.

Large NC Filler Cap: air tight, low profile one hand operated; compatible with commonly used personal filtration systems; cap fits FILBE hydration filler opening

Dirt shield valve cover protects mouthpiece from dirt.

Cool Weave Cover Tube: Insulates and blocks UV-light; water stays cool and inhibits bacterial  growth.

Large NC Filler Cap: air tight, low profile one hand operated; compatible with commonly used personal filtration systems; cap fits FILBE hydration filler opening.

The Magnetic Clip holds the drinking tube and valve of any hydration system in place when on the move; easily attaches to shirt, shoulder strap or MOLLE webbing.
UTA Features
The reservoir is filled directly through the tube eliminating the need to open or even remove the hydration pack from your back for refills.

Connects easily to hydration bladder tube via Quick Connector

Fits most bottles and taps

Filling time from a 1.5L bottle: ca 50 seconds; filling time from tap: 2L in 45 sec, 3L in 1 min 05 sec

UTA expands when reservoir is full and automatically disconnects if reservoir is accidentally overfilled
SOURCE Hydration Technology & Materials
Taste-Free System: Co-extruded PE film retains pure liquid taste without plastic flavor; BPA and phthalate-free.

Glass-Like Film with Grunge-Guard Technology: Inhibits bacteria growth on reservoir and drinking tube surface.

Care-Free: Cleaning by simply rinsing the system and hanging it opened until dry (if used with water).

Widepac Closure: Patented slide closure for easy draining and cleaning; airtight seal.
Customer Reviews
09/05/2021
Tien Y.

HK
Awesome product - great fit and functionality
The most functional hydration bladder system on the market. 3L size is very practical, but the real stars are the low profile design (which makes carrying 3L so much less awkward), the UTA rapid refill adapter which is so functional, and the magnetic Universal Clip which keeps the drinking tube handy without any bother. Dual opening on the bladder is also very useful for filling and cleaning. Highly recommended
08/28/2021
William W.

US
Great product
Great product. Easy to clean fits great in a ruck
08/22/2021
Noah C.

US
Great bladder and accessories
Ended up returning and getting the one without the screw lid. Much better fit and profile if the lid is not an absolute requirement
Related Products