Testing the new SOURCE Double D pack – prototype to market
We are proud to introduce our new Double D «3 day pack»! Jon, active duty US Marine Corps infantry officer, was one of the first people outside of SOURCE involved in testing and improving the prototype. And he did some serious testing: taking the pack over 130 Miles by foot – heavy to fully loaded with about everything you could possibly need. See what he has to say! And then go ahead and take the new Double D on a mission yourself.
"SOURCE provided a prototype of this new planned 45L offering in the fall of 2011 and asked for test and evaluation input. I used that prototype to hike the 26.2 mile Bataan Death March Memorial marathon in the 'heavy' category.
About a year later, a production version arrived and I continued to conduct T&E on the concept. This review provides observations gleaned from both packs which are structurally almost identical.
I've written my observations from the perspective of a guy who has rucked Med/Lrg ALICE, MOLLE, ILBE, and have messed around with (but not rucked) FILBE. I also own an ATS RAID and Karrimor Sabre 45. I'm 6'2″, 205 lbs, and wear a size 44L coat.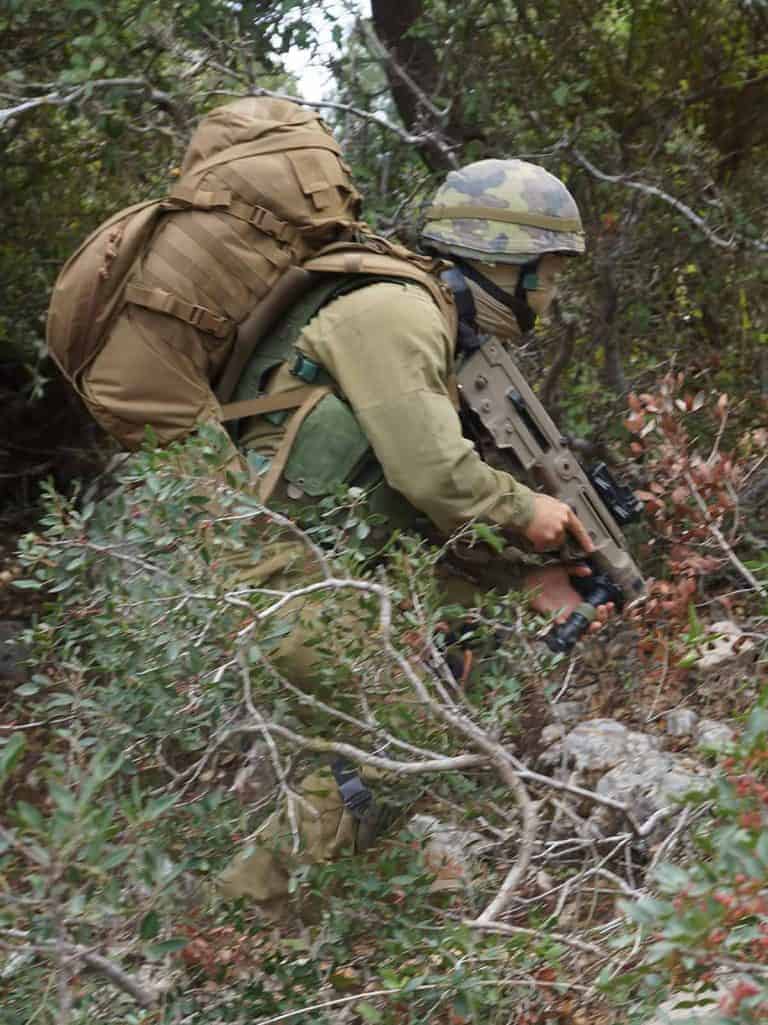 Double D Design
The Double D's pockets at the bottom of the sides are perfect for stabilizing longer items that you want to secure with the beavertail's compression straps. They have the capacity to hold up to (4) 60mm or (2) 81mm rounds in their fibers, as well as secure the bottom of an extra hydration carrier, rifle buttstock, etc.
The pack was excellent at stabilizing any load I put in it, and that contributes to less fatigue and energy consumption on the move. Most of this stability came from the detachable waist belt, with the rest coming from the well-contoured shoulder straps.
The basic orientation of the pack seems more alpine styled, and that allows the carried weight to ride closer and higher on the body. The pack is also well-built, but not over-built, which can create a weight penalty for little gain.
The load lifters allow adjustment on the move and also minimize fatigue. The sensible interior organization provides a means to secure a hydration bladder, radio or other bulky object, without unnecessary or excessive straps and material.
Double D Advantages
The beavertail concept is smart and functional. During the Bataan march, I carried four water bottles in the pockets and was able to extract them on the move.
This component is where SOURCE's conceptual designs start to shine. I've secured a lot of odd-shaped items to the outside of the pack, from a rolled up bivvy sack, air mattresses, a helmet, ammo can, etc.
The 3 liter pockets are perfect to stash warming layers, components of MREs, water bottles, extra magazines, you name it. The waist belt has the perfect contour to avoid interface issues with armor. Having just read this, understand that if you wear a warbelt, you might have some issues in that department depending on the thickness of the belt and what you have attached to it. It's always a game of compromises; get it to work with armor and your 2nd line and you'll have drama with the 1st line, and vice-versa.
This situation helps make some of the case for a minimized gunbelt if you can expect to run all three (pack, armor, and 1st line belt) frequently.
Double D Comfort
The PALS sewn in along the bottom of the pack could be stitched more towards the outside edge, so large items that are lashed down do not interfere with the wearer's legs.
Although the pack can't be blamed for the laws of physics that afflict the majority of comparable packs over armor, the shoulder straps dug in to my armpits when I put a full load of about 50 lbs. in it and wore it over an Eagle plate carrier with front and back SAPIs. A Mystery Ranch strap-cinch solved the problem and the pack rode very comfortably.
There were no comfort issues when worn without armor.
Double D Durability
I've run the prototype and production versions of the Double D across 134 miles (yes, that's not a typo) of ruck marching, to include 20 miles while wearing a 1st Gen issued Eagle plate carrier with front and back ESAPIs.
Some of it was during my workup to the Bataan Death March and the event itself. I've carried a variety of loadouts, from bags of rice, dumbbells wrapped in sleeping bags, and a complete 72-hr gear list (minus six stripped MREs).
Weights averaged between 40 and 50 lbs, and Meni Keinan (head of military design) told me that it's designed to hold up to 55lbs.
All straps and stitches have held up fine, despite the deliberate beating I put on the packs during T&E.
Double D Bottom Line
This is a very good pack with capacity for carrying a 72-hr tactical load across a broad climate range, including mission-essential equipment such as small arms ammunition, demolitions (e.g. M18 Claymore) C2 or leader tools, or biometric equipment.
It appears to have the basic organization, capacity, and stability to carry a sniper's ancillary equipment and sustainment load.
It would also serve a suitable role for certain hunters, outdoor enthusiasts, and folks with a need for preparedness and resources that are staged and ready."
Thanks to Jon for his thorough testing and feedback! Please note: His views are not an official endorsement of SOURCE products, nor are they any affiliation with the Marine Corps.