So you're planning your next getaway. Scaling Mount Rainier in Washington, perhaps? Finding your way along the Mist Trail of Yosemite? Exploring the Canyonlands in Utah? Or maybe, traversing the Devil's Ridge? However it is that you're planning to put your limits to the test, you should know better than anyone that preparation is key for a successful trek.
From navigation tools and keeping yourself warm, to lighting and emergency gear, we know that a simple trip to your local camping store usually just won't cut it. What you need is tactical gear that was built with durability in mind and used in extreme conditions by professionals across the world.
We've put together a list of important details to look out for when gearing up to blaze the next trail.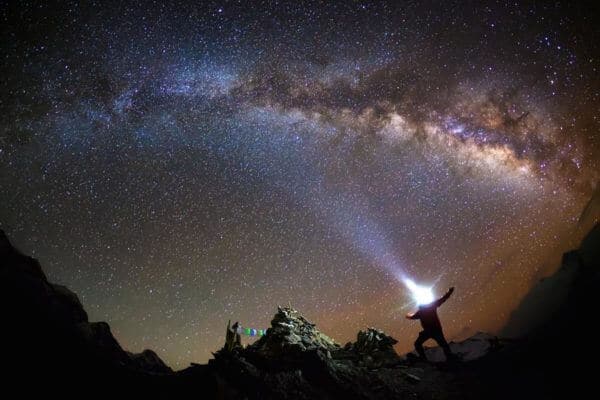 Lighting
Whether your plan involves hiking past daylight or camping overnight, it's always a good idea to have some extra sources of light to help you out. Having a tactical flashlight/torch can be extremely handy. As far as lumens go (the measure of light emitted), while most smaller flashlights will have around 100, we recommend to aim for 250-300. That should give you a good kick of light in any situation.
If you want to take your lighting game to the next level and have some packing space to spare, why not bring a lantern? Especially if you are planning on camping, lanterns can be an extremely convenient form of lighting to have around your camp. For lanterns, lumen levels of above 500 should be able to suitably light your area.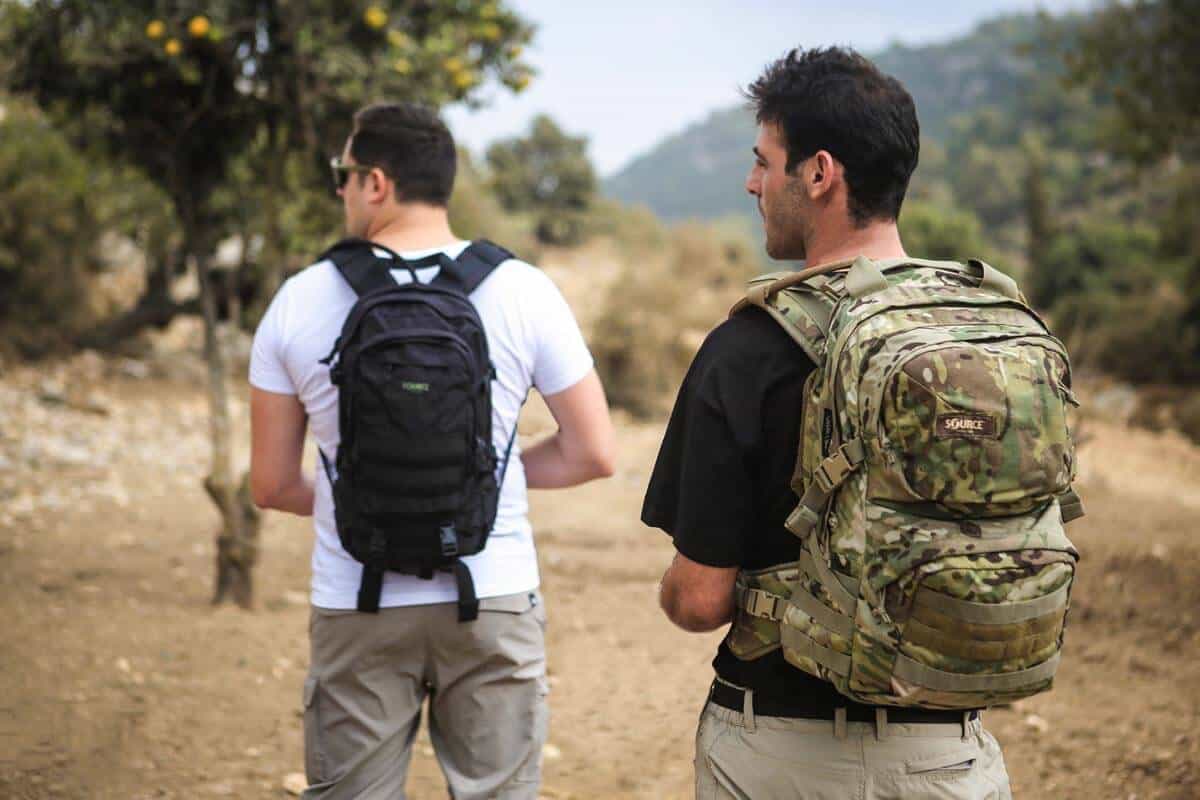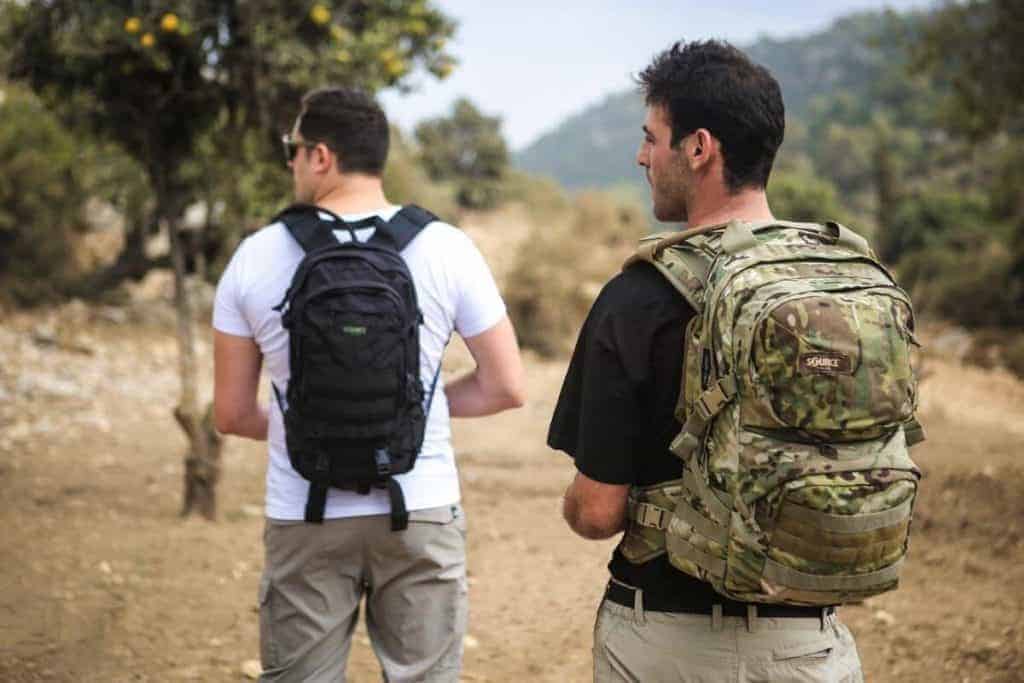 Backpack
Whether your plan is to devour a day-trip or spend longer venturing through nature, you'll most likely be taking a backpack with you. You know by now, though, that not just any backpack will do. You need a tactical backpack that will reduce your chances of suffering from an injury while providing a more comfortable journey. For this, weight distribution is key. Backpacks with correct weight distribution technology will help take stress off your back and disperse it across your shoulders and hip.
Back injuries will definitely keep you at home or incapacitate you en route, so it's wise to equip yourself with gear that will keep you going.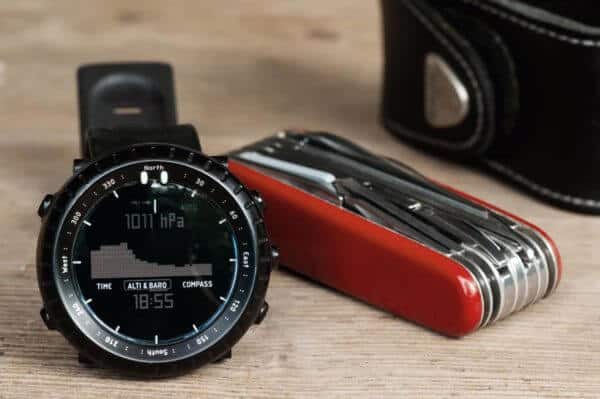 Navigation
While some hikes may have clear routes/markers to follow, others might just be an open exploration of nature. Either way, it is a good idea to have a navigation aide.
Those who want to challenge themselves might be satisfied with just a map of the area, or possibly a compass to help with orientation. If the environment you are heading into is particularly tough, you may even want to bring a GPS device. Unlike the GPS we use on our phone that require mobile service, you should make sure your device is based on satellite communication technologies so that you can navigate any terrain.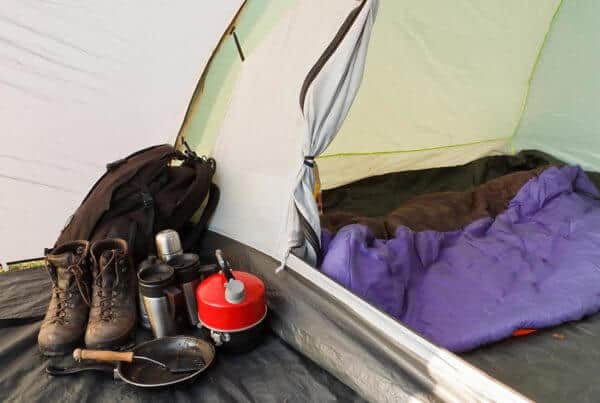 Stay Warm
The cold can be exhausting if not outright debilitating. Whether you're in extreme cold conditions or staying somewhere that experiences a temperature drop overnight, having some extra padding can come in handy.
Sleeping well on these excursions is key, and that's why it is important to match your sleeping bag to your expected conditions. A sleeping bag crafted for -20 degree conditions might be too hot to sleep in if your night is expected to drop to 0 degrees. Apart from that, making sure the sleeping bag is both water resistant and made with a thermal interior is also something important to look out for. Speaking of thermals, bringing thermal clothes is another great idea for your trek. Keep in mind that even in hotter climates the temperature can sink drastically at night-time.
Lastly, while not completely essential, getting hold of heating packs can be an added form of luxury on your trip. They come in a variety of shapes and sizes and can usually be inserted into your gloves, clothing, or sleeping bag, to keep you extra toasty.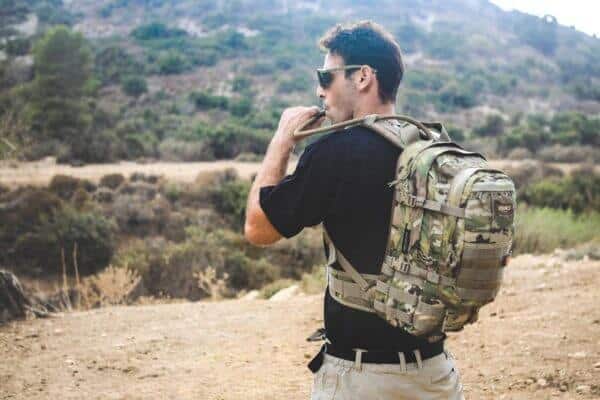 Hydration
One of the best ways to keep yourself hydrated are tactical hydration packs/bladders. They are an easy and comfortable way of carrying water with you throughout your trek without the need to lug around heavy bottles. The great thing about them is that one filling of a suitable bladder will usually be enough for the day, saving you the hassle of refilling. If you want to make your trip a bit more comfortable, get a hydration pack that uses taste-free technology to avoid that plastic flavour that comes with most tubes.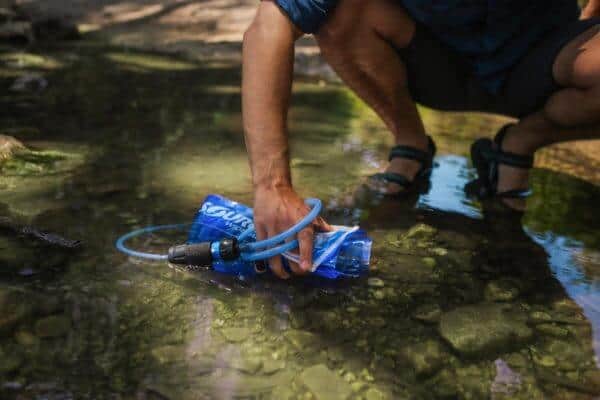 Another useful item to have is a water filtration aide. These compact filtration systems will enable you to drink from natural water sources you encounter en route, without carrying excessive amounts of water with you. Also, they do not require the use of any additional tablets/chemicals!
Emergency Gear
No matter how seasoned an adventurer you are, there are some things that are vital to have in case you find yourself in a pinch. A first aid kit is the obvious first step, but it's also important to make sure it includes useful items. Wound coverings such as gauze padding and bandages are important, as are antiseptic creams/liquids (iodine, Neosporin, etc.). Lastly, including a small pair of scissors can be useful in many different situations.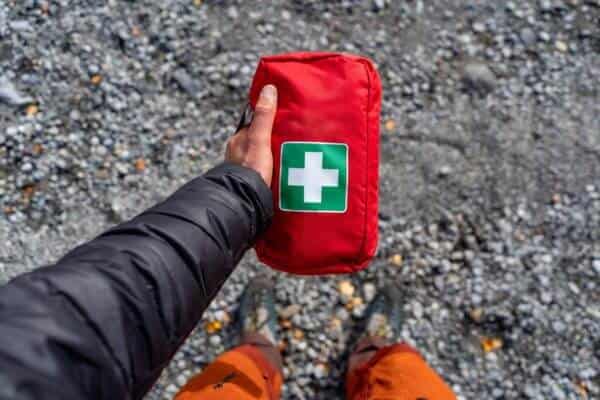 Another useful emergency tool is a satcom beacon. At the touch of a button, these beacons can send out distress signals to the nearest emergency responders, alerting them that you're in trouble. This little device is extremely convenient to carry with you and can make an enormous difference if you find yourself in a problematic situation.
For even the most rugged adventurers
No matter how many mountains you have scaled, valleys you have trudged through, or storms you have weathered, it's always a good idea to take a critical look at your gear. Making sure you have the right backpack, hydration and emergency gear, lighting equipment, etc., can upgrade your hiking experience—not only making your experience more enjoyable, but also allowing you to push yourself further and take on bigger and tougher challenges.
"One market you have is the physically handicapped that use a hydration bladder every night," wrote Patricia on Facebook a few weeks back…
We were curious to hear more, and a few days later we received notice about a new video-review of our SOURCE Tactical Hydration pack uploaded to YouTube by a true pro-user. We learned: our packs designed to attach to MOLLE, also do an excellent job hanging from a bed-rail or wheelchair handle of a physically handicapped person.
"Many quadriplegics use a water bag for hydration and the SOURCE bladders are so much easier to keep clean that many others."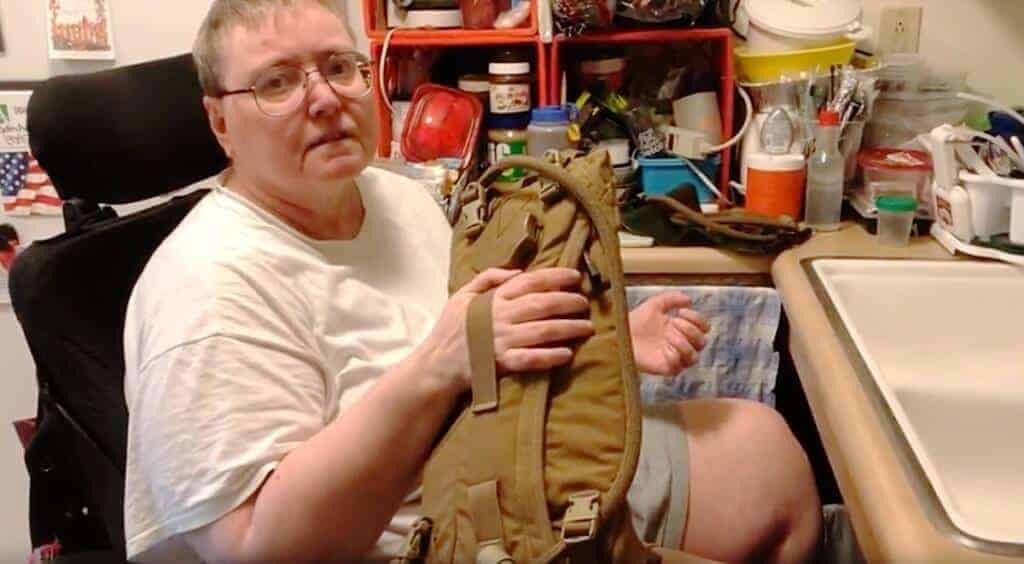 "This is actually the first generation system that was issued to the Marine Corps" Patricia opens her review of our hydration pack on YouTube. In her video she gives us the full rundown, going into the straps' use, how they were intended by our designers for soldier's life, but how all the smart details make a quadriplegic's life easier.
"The smaller straps at the top designed to hook into MOLLE webbing fit bed railings just great!"
"Marine Corps doesn't like to have straps flapping around" – and Patricia, the reviewer doesn't either. The strap designed to hold the bladder for filling is a much appreciated detail not only in the field. And our SQC quick connector and the full width Widepac opening of the bladder comes in handy in all situations as well, not to mention our GlassLike low maintenance technology making the system practically self-cleaning.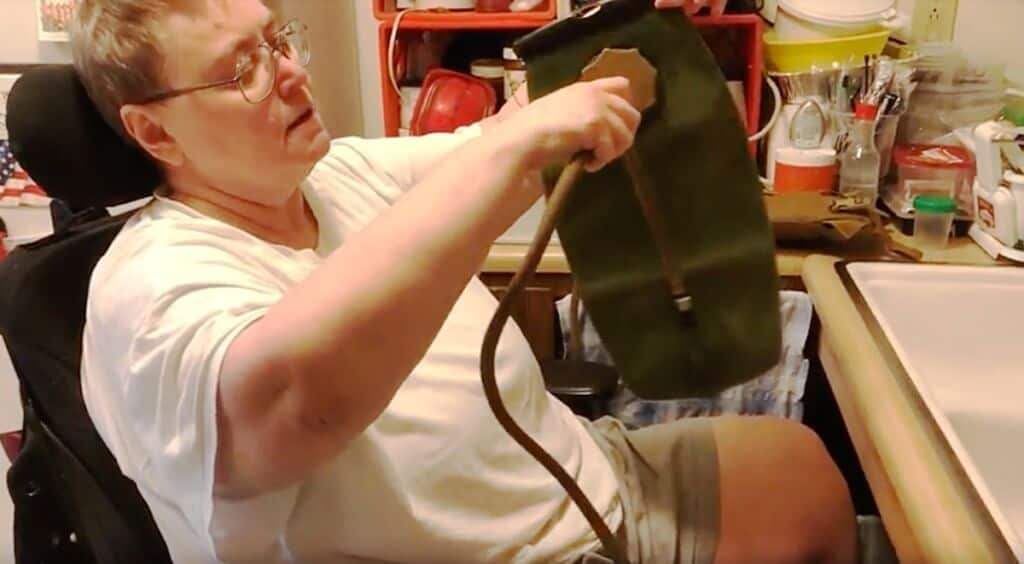 "The Source set up is so much easier to keep clean and to use."
Here's Patricia's thorough review pointing out the main features that makes SOURCE Hydration preferable over our competitors' products. We appreciate and we're proud to share!
As with all good things – they evolve to become better. We are proud to announce new components developed by Source for the VIRTUS Soldier System, and to take a short look at the main features here in our blog.
With the ground breaking step in how the soldiers gear is designed – treating the soldier as a system – SOURCE have continued to improve the VIRTUS Soldier System to meet the changing demands of the modern soldier. New components available for the SOURCE Virtus Soldier System include a new Bergen, the Assault pack, and updated MOLLE Belt and Yoke.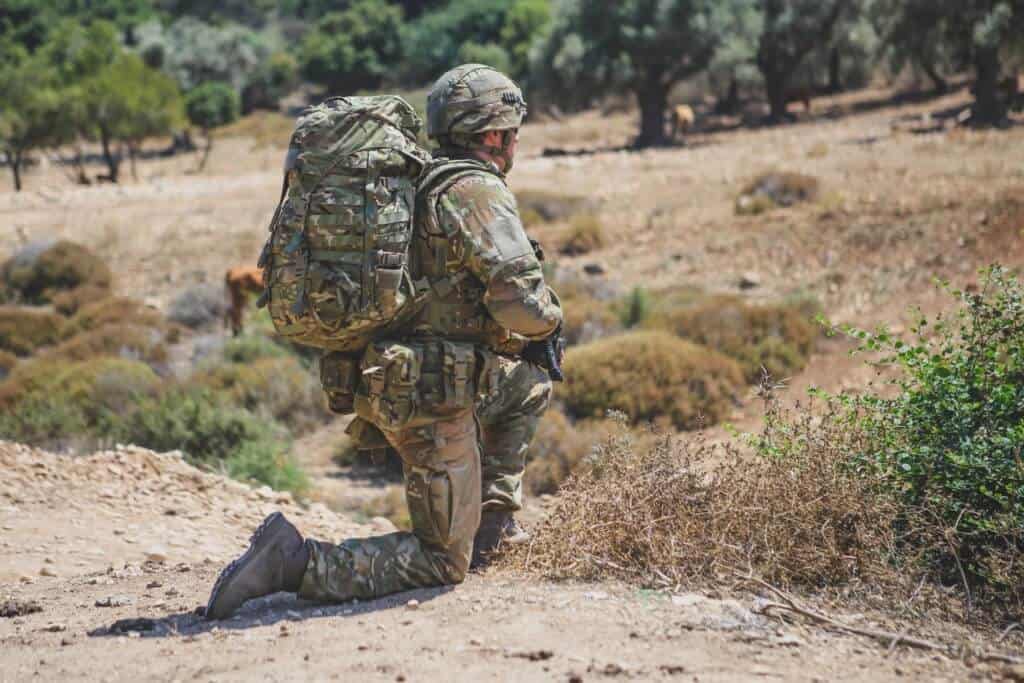 Short Back Bergen
The Bergen has undergone a significant redesign and now offers the same load capacity in a short back frame with a removable hip belt that allows use of the DWD for when the MOLLE Belt is worn. A much simpler design with a large top flap the bergen is significantly lighter further reducing the soldier burden. The side pouches capacity is increased from 5 litres to 7.5 litres.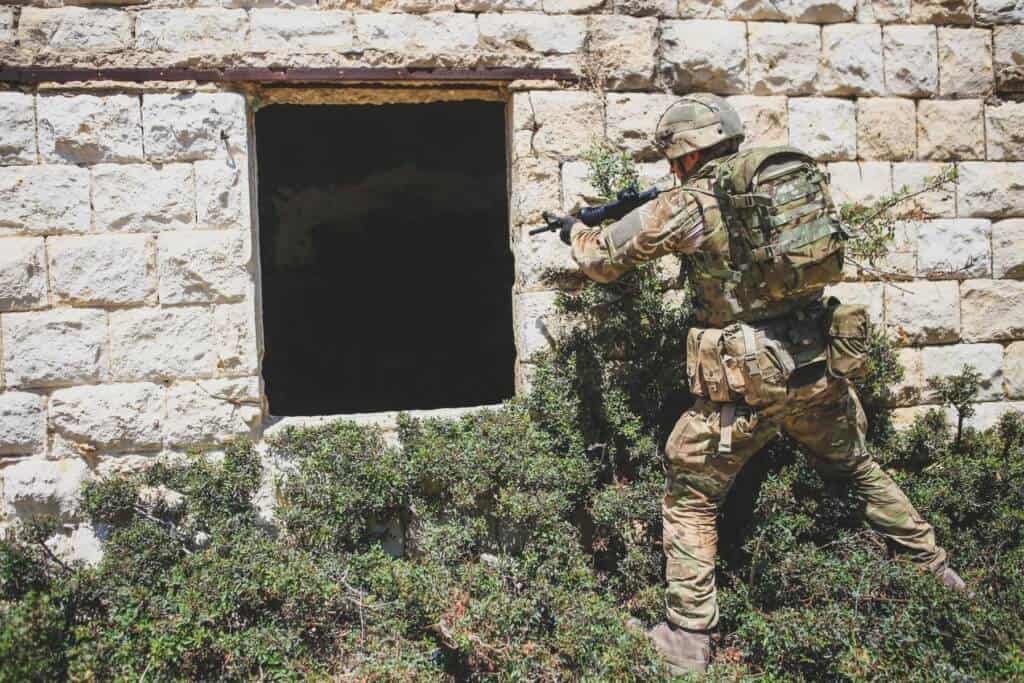 Assault Pack
A small pack designed to carry the essentials needed by the soldier on the assault, our Assault pack offers a hydration pocket, NVG Padded pocket and a main compartment for communications equipment, ammunition and rations or other essential items. The pack can be worn with its own shoulder straps or used attached to the new H Yoke with the integral zips or attached directly to the STV via the MOLLE Zips – Zips that attach to the rear of the body armour vest enabling even simpler load carriage attachment.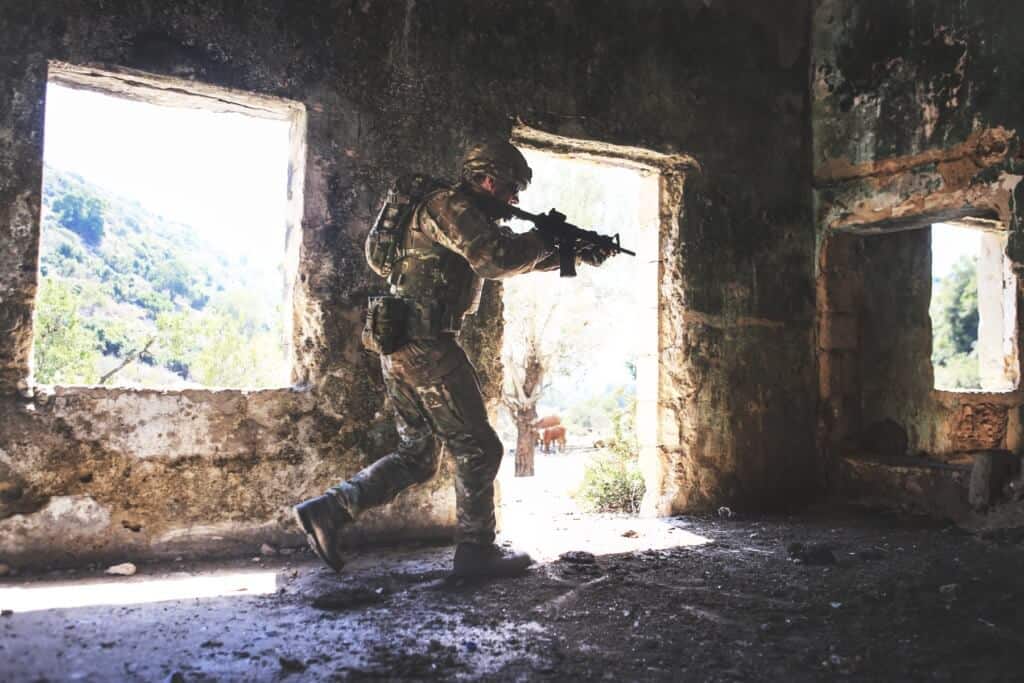 MOLLE Belt & Yoke
The Virtus MOLLE Belt and Yoke finally have had other improvements made to it with the Jungle Yoke being introduced. The Jungle Yoke offers increased padding, MOLLE on the front straps, 4 Point connection to the MOLLE Belt, Rear zips to attach the Hydration Side Pack, Side Pouch or Assault Pack to and the option to route the straps like a rucksack; providing greater comfort and stability when the Assault Pack is worn. The Jungle Yoke can be worn under or over the STV, dependent on the users preference.
SOURCE VIRTUS – SOLDIER AS A SYSTEM
Virtus forms the core of a scalable soldier architecture. Designed as a system to address the challenges of the current and future operating environments.
Viewing the "Soldier as a System" enables an integrated approach to reducing the cognitive physiological and mechanical impact on the individual. Enhancing the operational effectiveness of the combat infantry.
SOURCE Virtus Soldier System, the new personal protection and load carriage system developed by SOURCE Tactical Gear for the British Army, is premiering at the 2015 DSEI exhibition in London.
SOURCE is supplying the British Army with SOURCE Virtus Soldier System, a new fully integrated, groundbreaking personal protection and load carriage system. At the biennial Defence & Security Equipment International (DSEI) exhibition in London we proudly present Virtus, which is based on, amongst other key attributes, its class leading VIRTUS Dynamic Weight Distribution system, enhancing the operation effectiveness of the dismounted combatant.
Our SOURCE Tactical Gear booth at DESI London has been buzzing, check out the pictures below for a glimpse of the action and get a first look in our SOURCE Virtus Soldier Systems First Look clip above!
From all our Tactical Hydration Systems, Packs and Footwear on display, one particular exhibit attracted special attention at our SHOT booth last month: For the first time we displayed the revolutionary DWD load distribution system our developers have been working on for years.
In the coming months we'll follow up in our blog here with more details about the unique new Dynamic Weight Distribution System (DWD). At IWA Show in Nuremberg (March 6-9) we'll have the DWD on display as well. Please set an appointment for presentation and demonstration of the unique features and functionality. And sign up for our newsletter now and we'll keep you up to date!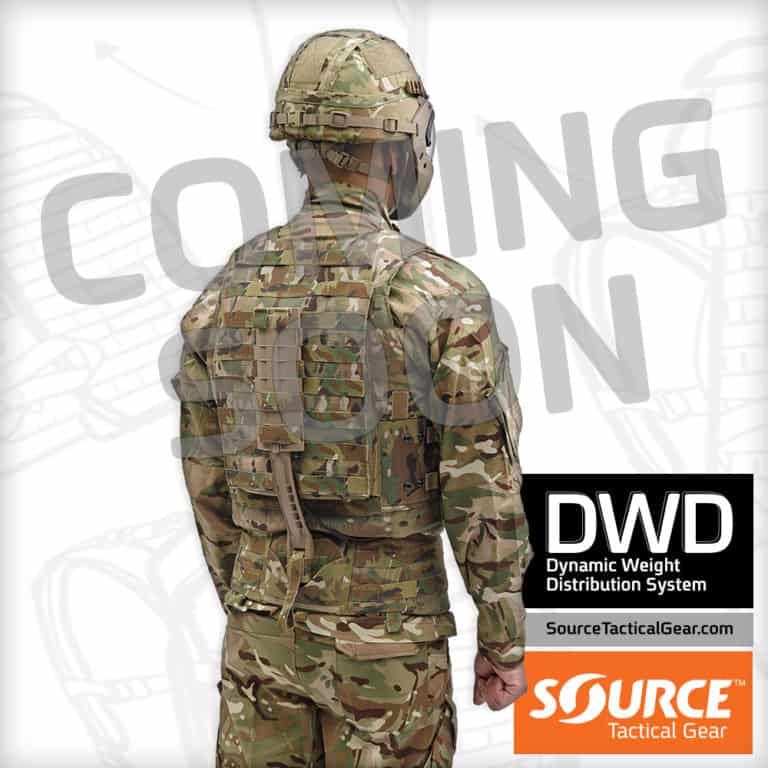 Ben from LivingSurvival recently posted his review of our 2014 Patrol 35L Cargo Hydration Pack on YouTube, featuring the Patrol as his winter bug out bag, packing cold weather gear and much more. Ben's conclusion: "The Source Tactical pack is great for larger loads and comfort when bugging out." We appreciate the professional in depth review – take a look!
Thanks to Ben and everybody tuning in to LivingSurvival and posting a comment! We're thrilled to see a lot of qualified observations and questions to the clip and the Patrol features. Have a great winter, everybody!
"I am a big fan of the removable belt. Makes a big difference. Great review bro." The Daily Shooter
"I really like that compression strap design. never seen that before." Malcolm Coderre
"Killer pack with many good points. Like the x-tra large pocket, H2O system, and cushy back padding." MI Timberwookie.
Learn more: