Survival Skills You Need For Your Backpacking Adventure
Backpacking may be one of the most liberating ways to travel or explore the world around you. But whether you're a backpacker for one year or just a weekend, it doesn't come without inherent dangers that can put your life at risk if you're not fully prepared. Every backpacker must equip themselves with the proper equipment, skills, and tricks to ensure they stay safe during their adventure.
This article may be called 'survival skills,' but it gives you more than just survival skills or some useful survival tips. It will teach you how to survive and thrive, with all kinds of tips and tricks. Such as tactical tips, navigational secrets, and hydration tricks, so you're the most prepared you can be to have a successful and enjoyable backpacking adventure.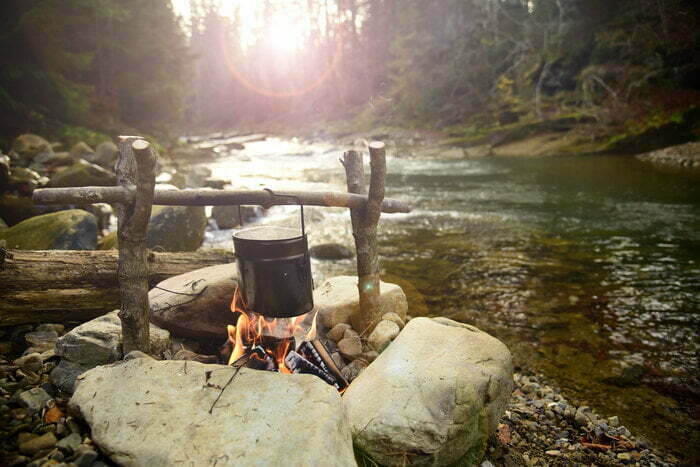 Calling All Backpackers: What Are The Types Of Dangers You May Come Across?
Some of the things that may put you in danger during your hike are:
Insects – from mosquito bites down to more dangerous or unknown animal bites, how to avoid and deal with insect bites.
Weather – from below-freezing temperatures right up to burning hot temperatures, staying warm and hydrated at the same time is a must for backpackers.
Wildlife – how do you fend off potential wild animals you may encounter?
Uneven ground – having proper shoes to grip and maintain balance.
Getting lost – how do you navigate even in the most urgent situations of being completely lost?
Gravity – what keeps you standing on the ground can suddenly turn into your enemy, with the risk of falling rocks and uneven ground causing you to fall over and get injuries.
Shelter – how to find shelter even in the dark.
Food – how to make sure you don't run out.
First aid – you may not be a doctor or have a doctor nearby. What level of first aid do you need for your backpacking adventure?
Survival Skills All Backpackers Need To Know
1. Tell A Responsible Person Your Hiking Route
Before you even leave your house, share your plans with a trusted and responsible person even adding a map with a highlighted route where feasible. Try to be as accurate as possible. Show them where you plan to be outdoors, adventuring in nature, how long each day should be, and where you plan to camp at night.
This information can be life-saving. If you don't return or you call asking for help, it can help a rescue team locate you much quicker than searching an entire wilderness.
2. Take Enough Food And Water For Several Days
Food and water sources are the most basic survival skills you need to ensure survival on your backpacking adventure. The average person can survive three weeks without food but only 3-4 days without water. Nonetheless, while you're planning on going on a potentially strenuous and energy-consuming hike, food and water are what will give you the power to go on each day.
The best types of food to pack are high-protein, nutritious, and foods that are packed with healthy fats. Nuts and seeds, dried fruit, dehydrated peanut or almond butter, protein bars, instant oatmeal, tinned fish, or poultry, whole grains like quinoa, and powdered milk are the most recommended foods to take on a hike.
Make sure you take a backpack with enough space for all the food and water you need. The most space-saving and supportive backpacks are tactical, such as the 35L SOURCE tactical backpack. This backpack comes with a 3L hydration bladder that's self-cleaning, antimicrobial, and anti-spill so you can enjoy hands-free drinking on the go.
With this backpack, you will have enough space for all your food, equipment and a large water source that doesn't take up as much space as carrying 3x 1L water bottles. You can also add extra storage to your backpack with the MOLLE webbing on the back, sides, and bottom. Having enough storage space for your food and water is one of the most important survival tips, and tactical backpacks are the perfect solution for this.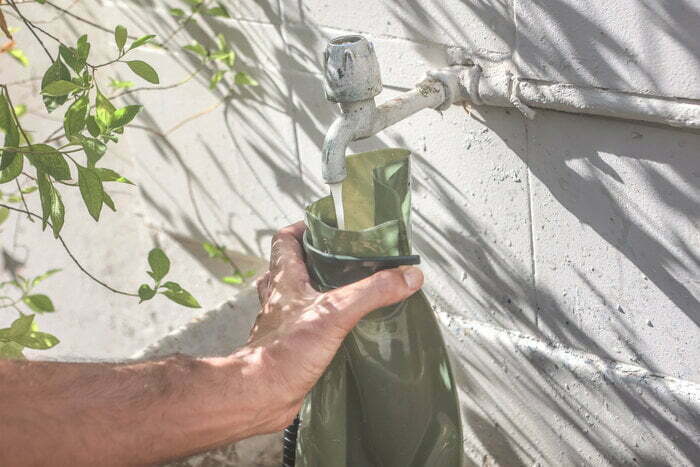 3. Ensure You Have Appropriate Equipment
Aside from having a sturdy and appropriate hiking backpack, ensuring you fill it with the appropriate equipment is essential. You may need to fit in a sleeping bag, tent or tarp, extra clothes, first aid kits, and of course, plenty of food and water.
This also includes ensuring you equip yourself with appropriate footwear. You probably own a pair of hiking boots, but what if you get to a stream and you don't want to get your boots wet? Then you probably need a pair of hiking sandals that can easily slip into your tactical backpack.
If you decide to take a hydration bladder, you may also decide you need accessories to equip you with the best hydration bladder system you can. Such as a magnetic clip to clip your hydration tube near your mouth, hydration bladder tube replacements, or even SOURCE's UTA Rapid Refill Adapter to refill your hydration system through the drinking tube, without even removing the bladder from your backpack.
All of these are part of the equipment you may need when backpacking. Understand what you need before you leave, so you are as prepared as you can be.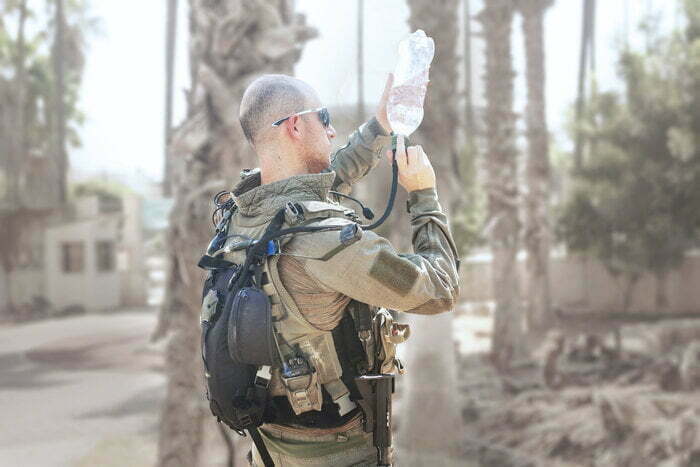 4. Maps, Compasses, And Navigational Skills
One of the biggest risks when backpacking, especially alone, is getting lost. Besides having a well-marked route, knowing how to read maps and compasses accurately if you find yourself getting lost can help you stay on track. If your compass suddenly stops working, learn how to use your regular watch as a compass or the shadow stick method to navigate yourself safely.
Besides reading compasses and maps, learning how to use the sun to navigate you, pay attention to landmarks and signs to strengthen your navigational skills so you can be sure you are on the right track.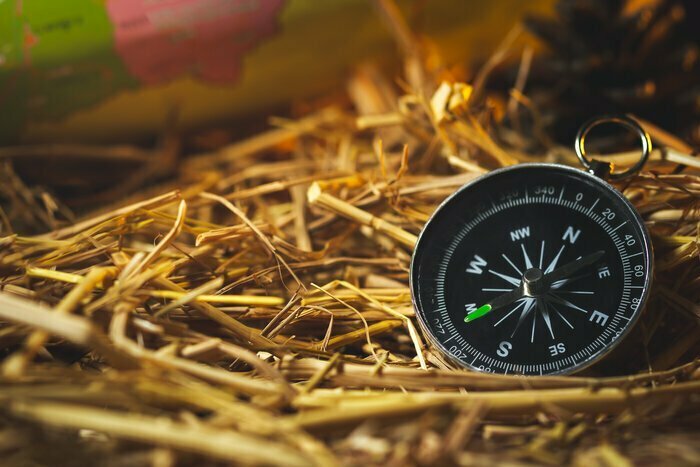 5. Take Layered Clothing, And Learn How To Warm Up Or Cool Down In Minutes
Layers are the key to staying warm. Wool or polyester are the best layers you can take to stay as warm as possible, especially at night. On the other hand, cotton and breathable layers are ideal for staying cool in high heat or humidity.
If you find that your body temperate is quickly dropping, make sure you eat some warm food and a warm drink. If you have eaten, make sure you are moving around and wearing the right amount of layers.
6. Try To Be In A Campsite Or Back At Home Before Dark
Aim to be at your campsite, at a safe camping spot, or back home safe before dark. As the sun sets, this means you won't be able to see well, and you will also likely get cold quickly. If you aren't at a campsite by this time, trying to navigate in the dark can be extremely difficult, eand setting up a tent in the dark and cooking dinner with no sun is far from ideal. You're more likely to get lost in the dark or get into emergencies.
Plan your trip with appropriate and easily attainable goals, so you can ensure you're safe by the time the sunsets.
7. Take A Tent Or Tarp, And Become An Expert In Setting Them Up Even In The Dark
If you do get to your campsite or camping ground in the dark, make sure you know exactly how to set up your tent or tarp in the dark at the very least. Practice at home before you go to know where all the pegs and pieces fit into place.
8. Learn How To Start A Fire From Scratch
This isn't the 'rubbing two twigs together to create a small flame' situation. It's learning how to make a life-saving heat source that can save your life. There are several fire-lighting tools that you can purchase before your trip to help, such as a flint or strike igniter, but mastering fire-making from scratch is an essential survival tip when backpacking.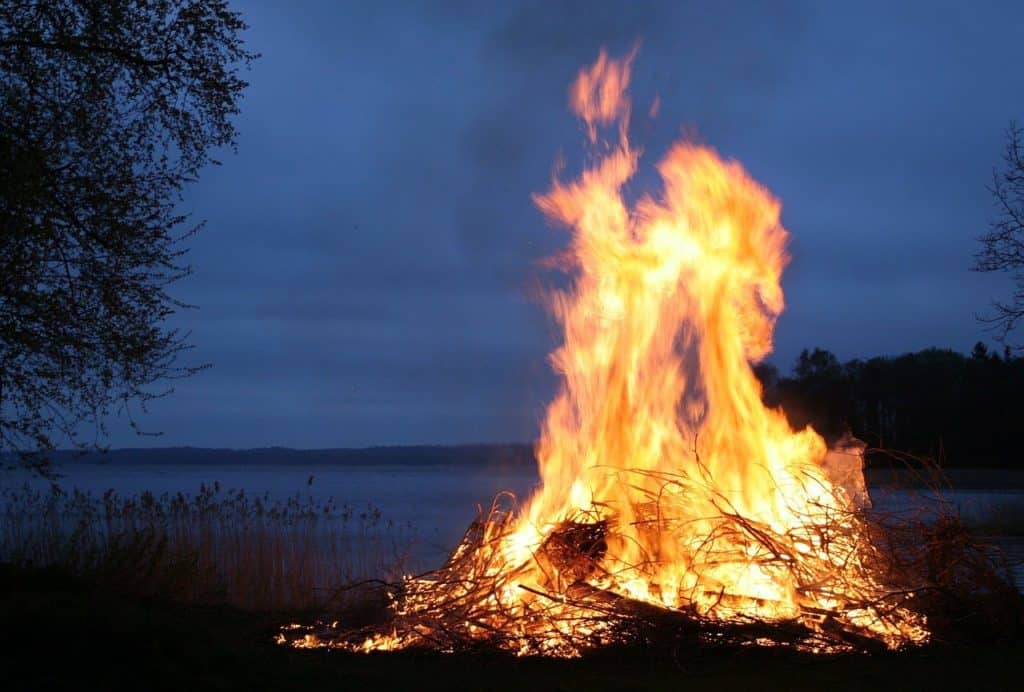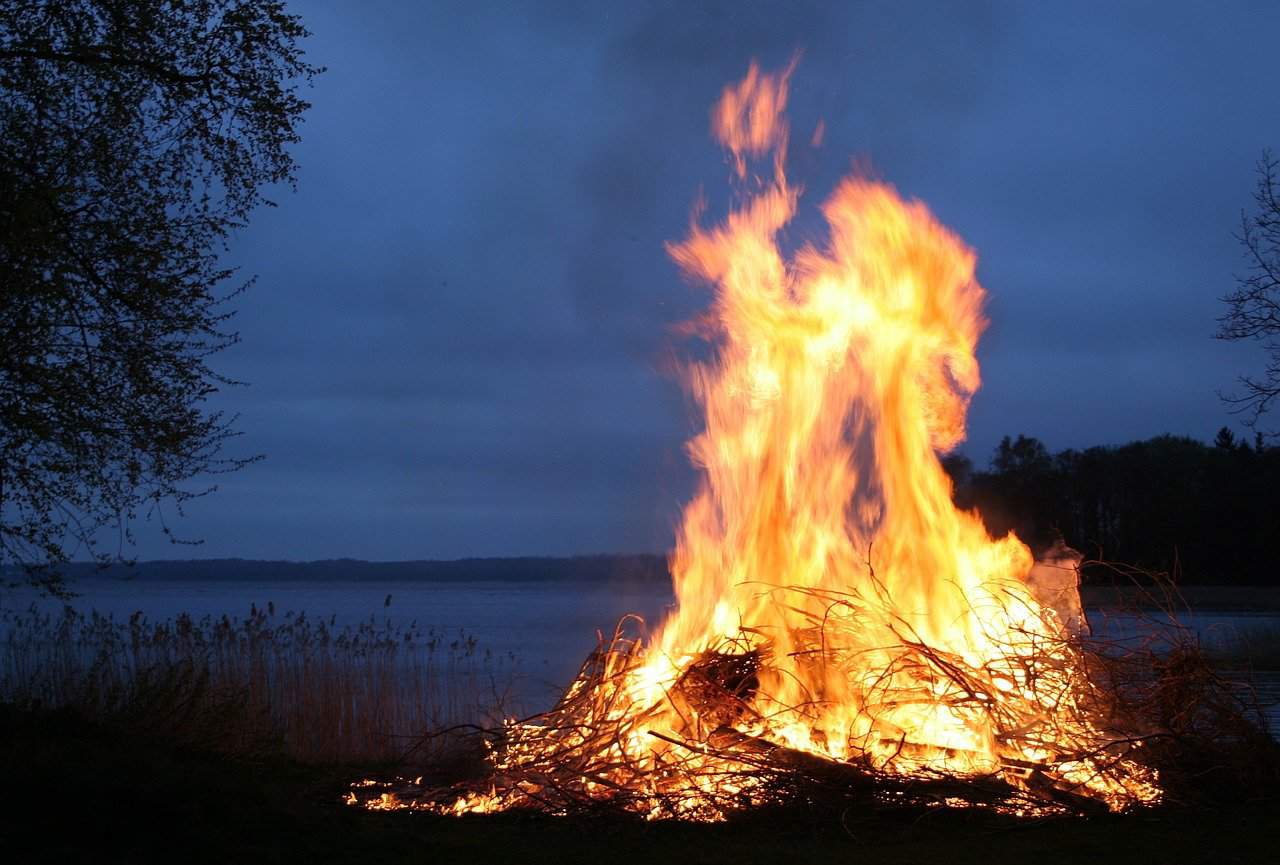 9. Master Various Knots
Tying various knots is an essential skill that can help you hang your hammock from a tree or tie your tent in place when there are harsh winds. Understanding where you're going to hike can help you understand what types of knots you may need to master. For example, if you're climbing up mountainsides, you may need to learn specific knots that are utilized for mountainsides.
10. Learn How To Locate A Freshwater Source
Gravity is your best friend in this situation. You are most likely to find water at a hill or mountain base, and running water is generally cleaner than stagnant water. One of the most important things to remember is that you can still risk some small pieces of dirt or small leaves entering your bottle even with running water. To avoid this, use your breathable sports top as a filter. Place the material over your bottle head, and place your bottle into a running water stream. The small holes in the top allow the water to filter through while avoiding most small leaves or pieces of dirt.
Always remember to carry extra fresh water. Even if you have one of SOURCE's hydration bladders, it's important to carry an extra bottle on the side for emergencies.
11. Learn The Hand Trick For Estimating Daylight
One helpful trick to estimating how much daylight you have left accurately is as follows:
Hold your four fingers out horizontal to the horizon
Align the top of your index finger with the bottom of the sun; your pinkie should be closest to the horizon
Each finger represents 15 minutes. So if you have your pinkie resting at the horizon and your index finger is right below the sun, you have roughly an hour left.
This is pretty accurate and can help you understand how much time you have before getting to a campsite.
12. Dealing With Big Predators
Close-up encounters with big predators are pretty rare. However, it's not uncommon, and you should be fully aware and confident to deal with an unwanted encounter at any point.
The best way to deal with bears, lions, bobcats, or any other large animal is to make yourself look and feel as big as that creature, with your arms outstretched wide, and to create a large amount of noise, so they don't think you are their next tasty meal.
13. Kit Yourself With First-Aid Equipment And Skills
Besides carrying a first-aid kit, you need to understand the best way to use this kit. You should learn how to treat common injuries such as cuts, bruises, stop blood from a wound, and how to make slings for fractures and broken bones.
You need to know what types of insects might bite you, what each bite looks like and how to deal with each one. Some bites may require some cooling gel. Others may require a trip to the emergency room, so be aware and learn what you need to look out for before starting your trip. Should something happen to you, you need to take care of yourself before you can get to an emergency room.
14. Identify Edible And Inedible Plants
Identifying which berries or plants are edible can be a lifesaver should you find yourself without food and very hungry. Research which plants may be on the route during your hike, and memorize which plants are edible. Or bring a book with if you have space, these plants can save your life in an emergency situation.
15. The Quickest Way To Melt Snow
It might seem like basic science. Place some snow over some heat and it will surely melt in no time? Once boiled, filtered, and cooled down, you have perfectly good water, right?
Not necessarily. Snow actually takes longer to melt than you may realize. The quickest way to melt snow is actually to mix some regular water with it. This massively speeds up the melting process so you can have water to drink in no time.
16. The Link Between Positive Thinking And Survival
If you think you will survive, you will. If you don't think you will, you probably won't.
Of course, it isn't always like this and many other factors come into play when you are in dangerous or emergency situations. But, the idea of having positive thoughts can give you the boost to think outside the box, to plan ahead, and to stay safe.
This is the basic understanding between positive and negative thoughts, and although a lot more can come in the way of life or death, having a positive mindset is important to boost yourself to keep going and survive. Make sure before you hike you're mentally prepared, and you understand you may come across challenges, but you have the strength and confidence to overcome these challenges yourself.
17. Learn How To Signal For Rescue
Casting light by mirror or fire, whistling three times, and hanging up colored items in high visibility areas are all types of ways to signal for rescue or that you are in distress. Whistling 3 times, in particular, is generally accepted as a sign of distress universally. Make sure you carry a whistle at all times so you can signal for rescue at any point you need.
What's The Most Important Lesson I Can Take From All This?
The most important message is, don't panic. If you find yourself in an unknown situation, use your navigational tips and tricks to get you on the right path and to get to a campsite. Always remember to ask someone you pass for help with directions if you are lost. Fellow backpackers are some of the friendliest people out there!
There is no set time to start preparing for a backpacking adventure. Make sure you prepare and practice a lot beforehand, do a lot of research, and get all of the necessary equipment. Backpacking equipment can seem quite pricey, but the good thing is that besides the food, all other equipment can last for many years, especially if you buy better quality to start with. SOURCE's tactical backpacks and hydration bladders are made to last and they will be your lifelong backpacking buddy that you can always rely on.