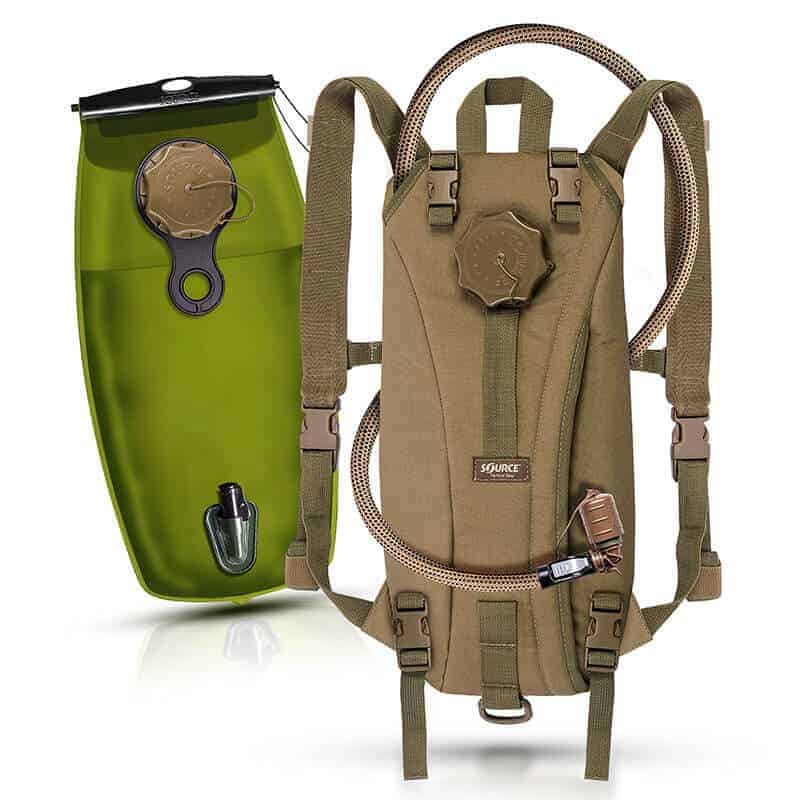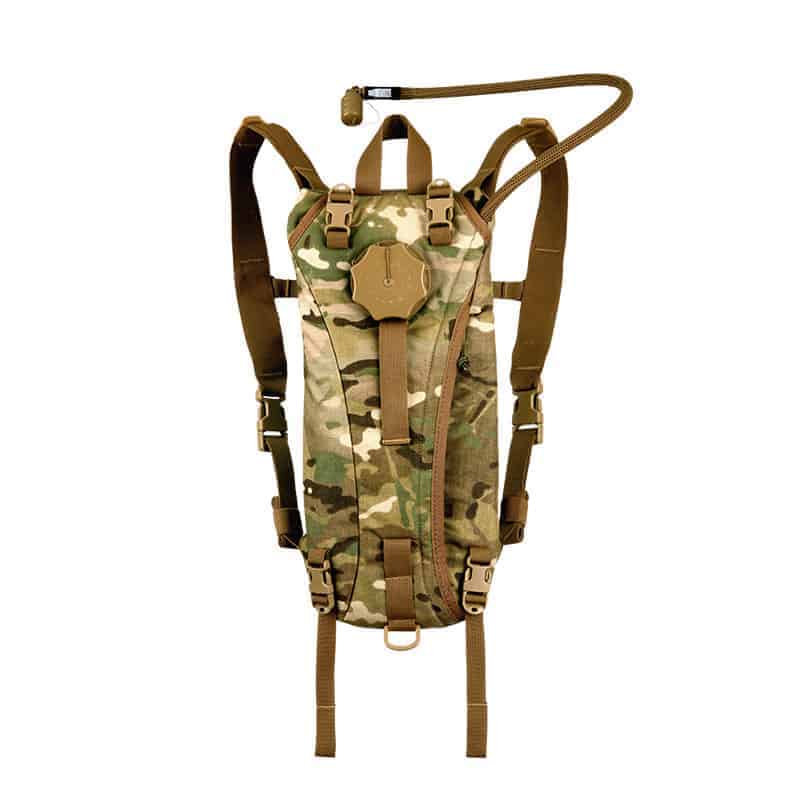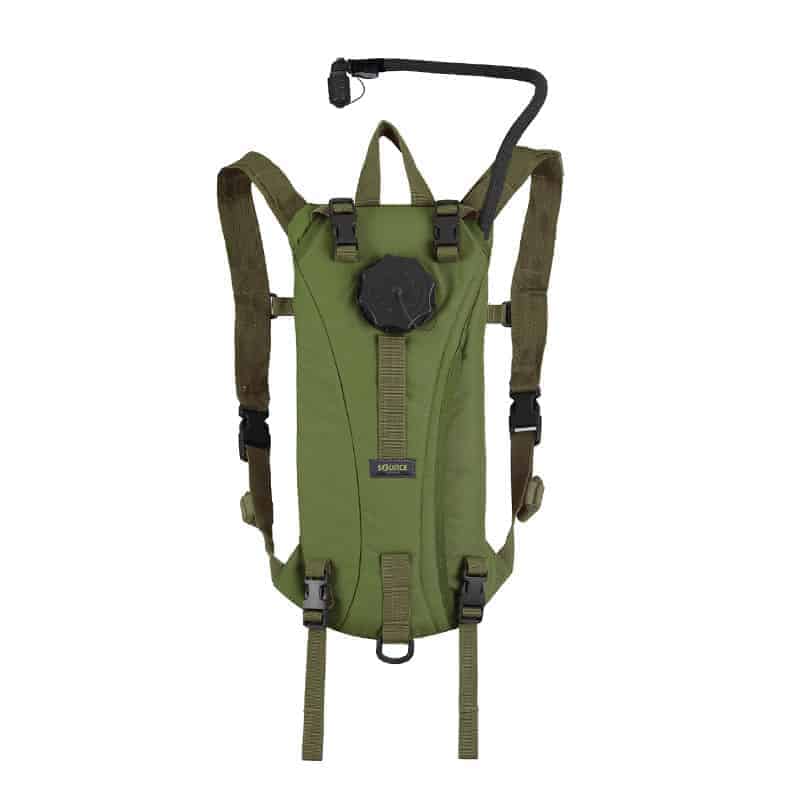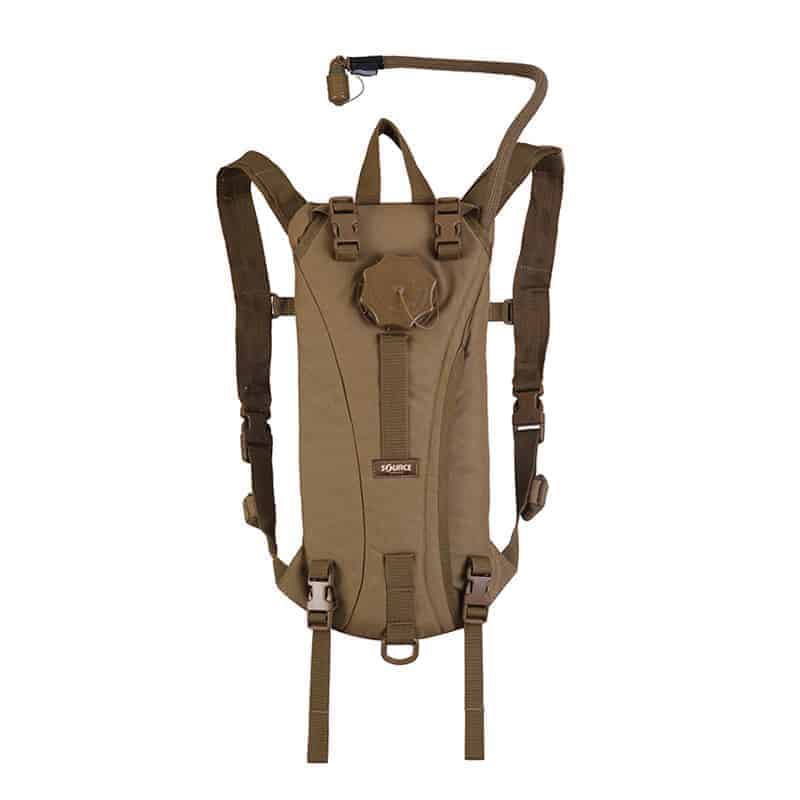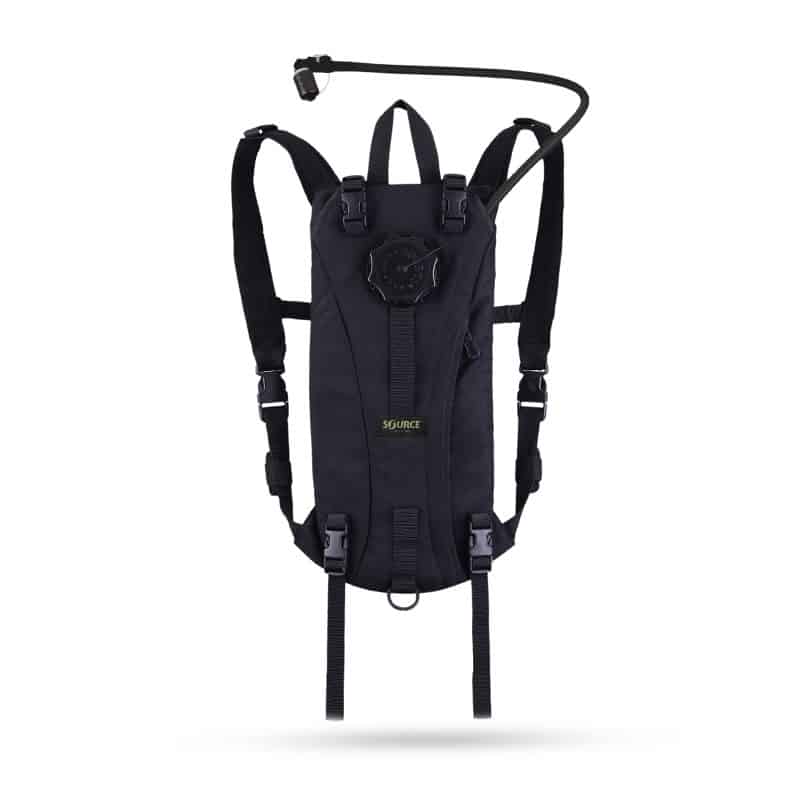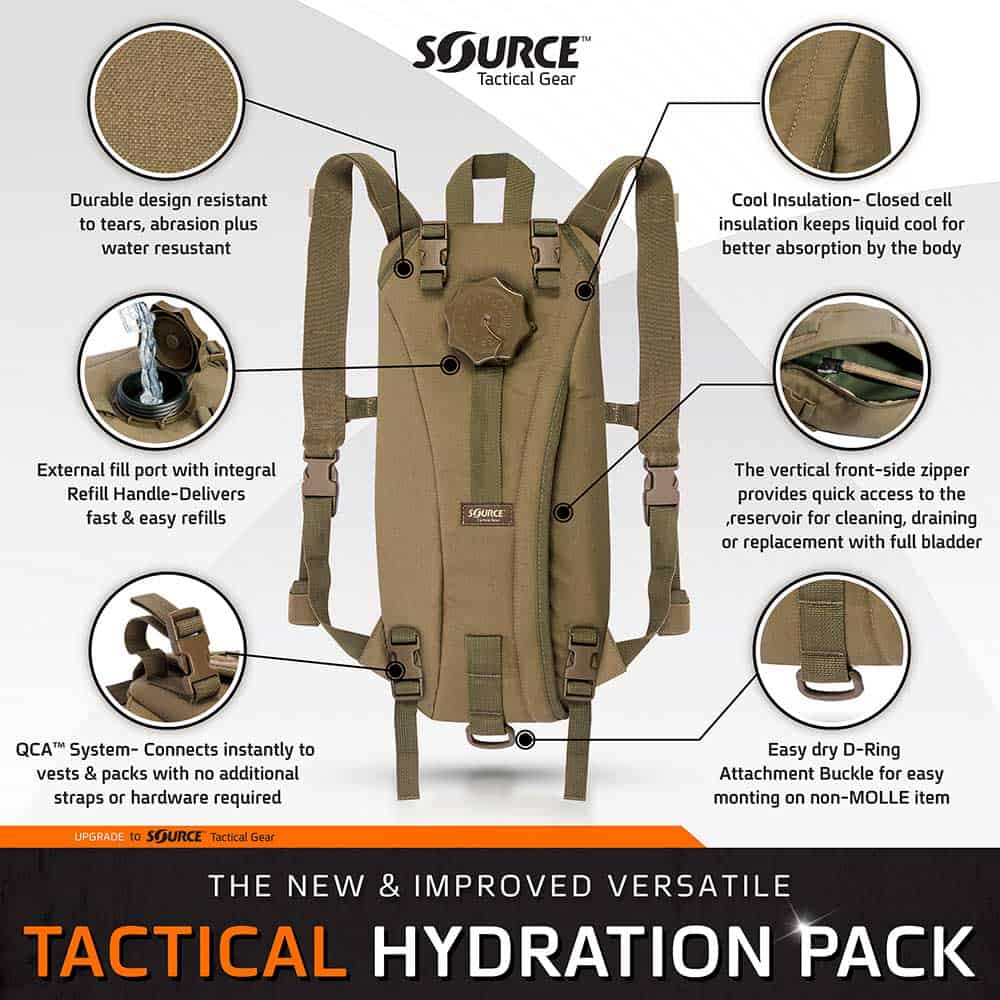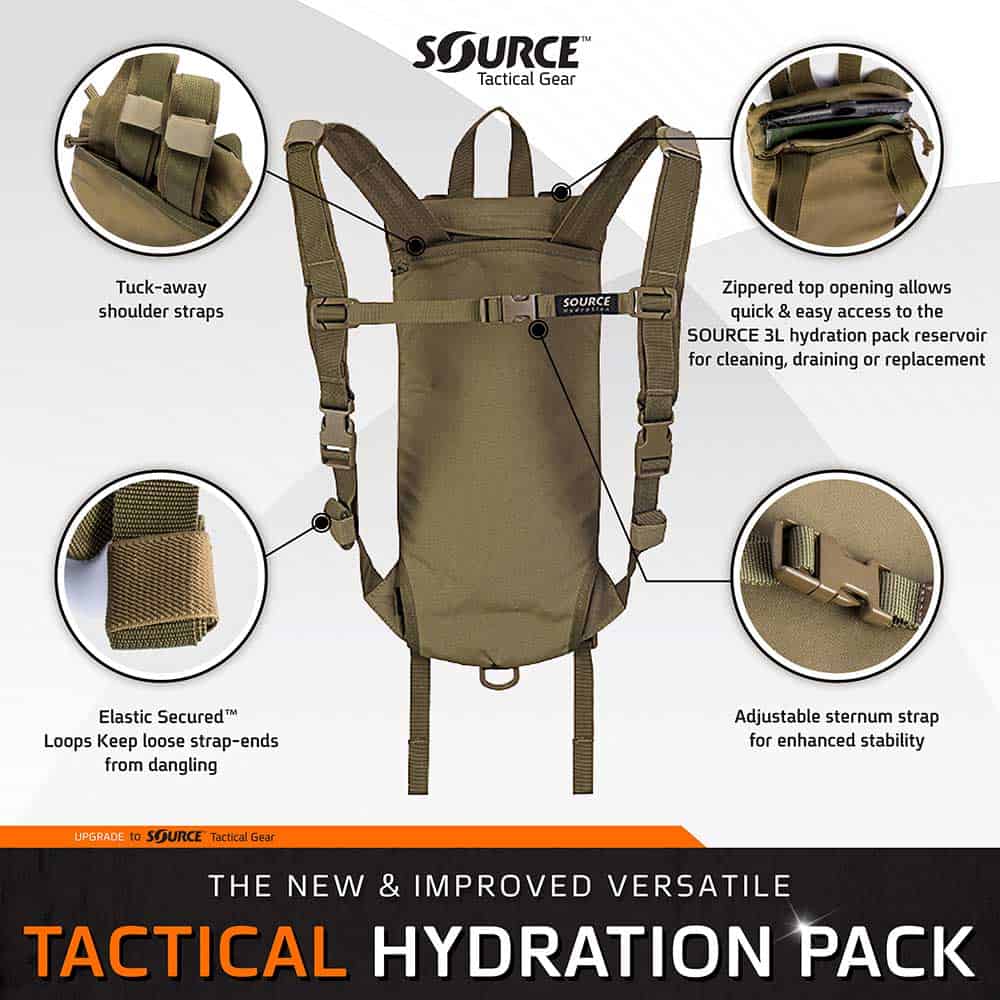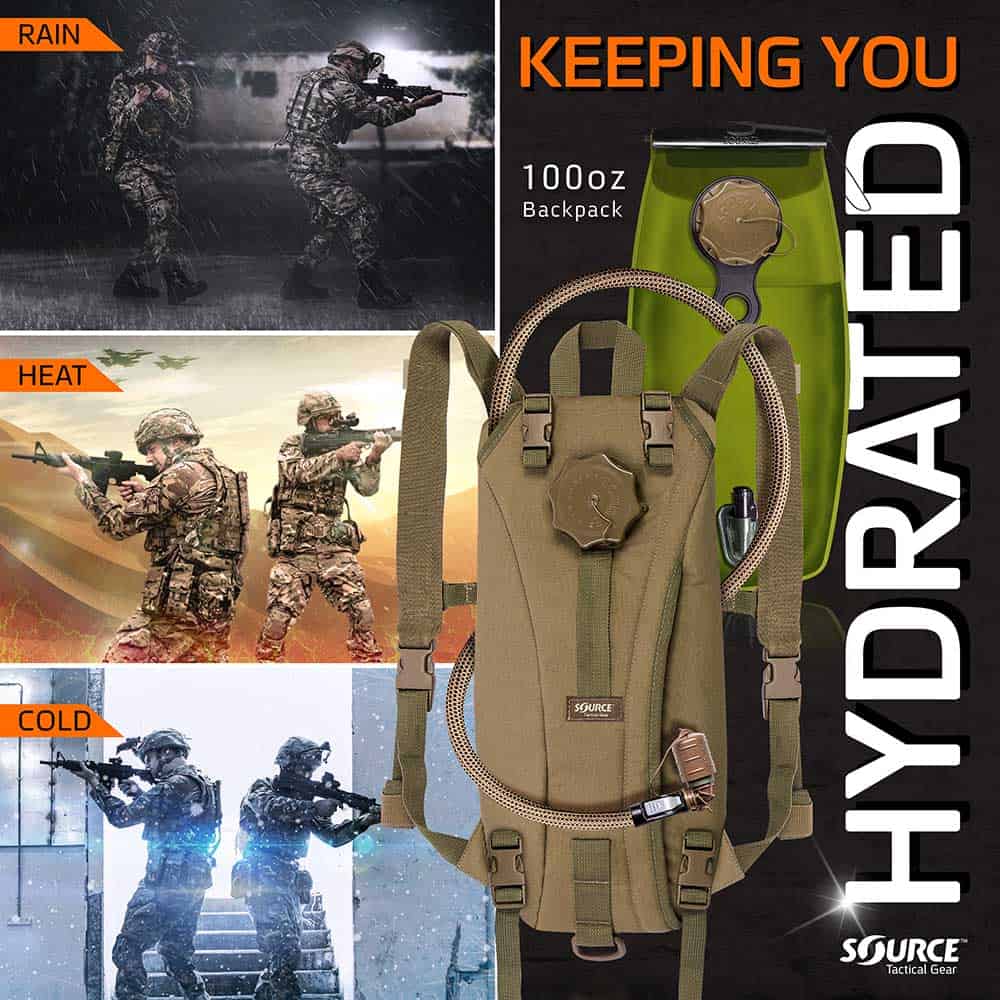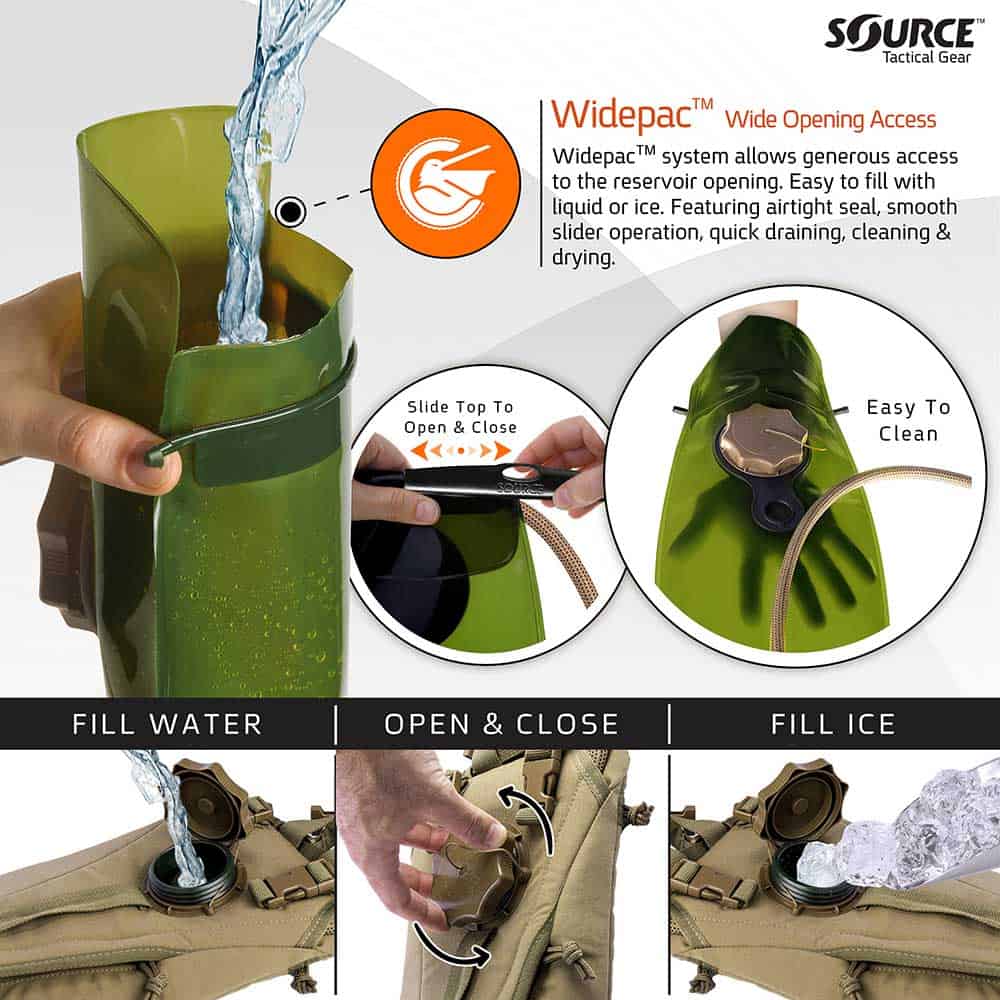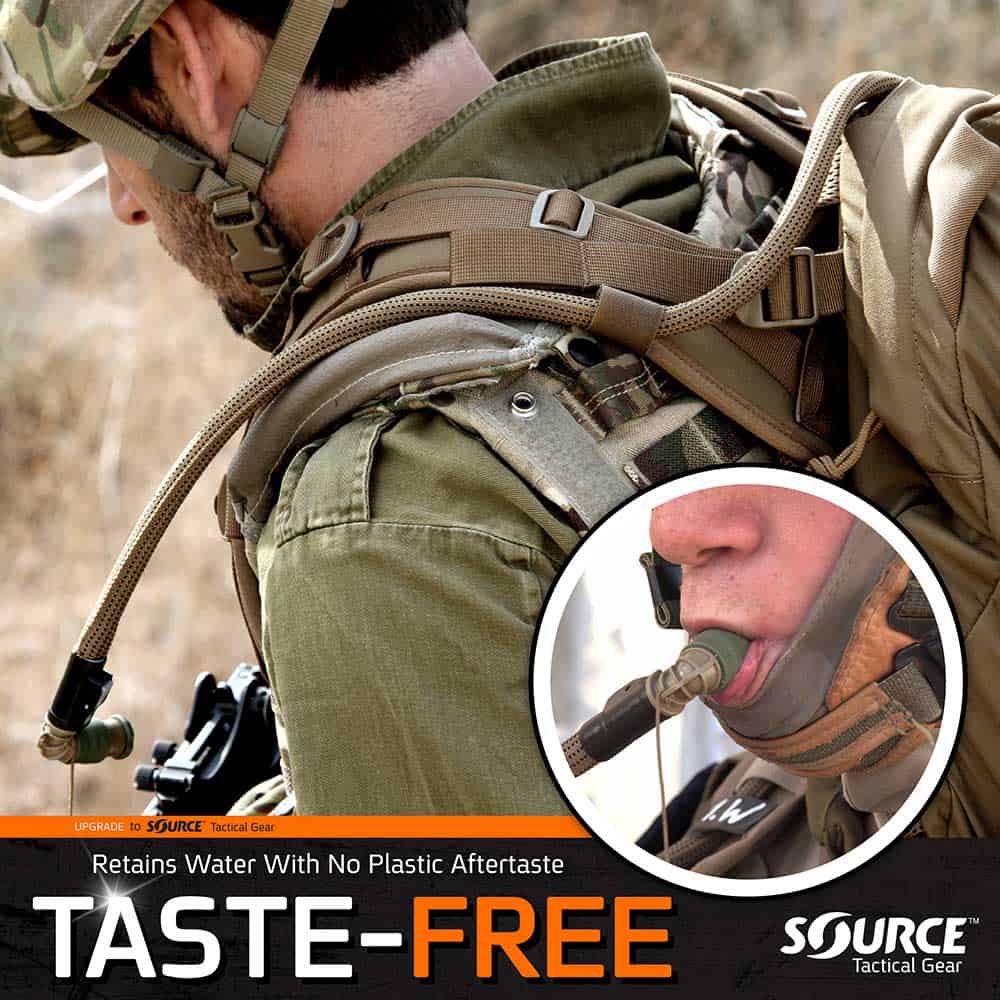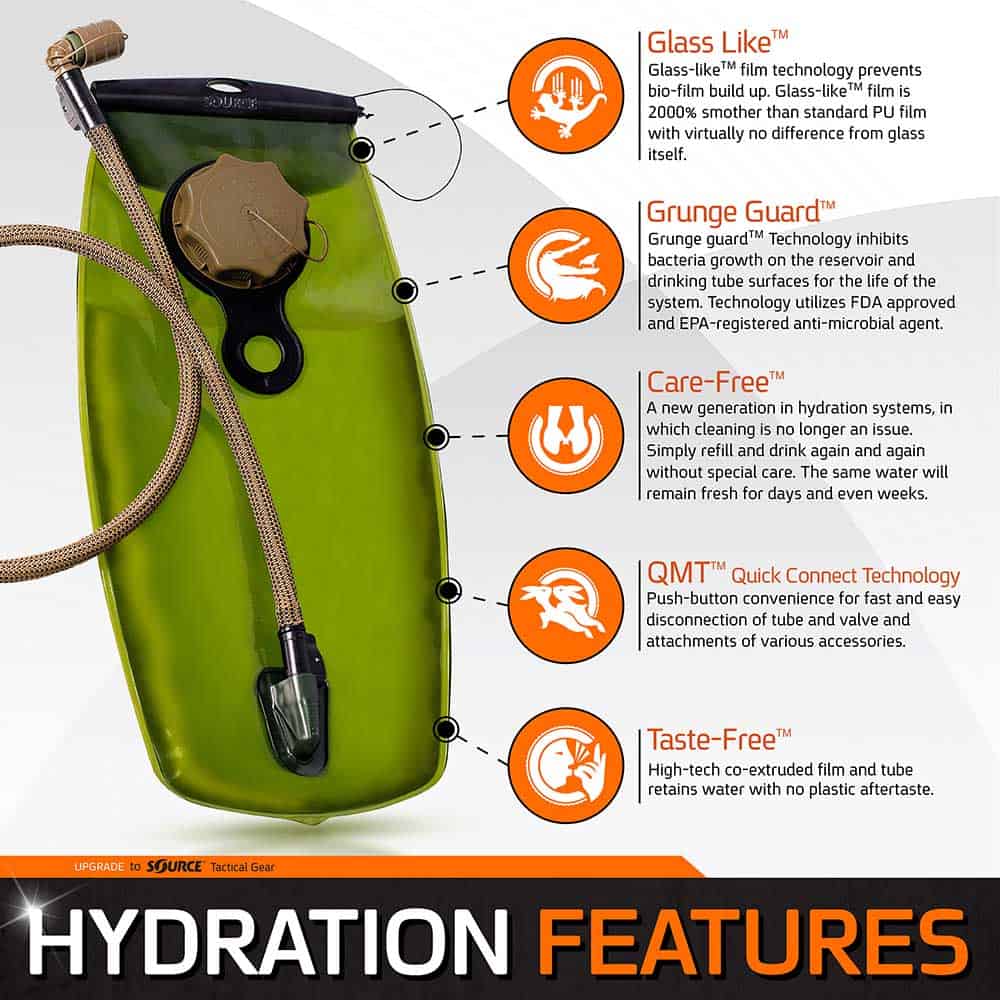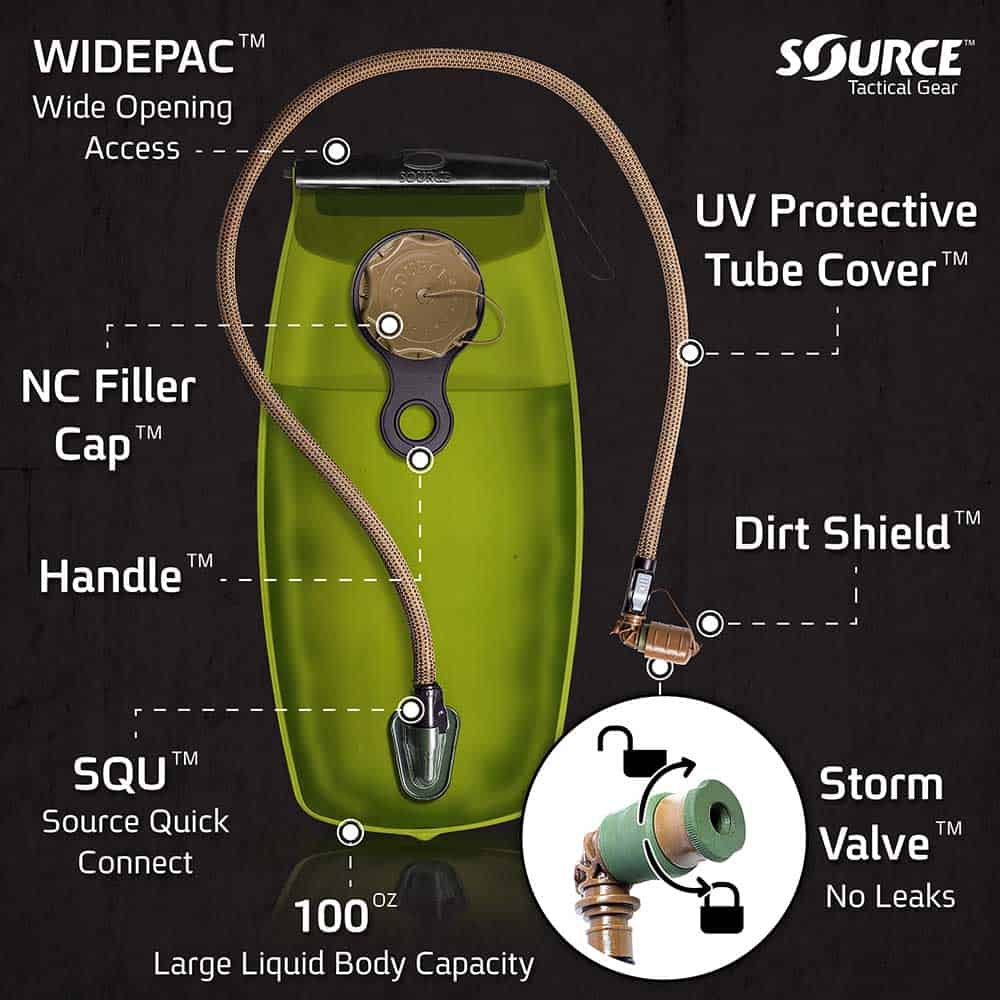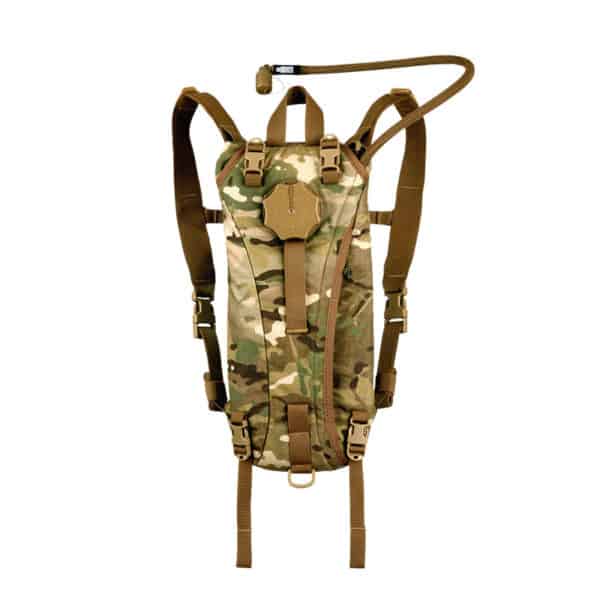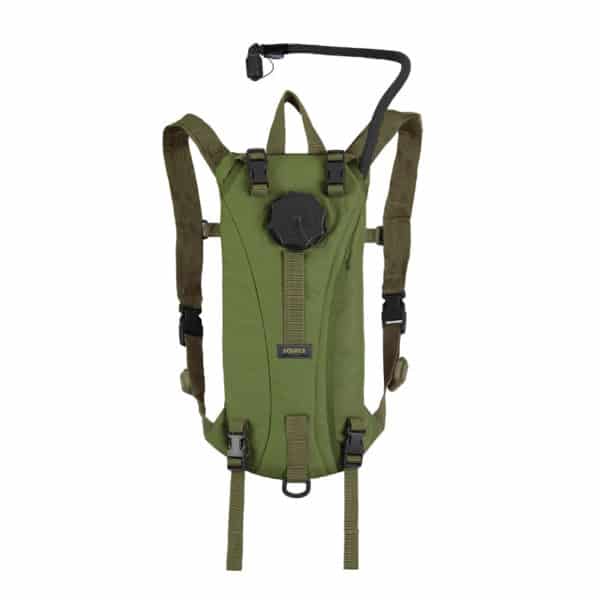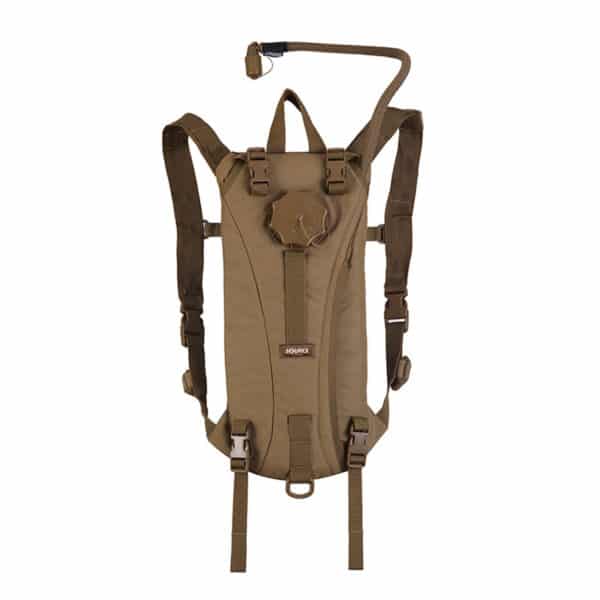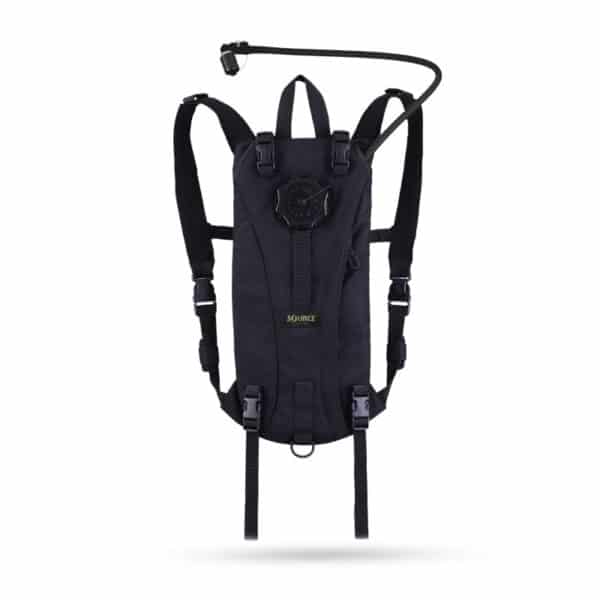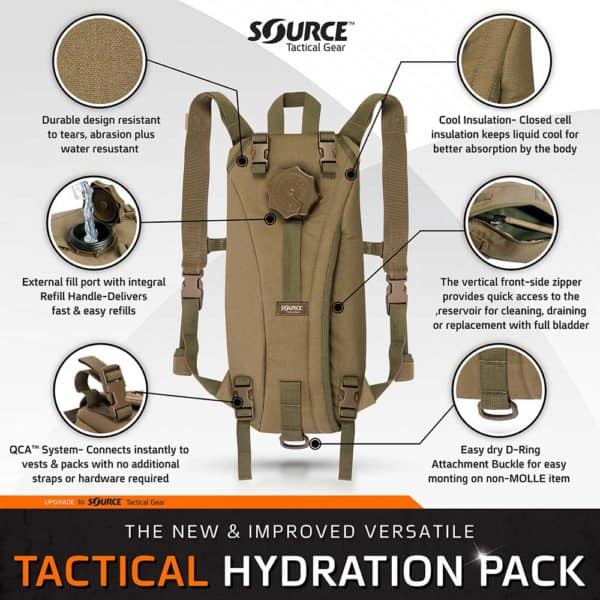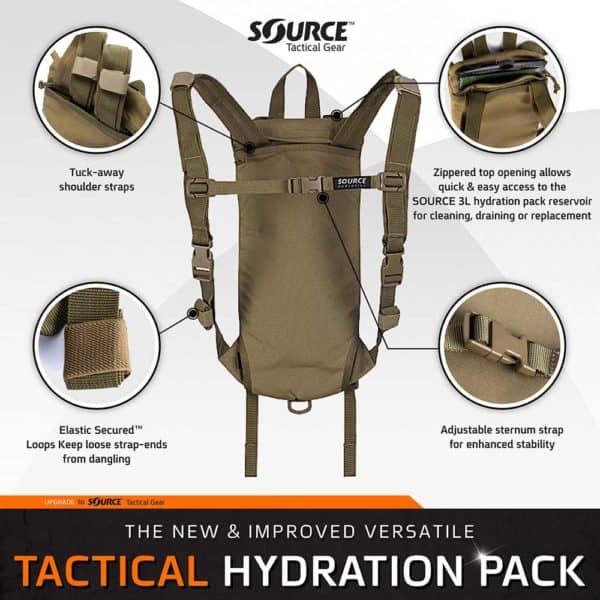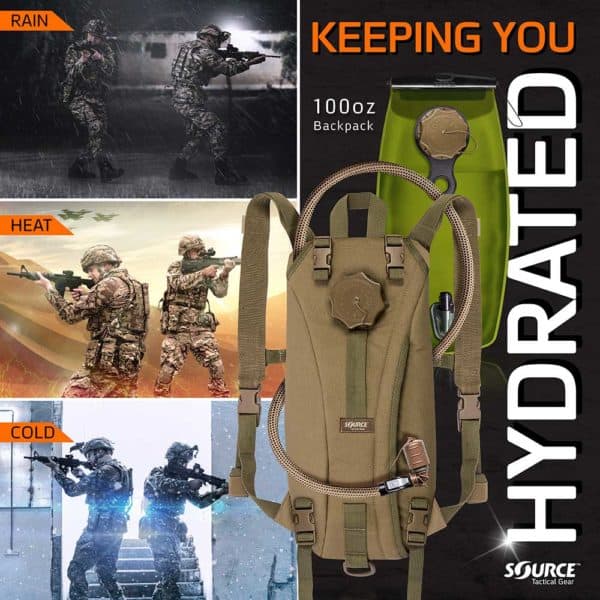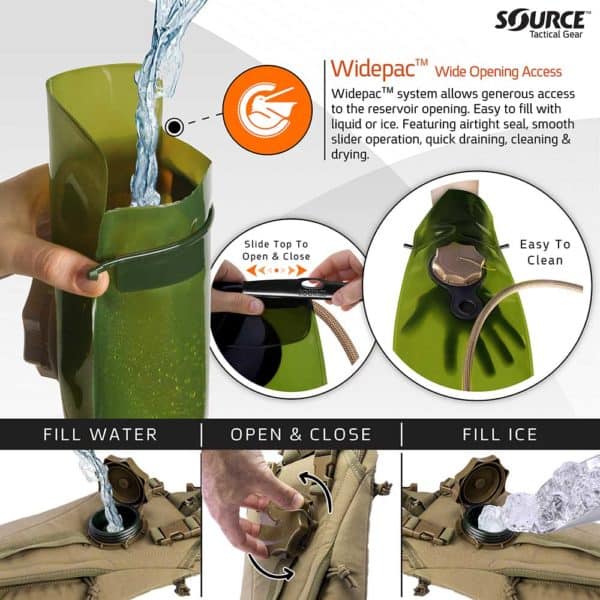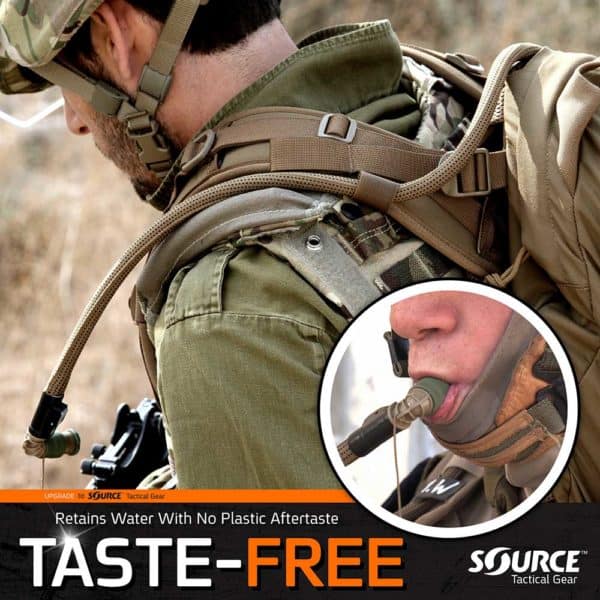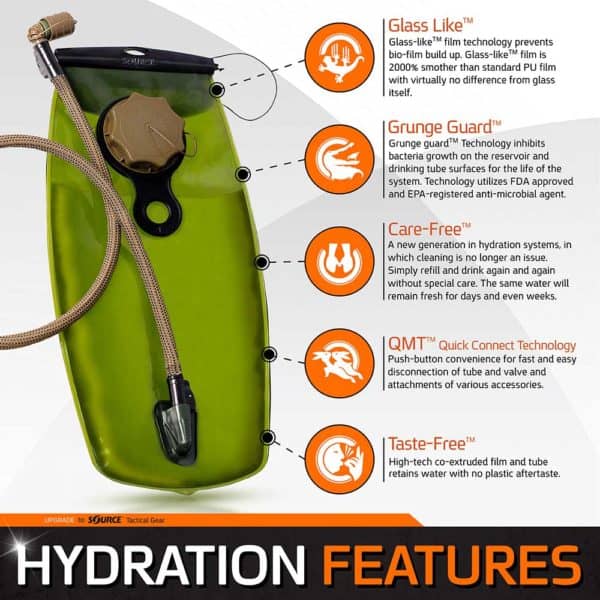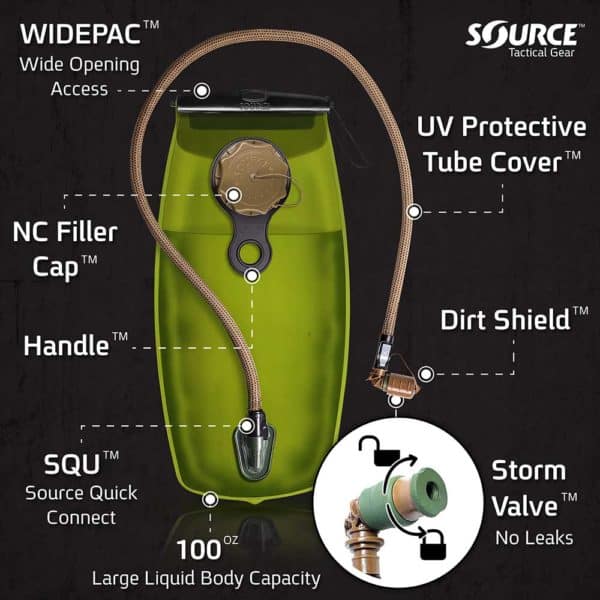 Tactical | Hydration
Pack | 3L (100 oz.)
/ 2L (70 oz.)
The Tactical hydration pack 3L (100 oz.) / 2L (70 oz.) is our most popular hydration system here at Sourc. It can be worn backpack style, inserted into a backpack, or directly attached via MOLLE on vests or backpacks using the QCA buckle system. This military hydration pack has it all: a self-cleaning hydration bladder, MOLLE attachments, and an external port to refill on the move.
Information
Reservoir Capacity
2 Liter
3 Liter
Color
Black
Coyote
Multicam
Olive
Exterior Fabric
Cordura 500
Adjusting Straps
Heavy Duty PP
Bladder Design
Screw Cap
Widepac Opening
Drinking Valve
Storm Push-Pull Valve
Drinking Tube Length
94 cm / 37 in
Hydration Extras
Dirt Shield
Tube Cover
Dimensions (cm)
44 × 21 × 3.8 cm
Description
Versatile tactical hydration pack with various user modes and comes in a variety of colors.  The large NC Filler Cap allows for refilling without removing the bladder from the pack. MOLLE attachments can be used to attach the pack to a vest, and will support you in your tactical mission or outdoor adventure.
This 3L hydration pack is not our bestseller for no reason. As a Source hydration pack, it is versatile, durable, weatherproof, adjustable, and comfortable. You don't need to look any further if you are searching for a hydration pack that is trusted, loved, and shared by many people across the globe.
Tactical Hydration Pack Features
Dual function: can be worn backpack style or quickly converted for direct armor attachment or backpack insertion; quick-release shoulder straps folded into the back pocket to load into a large pack or mount on gear.

External fill port with integral refill handles for a fast and easy refill on the move without spilling.

Closed-cell insulation keeps water cool.

Adjustable sternum strap for enhanced stability.

Elastic secured loops keep loose strap-ends from dangling.

QCA System connects instantly to vests and packs with no additional straps or hardware required.

Drain eyelet drains condensation in the insulated reservoir sleeve.

Zippered top opening allows quick and easy access to the reservoir for cleaning, draining, or replacement.

A vertical zipper provides quick access to the tube/bladder connector for the installation of personal filtration systems.
WXP Hydration Bladder Features
Hi-Flow Storm-Valve: no-bite push-pull valve with integrated shut-off mechanism; easy disassembly for cleaning.

Angled Valve turns 360 degrees for perfect valve/mouth orientation; allows the tube to be 25cm shorter; less excess tube bouncing around the chest.

Dirt shield valve covers to protect the mouthpiece from dirt.

QMT Valve/Tube connector with shut-off allows quick and no-drip attachment to a respirator, microfilter etc.

Cool Weave Cover Tube insulates and blocks UV light; water stays cool and inhibits bacteria growth.

Large NC Filler Cap: Airtight, low profile, one hand operated with a new fill handle.

Taste-Free System: Co-extruded PE film retains pure liquid taste without plastic flavor; BPA and phthalate free.

Glass-Like Film with Grunge-Guard Technology: Inhibits bacteria growth on reservoir and drinking tube surfaces.

Care-Free: Cleaning by simply rinsing the system and hanging it open until dry (if used with water).

Widepac Closure: Patented slide closure for easy draining and cleaning; airtight seal.