How To Choose The Perfect Hydration Pack For Mountain Biking
Hydration packs first became popular amongst soldiers – and soon after with mountain bikers. The needs are the same: to stay hydrated on the move, in situations where fiddling with a bottle may get you killed. You need your hands for … well … let's just say handling a gun (soldiers), or steering your mountain bike down steep and bumpy single-trails.
While the history of hydration packs started with simple solutions that fit a soldier just as well as a mountain biker or hiker, nowadays we're talking highly specialized hydration packs. Almost 30 years later, most backpack brands manufacture dedicated hydration packs, tactical hydration packs as well as packs designed for mountain biking. Most of them feature a bladder inside from one of the big specialized manufacturers Camelbak, Hydrapak – or from us at SOURCE.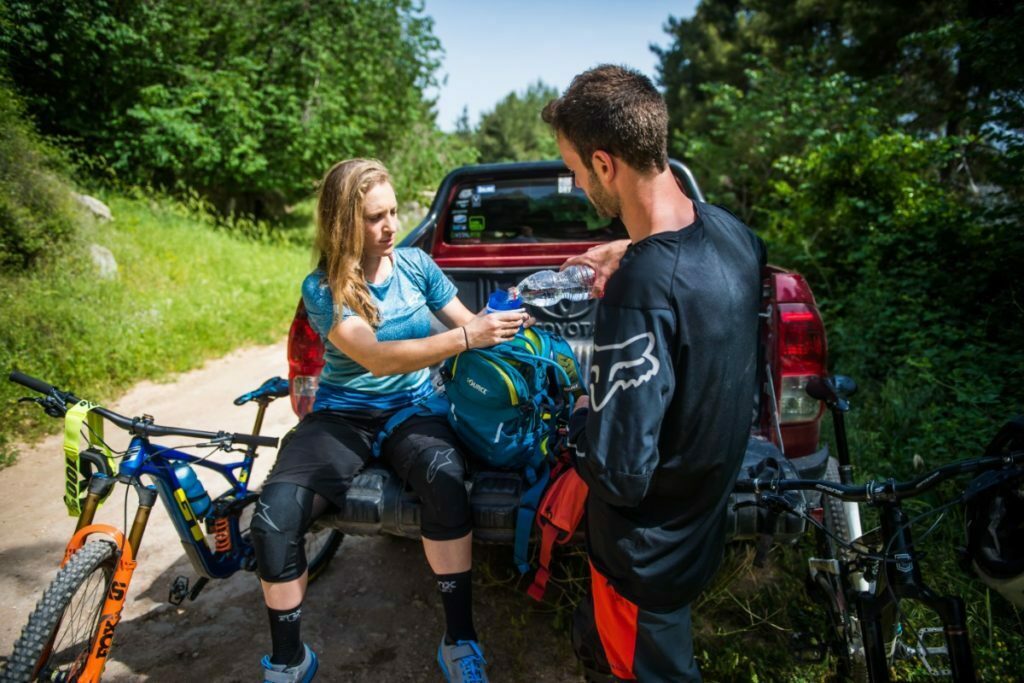 What To Look For In A Mountain Bike Hydration Pack
The Bladder
While the comfort and look of the backpack are crucial, don't forget about the water bladder inside: there are considerable differences between the bladders in terms of handling and taste, and it will affect greatly how much you'll use the pack – and how much you drink.
SOURCE bladders and water reservoirs are 100% free of any plastic taste, and just as importantly: they require almost no maintenance. While many other bladders in the market need special cleaning and drying routines, a SOURCE Widepac can be refilled many times, and water can be stored for days and weeks – tasting as fresh as on day 1.
Pack Size vs Water Reservoir Size
In terms of reservoir size, most packs feature anything between a 1.5L to 3L bladder volume, which should be plenty of water for those longer rides – and you probably won't even need to fill it to the brim for every ride.
In regards to pack volume: once you're carrying a hydration pack, you'll most likely find yourself taking along many more things, from nutrition to tools. At the same time, you want your pack to be as compact as possible. In the marketplace, you'll find the full range of packs available, from pure hydration (maybe with a zip-pouch for a key and a phone) to full-blown backpacks with 15L or even 20L of storage.
Make sure the cargo space (next to the water) is plenty for your purposes – but think about racing down bouncy trails where you'll want your pack low profile and to sit snugly on your back, and not jump around with extra volume. For larger volume packs make sure they feature compression straps so that you can keep the volume minimal and cargo close to your back (like our 15L Summit Mountain Bike Hydration Pack).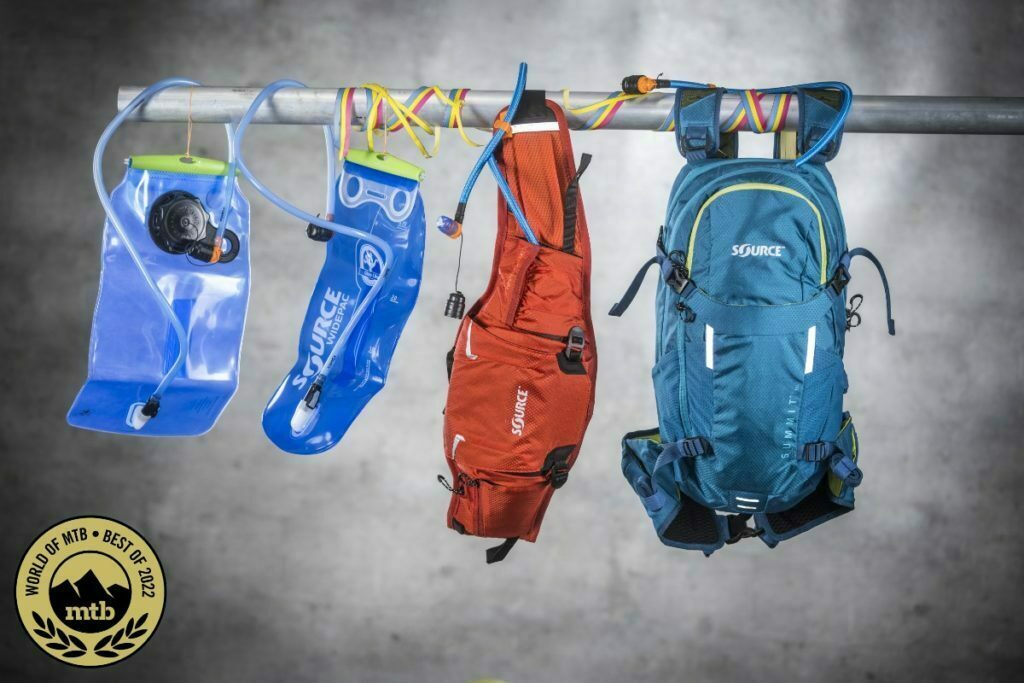 Durability
Take a good look at the fabric and make of the pack, but don't forget the bladder and its components. YKK zippers are always a good indicator for a high-quality pack, also ask for the Denier strength of the nylon (should be above 200D). Customer reviews on manufacturers' websites are always a good indicator of how much a company invests in the durability of its products.
Talking about the bladder, durability also means making sure the bladder does not develop a moldy taste. Plenty of hydration pack owners turn to us to upgrade their hydration backpack with a SOURCE bladder – for easier handling and tastier water.
Comfort
The ideal hydration pack is the one you forget it's on your back while riding. It needs to sit tight, supported by comfortable adjustable shoulder straps, and held in place with a sternum strap and hip belt. Another detail to look for is the layer of padding and ventilation between the cargo/bladder and your back.
Talking comfort, SOURCE bladders have a few advantages that will add to how much you drink: the angled valve, the simple disconnect of the tube (even when full), the wide opening of the bladder for rinsing and drying, as well as accessories like the UTA rapid refill adapter and the Magnetic Clip which holds the valve and drinking tube in place/
Weight
Keep it light! The backpack will not only weigh down on your shoulders, it will also affect your agility on the bike. A hydration pack's weight is less about the actual backpack's make. While there are heavier and lighter backpacks (and bladders) on the market, the real weight will add up with whatever you put inside your pack.
So factor in 'weight' when you decide on the volume of your new hydration pack. A larger volume backpack will lead you to bring along more tools, clothes, nutrition – more weight. If your focus is on 'hydration' we suggest keeping the pack slim and reducing cargo volume to a minimum.
Gear Capacity
As mentioned above: unless you're going far off the beaten track, or you're going for a multi-day ride, we recommend packing light – and keeping yourself agile on the bike. And speaking of a multi-day ride and bike packing: there are better solutions than adding gear and weight on your shoulders and back. Take a look at pouches that can be tied to your bike's frame. While it'll still be heavy pedaling uphill, it'll keep your shoulders and back free and agile.
In case you need to fit an extra layer of clothing, many hydration packs will give you the flexibility of filling the bladder only halfway and gaining a liter or two of cargo storage (see for example our Hipster Hydration Belt).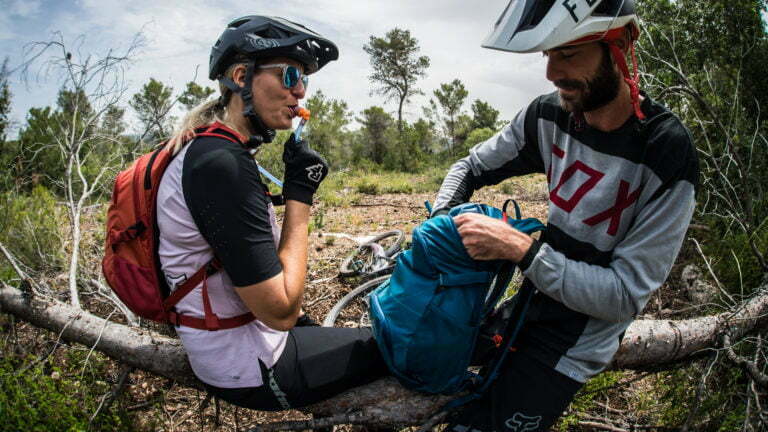 Extra Features
There are a few extra features you may want to consider for your hydration pack. Possibly the first feature that comes to mind is a back protector, that some of the mountain bike hydration packs have embedded. Think also rain cover to protect the pack from mud and the content from humidity. Last but not least, look out for features like a strap or flap on the outside to store a helmet, a padded pocket for the phone, toolset-rolls, and other smart pouches and pockets inside and outside.
MTB Hydration Pack Summary
Over the past 20+ years, mountain bikers have taught the pack manufacturers a lesson or two. The key features to look for:
Breathability of the back
Stability of the pack
Size according to your needs
Compartments according to your needs
Additional features to consider:
Built-in back protector
Extra detachable pouches for tools and such
Outside storage for helmet according to your preferred helmet model
Choosing the perfect hydration pack can take some time. But it's better to do proper research and gain a strong understanding of what you need on your biking trip, rather than putting yourself at risk for an uncomfortable or unsafe bike ride due to your hydration pack!