AquaSource – Water Reservoir Perfect For 4×4 Outings
This spring and summer, fuel up on water for the weekend with the SOURCE AquaSource Tanker. It's the perfect hydration reservoir for camping, offroading and 4×4. Adding our unique Vehicle Hub Station (VHS), you turn your vehicle into a highly mobile and flexible hydration system for everyone on board.
Packing for a 4×4 adventure and camping away from civilization you can go super-light, or you can gear up for a campsite with all the bells and whistles. Whatever type of adventurer you are, one thing you will be needing for sure: drinking water. For your hydration on the move and in the camp, our AquaSource Tanker makes the perfect solution.
Water that tastes like water – even after hours and days on the road
The AquaSource is a backpackable reservoir. Carrying it as a backpack to your point of destination is comfortably possible. But the AquaSource's true purpose is as a static reservoir at camp – or in your 4×4. Thus the AquaSource Tanker features plenty of straps and loops to attach and hang it anywhere you need it – inside or outside your 4×4, on a tree, camper, or pole.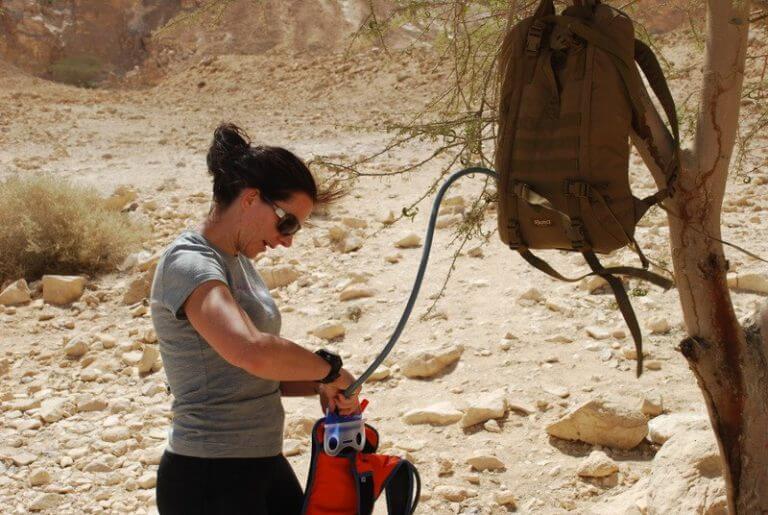 Best of all: Your water from the SOURCE AquaSource Tanker will taste like water – even after days on (and off) the road. This is what we at SOURCE do and why armed forces, professionals of all sorts and outdoor-fans trust in our hydration systems all over the world.
Hydration on the road: valves for driver and passengers
The AquaSource Tanker is also the perfect reservoir matching our unique Vehicle Hub Station (VHS). The VHS provides driver and passengers with individual drinking valves for Hydration on the move. The AquaSource stores the water. Check out the sketch of a possible installation in a Humvee or Jeep.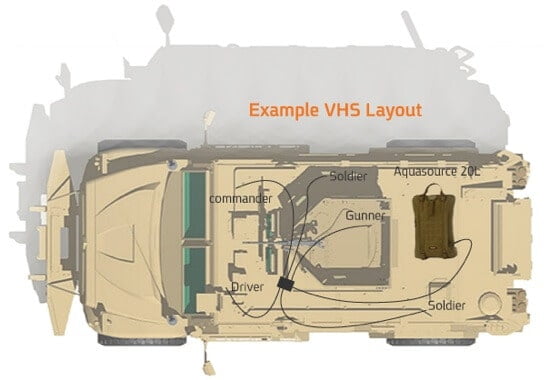 All the SOURCE advantages
Of course, the AquaSource Tanker features all the advantages of SOURCE Hydration System. Most importantly, thanks to SOURCE taste-free technology and glass-like technology, it is absolutely neutral in taste and virtually self-cleaning.
It connects quickly to all your other hydration gear. Its insulation keeps water fresh. Its large opening lets you add ice-cubes and gives you easy access. It is designed to be attached anywhere in your 4×4 – and it's collapsible, not eating up any space when empty.
In short: AquaSource is a durable, collapsible, backpackable hydration reservoir alternative to traditional water cans. AND with the VHS, it lets you drink while you're driving without taking the hands off the wheel. Check it out now in our shop on SourceTacticalGear.com.