Best Tactical Boots Guide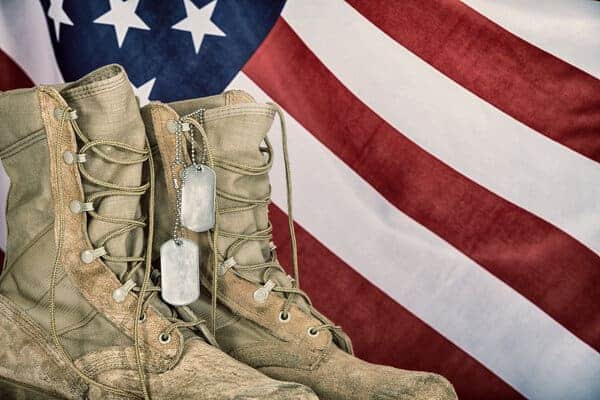 Whether you're on active duty, rucking, prepping for long-term outdoor travel, or working construction, your footwear is critical. You could have the right vest, tactical backpack, every other piece of equipment, but if something happens to your feet, you're done. The world of tactical boots is constantly reiterating itself to suit modern combat and active needs.

Once available in every camping store and military surplus outlet, today the best tactical boots can be hard to get your hands on, and it's easy to be misled by the "tactical" selections at just about every apparel store. Not all tactical boots are created equal. Some may look like a standard-issue military boot but fail to meet critical criteria. Other boots may be tactical boots, but not necessarily suited to your particular needs.

Below, we will detail what makes a good tactical boot and what to look for in a tactical boot to fit your requirements.
Buying Military Boots – What is Important?
Weight:
The lighter the tactical boot, the more comfortable it will be. While a lightweight boot once meant compromising on security and wear, today there are a number of high-tech, lightweight but incredibly strong fabrics like Cordura that allow you to enjoy maximum comfort and security without strapping pounds of extra weight to both feet. If the tactical boots you're looking at weigh too much, they may not be what you're looking for.
Height:
Different boot heights are suited to different purposes. For a lower-intensity, daytime trek, low-cut boots are a good bet. They breathe better than mid or high-cut boots, and still offer enough protection to get you through the day if you aren't carrying too much gear.

If you are expecting hardcore terrain, or planning a multi-day trek, mid or high-cut boots are a better bet. They offer better ankle and leg support and can come equipped with side sheathes and other useful features that low-cut boots aren't built to accommodate. However, these boots will need to be aired more frequently in between uses to prevent odor, since they cover the calves and therefore don't breathe as well.
Upper Material:
The choice of upper material for your tactical boots is important. There are a number of good options here and each comes with benefits and drawbacks. Standard materials you may find your boot's upper material created from are:
Nylon: Nylon is a popular choice for tactical clothes in general, since it has excellent abrasion and wear resistance. It has high tensile strength and is very lightweight, so you're getting a lot of bang for your buck. However, it absorbs water easily and the fabric can be easily distorted by moisture, so it's very rare that your tactical boot will be made entirely from this material.
Rip-stop fabric: Another favorite in all tactical gear, ripstop fabric is waterproof, flexible and durable in addition to being very lightweight. However, it suffers from many of the same issues as nylon and so is also commonly found in tactical boots, but rarely makes up the entire upper.
Full Grain Leather: Exceptionally durable and abrasion resistant, and often waterproof. On the other hand, it doesn't breathe very well, which can cause your feet to warm up fast, and issues associated with that, like sweating and increased likelihood of odor.
Split Grain Leather: While not as durable as full grain leather, split grain leather breathes a lot easier, making it a popular choice.
Synthetic Leather: Synthetic leather is also incredibly durable, but does not allow in air at all, which will make your feet sweaty quickly and increase the risk of odors during long-term use.
Lining:
Lining on tactical boots largely helps decide if your boots are 100% waterproof or not. Linings will also wick away moisture and help keep your boots odor free. Every boot is made differently in this regard, so check for the specs that fit your needs.
Sole:
Soles are crucial. The insole is where your foot rests while the midsole is for arch support and the outsole is what hits the ground most often.
Insole: A good padded insole will support your foot through a lot of wear and tear and doesn't flatten with use. Make sure your boots have quality insoles; the rest of the boot becomes useless if the insole isn't supporting your foot properly. Many boots come with removable insoles, allowing you to exchange them as needed, extending the lifetime of your boot.
Midsole: This provides crucial support for the arch of your foot and prevents a lot of foot aches, pains and fatigue generally associated with long-distance treks on foot. Made from ethylene vinyl acetate (EVA) foam or polyurethane (PU). Polyurethane is hardier and lasts longer than EVA but will significantly raise the price of your boots.
Outsole: Generally made of rubber, the outsole is what interacts the most with the ground and provides the boot's grip with the environment. The individual grips, or lugs, determine how much grip your boot will have; the deeper and thicker the lug, the better the traction.
Laces & Zippers:
Tactical boots differ here: some come with only laces, some only zippers, while others are equipped with both, allowing you to precisely contour the boot to your calves. For this, there is no better or worse, only preferences. Things to be aware of when choosing, however: some lace-up only boots are not waterproof, and while this isn't always the case, a zipper-only boot can often be a sign of a cheaper boot. For this feature, choose which works best for you, and what feels most comfortable to wear.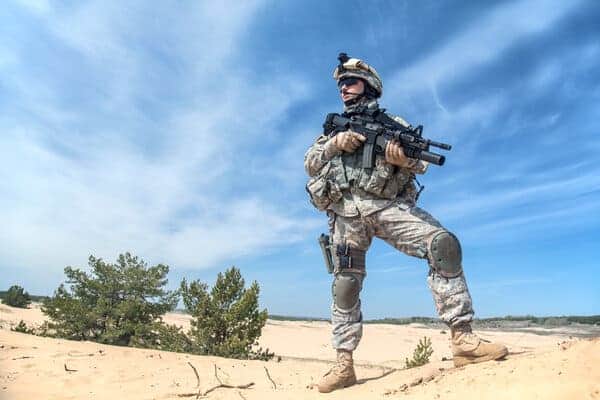 Best Tactical Boots in 2022 – Reviews
We created a comparison of the best tactical boots of 2022 so you can see their individual characteristics and what each boot is most suited to. Consult the table below to choose the best boots for your tactical needs:
| | | | | | | |
| --- | --- | --- | --- | --- | --- | --- |
| Feature/Product | Under Armour Valsetz RTS | Lowa Zephyr GTX Mid | Salomon Quest 4D GTX Forces 2 | Magnum Response III 8.0 Side-Zip | 5.11 TacLite A.T.A.C. 2.0 6 | Adidas GSG 9.2 |
| Height | Mid-Cut | Mid-Cut | Mid-Cut | High-Cut | Mid-Cut | High-Cut |
| Weight | 2 lbs. 7 oz. (1120 g) | 2 lbs. 7 oz. (1100 g) | 1 lb. 11 oz. (665 g) | 3 lbs. (1400 g) | 2 lbs. 9 oz. (1156 g) | 2 lbs. 10 oz. (1200 g) |
| Upper Material | Synthetic Leather & Textile | Split Grain Leather & Cordura | Leather | Split Grain Leather & Textile | Split Grain Leather & 840D Nylon | Full Grain Leather & Textile |
| Midsole | EVA & PU stabilizer | PU | EnergyCell | EVA | EVA & PU stabilizer | EVA |
| Outsole | UA | Lowa Cross II | Rubber | Magnum | No Data | Traxion |
| Lining | Polyester | Gore-Tex | Textile | Polyester | Ortholite | Climaproof |
| Waterproof | No | Yes | Yes | No | No | Yes |
| Suitable For | Military, Hunting,Law enforcement,Everyday use | Hunting, Law enforcement,Everyday use,All-Weather, Activities | Military, Hunting,Law enforcement,Everyday use | Military, Hunting,Law enforcement | Military, Hunting,Law enforcement | Hiking, Long-Term Hiking,Everyday use,All-Weather, Activities |
Types of Tactical Boots:
Not all tactical boots are created equal. While many tactical boots will have roughly the same construction, there are design variations that specialize your tactical boots for a specific use. Below are three common types, so you can be aware of the differences and get exactly what you need:
Military/Combat Boots:
These are heavy-duty, so they wear harder and last longer. They will have the highest quality midsoles and outsoles so the wearer can withstand any terrain and circumstance. For this reason, military boots are the most expensive and the most difficult to attain.
Field Boots:
These are created to be lighter and more flexible, so they can adapt easier to runs, rucks, and training terrains. The outsoles will be softer and thinner, and they're more likely to be laces-only boots. They don't wear as long or as hard as combat boots.
Work Boots:
These will often be a bit heavier, due to typical additions like steel toes that will protect your feet from heavy-duty hazards from above as well as below in jobs like construction, mining, and more.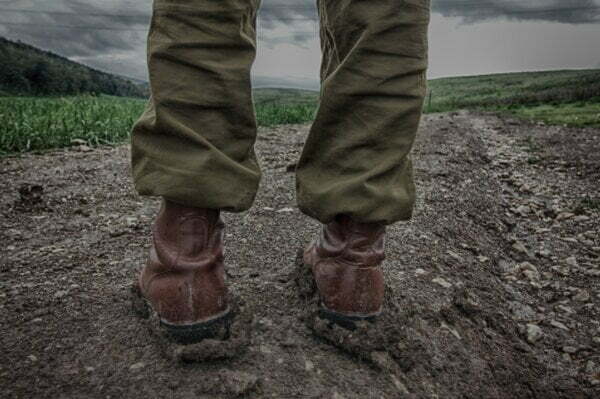 When it comes to tactical boots, there is no one-size-fits-all. The above guide will help you choose what works best for your particular needs–whether it's all-weather or all-terrain, multi-day hikes, or a day out on patrol. While you're outfitting your boots, you want to make sure the rest of your kit can hold up to your needs, including tactical hydration and backpacks for your kit. We at Source Tactical Gear are proud to supply you with the best tactical hydration packs and hydration bladders to ensure that no matter what the day ahead brings, you're ready for it.