"Best Hydration Bladder" in Summer 2018
What's the best hydration bladder in the market? Here's a collection of quotes from independent new reviews written this summer 2018, comparing SOURCE to our competitors.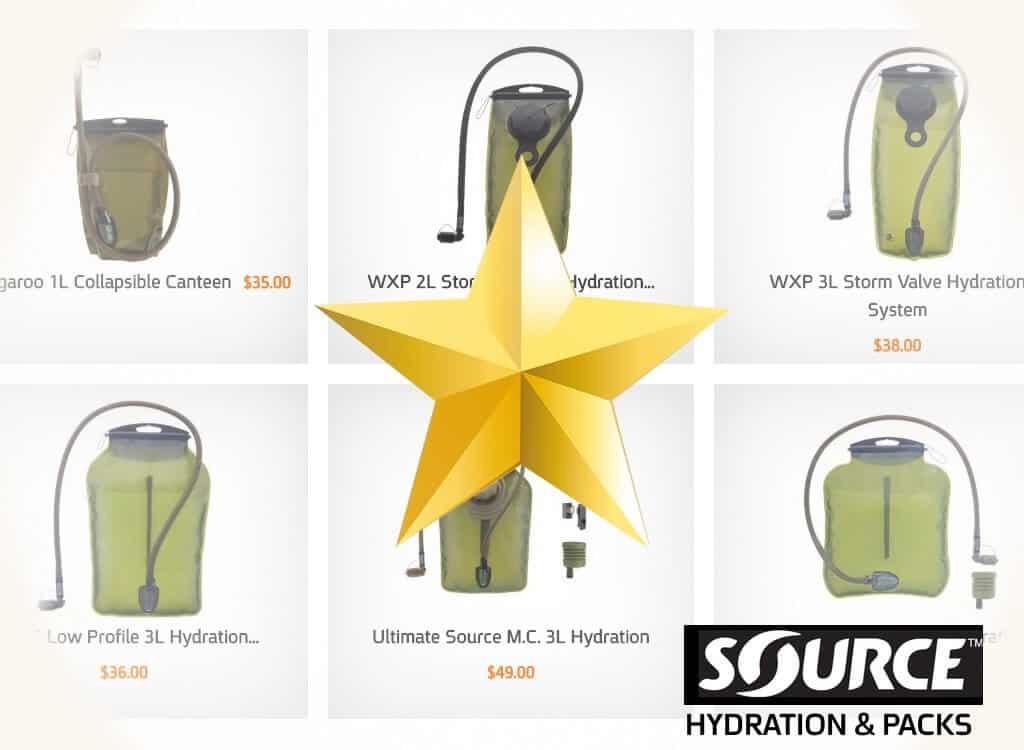 More and more hikers, bikers, beach-goers, surfers, paddlers, hunters, runners, outdoor-lovers, soldiers and professionals of all sorts … discover the advantages of a proper Hydration Bladder and Hydration Pack.
But which brand to buy? What is the difference? SOURCE Hydration Reservoirs come in as the top pick in many reviews. (We've elaborated on reasons why SOURCE are better bladders in this previous blog-post.)
Relevant categories in the ratings include often (light) weight, ease of care & use (i.e. cleaning, maintenance), durability, closure type, mouthpiece and available accessories (like our SOURCE UTA Rapid Refill Adapter).
Hiking blog Best Hiking for example compared the most popular hydration bladders in the market. Our classic SOURCE Widepac 3L came in top of the list due to the advantages …
"simplicity and durability".
"super smooth and thus easy to clean".
"easy refilling, draining and cleaning".
"tube can be easily disconnected".
"valve cover included, accessories available".
In the Camping Maniacs best bladders 2018 post, our Widepac WXP from our tactical line comes in first: "My favorite pick, the WXP offers an array of irresistible features to any individual who knows what to look for in a hydration bladder".
A few quotes we are proud to mention:
"Easy to refill and clean".
"Low maintenance and from chemicals and toxins".
"Generally an incredible reservoir characterized by a wide range of performance-enhancement features".
"It is completely leak-proof".
As it is the same hydration technology in all our bladders, all the advantages mentioned in reviews about our Outdoor Widepacs apply as well to our Tactical as to our Outdoor Hydration Systems.
Customer Reviews On SourceTacticalGear.com and Amazon
Most importantly in the Customer Reviews on SourceTacticalGear.com and on shops like Amazon, 100s of reviews – 330 alone for our classic Widepac on Amazon – confirm the high quality and trust in our products that our customers feel and express.
Quotes from our buyers include: "Maintenance is minimal, taste is excellence, and durability is far beyond other similar products." – "This thing feels bomb-proof!" – "Near perfect 3L hydration system" – "The most reliable in terms of leak-proof and easy to clean." and "No lie, these things are tough as nails." are just some of the headlines.
As our company SOURCE is celebrating its 30th anniversary next year, and as our hydration technology keeps setting a high standard for our competitors, we promise to continue our path, innovating and providing best gear for outdoor activities also in the 30 years to come.