"One market you have is the physically handicapped that use a hydration bladder every night," wrote Patricia on Facebook a few weeks back…
We were curious to hear more, and a few days later we received notice about a new video-review of our SOURCE Tactical Hydration pack uploaded to YouTube by a true pro-user. We learned: our packs designed to attach to MOLLE, also do an excellent job hanging from a bed-rail or wheelchair handle of a physically handicapped person.
"Many quadriplegics use a water bag for hydration and the SOURCE bladders are so much easier to keep clean that many others."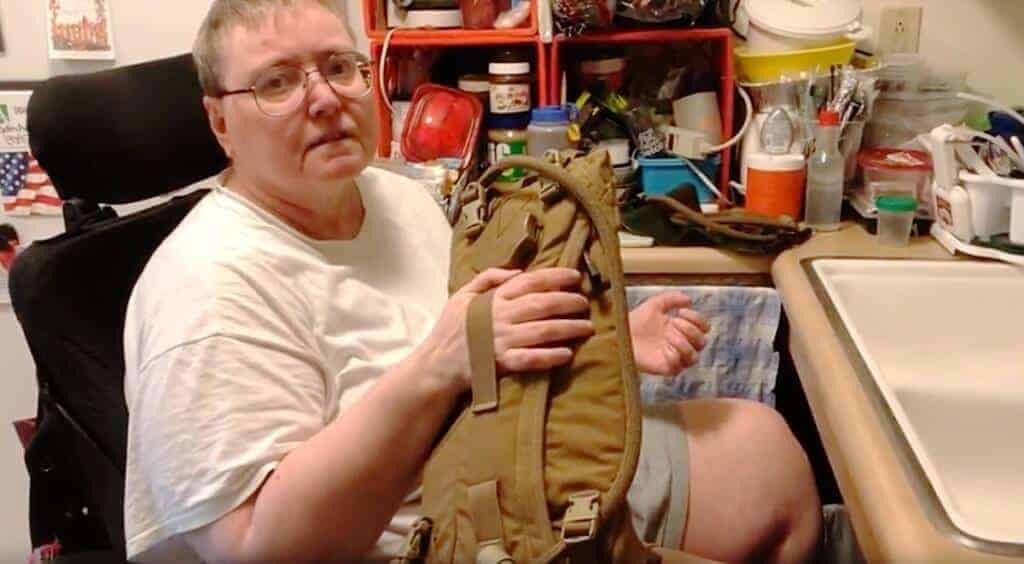 "This is actually the first generation system that was issued to the Marine Corps" Patricia opens her review of our hydration pack on YouTube. In her video she gives us the full rundown, going into the straps' use, how they were intended by our designers for soldier's life, but how all the smart details make a quadriplegic's life easier.
"The smaller straps at the top designed to hook into MOLLE webbing fit bed railings just great!"
"Marine Corps doesn't like to have straps flapping around" – and Patricia, the reviewer doesn't either. The strap designed to hold the bladder for filling is a much appreciated detail not only in the field. And our SQC quick connector and the full width Widepac opening of the bladder comes in handy in all situations as well, not to mention our GlassLike low maintenance technology making the system practically self-cleaning.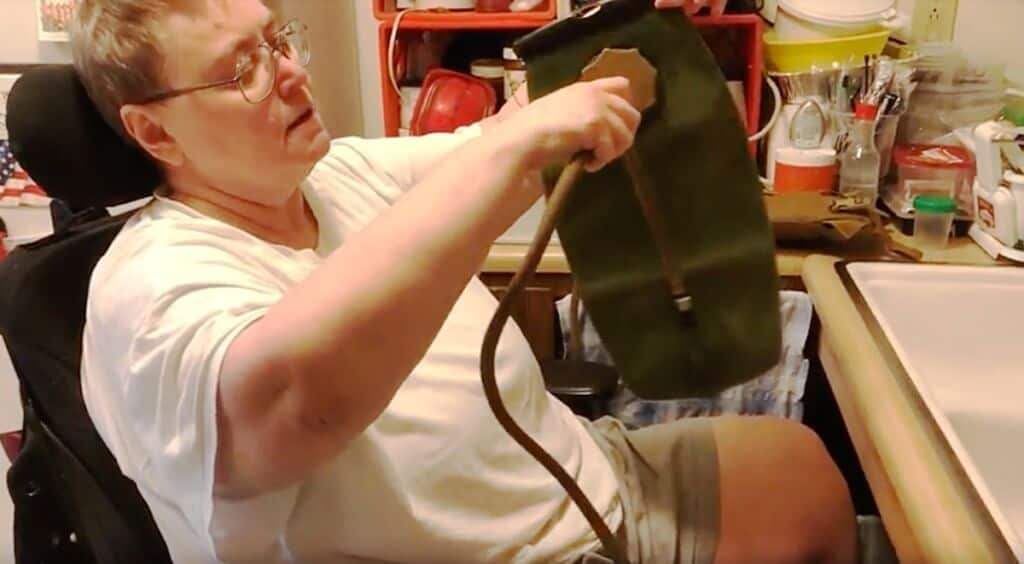 "The Source set up is so much easier to keep clean and to use."
Here's Patricia's thorough review pointing out the main features that makes SOURCE Hydration preferable over our competitors' products. We appreciate and we're proud to share!
What's the best hydration bladder in the market? Here's a collection of quotes from independent new reviews written this summer 2018, comparing SOURCE to our competitors.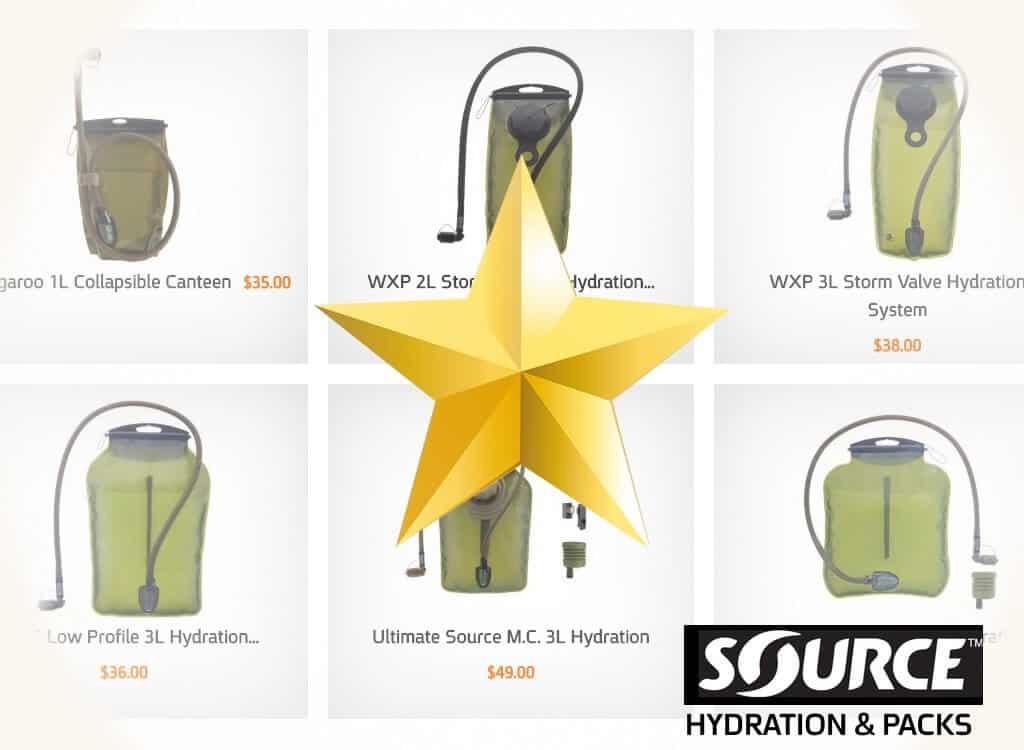 More and more hikers, bikers, beach-goers, surfers, paddlers, hunters, runners, outdoor-lovers, soldiers and professionals of all sorts … discover the advantages of a proper Hydration Bladder and Hydration Pack.
But which brand to buy? What is the difference? SOURCE Hydration Reservoirs come in as the top pick in many reviews. (We've elaborated on reasons why SOURCE are better bladders in this previous blog-post.)
Relevant categories in the ratings include often (light) weight, ease of care & use (i.e. cleaning, maintenance), durability, closure type, mouthpiece and available accessories (like our SOURCE UTA Rapid Refill Adapter).
Hiking blog Best Hiking for example compared the 5 most popular hydration bladders in the market. Our classic SOURCE Widepac 3L came in top of the list due to the advantages …
"simplicity and durability".
"super smooth and thus easy to clean".
"easy refilling, draining and cleaning".
"tube can be easily disconnected".
"valve cover included, accessories available".
In the Camping Maniacs best bladders 2018 post, our Widepac WXP from our tactical line comes in first: "My favorite pick, the WXP offers an array of irresistible features to any individual who knows what to look for in a hydration bladder".
A few quotes we are proud to mention:
"Easy to refill and clean".
"Low maintenance and from chemicals and toxins".
"Generally an incredible reservoir characterized by a wide range of performance-enhancement features".
"It is completely leak-proof".
As it is the same hydration technology in all our bladders, all the advantages mentioned in reviews about our Outdoor Widepacs apply as well to our Tactical as to our Outdoor Hydration Systems.
Customer Reviews On SourceTacticalGear.com and Amazon
Most importantly in the Customer Reviews on SourceTacticalGear.com and on shops like Amazon, 100s of reviews – 330 alone for our classic Widepac on Amazon – confirm the high quality and trust in our products that our customers feel and express.
Quotes from our buyers include: "Maintenance is minimal, taste is excellence, and durability is far beyond other similar products." – "This thing feels bomb-proof!" – "Near perfect 3L hydration system" – "The most reliable in terms of leak-proof and easy to clean." and "No lie, these things are tough as nails." are just some of the headlines.
As our company SOURCE is celebrating its 30th anniversary next year, and as our hydration technology keeps setting a high standard for our competitors, we promise to continue our path, innovating and providing best gear for outdoor activities also in the 30 years to come.
We've been getting loads of great test-reviews in leading outdoor magazines and blogs. Here's some background info on why our Source Hydration Systems are "Best in Test" in the UK Trail Magazine and why the US Backpacker Magazine calls our reservoir the "better bladder".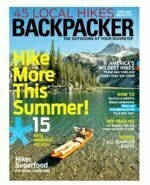 For the latest issue of the U.S. Backpacker Magazine the tester kept fresh water in our Source WLP Reservoir for eight (8!) weeks and confirmed: the water still tasted like fresh water.
"Source says their reservoirs don't need to be cleaned or emptied after use to prevent slime buildup. Our tester left water in the Source WLP for eight weeks without cleaning and reported no stinky taste or smell."
The water in the Source bladder still tasted like water. While the same test stated: "Water left in the Camelbak bladder for three weeks became musty." (Backpacker July/August Issue, read more in our blogpost on Source Outdoor: "Best in Test")
This Source advantage is owed to our unique TasteFree™ System.
What is the Source TasteFree™ System all about?
One of the reasons Source bladders provide healthier and tastier hydration: we're the only ones using PE (Polyethylene) film for the reservoirs. A material that offers plenty advantages by itself.
Additionally, due to our GlassLike™ Film Technology, our reservoir is too smooth for bio-film to build up (see blog post: Source 2,000% smoother). Thanks to this smooth surface all our reservoirs are practically self-cleaning. There are no residues.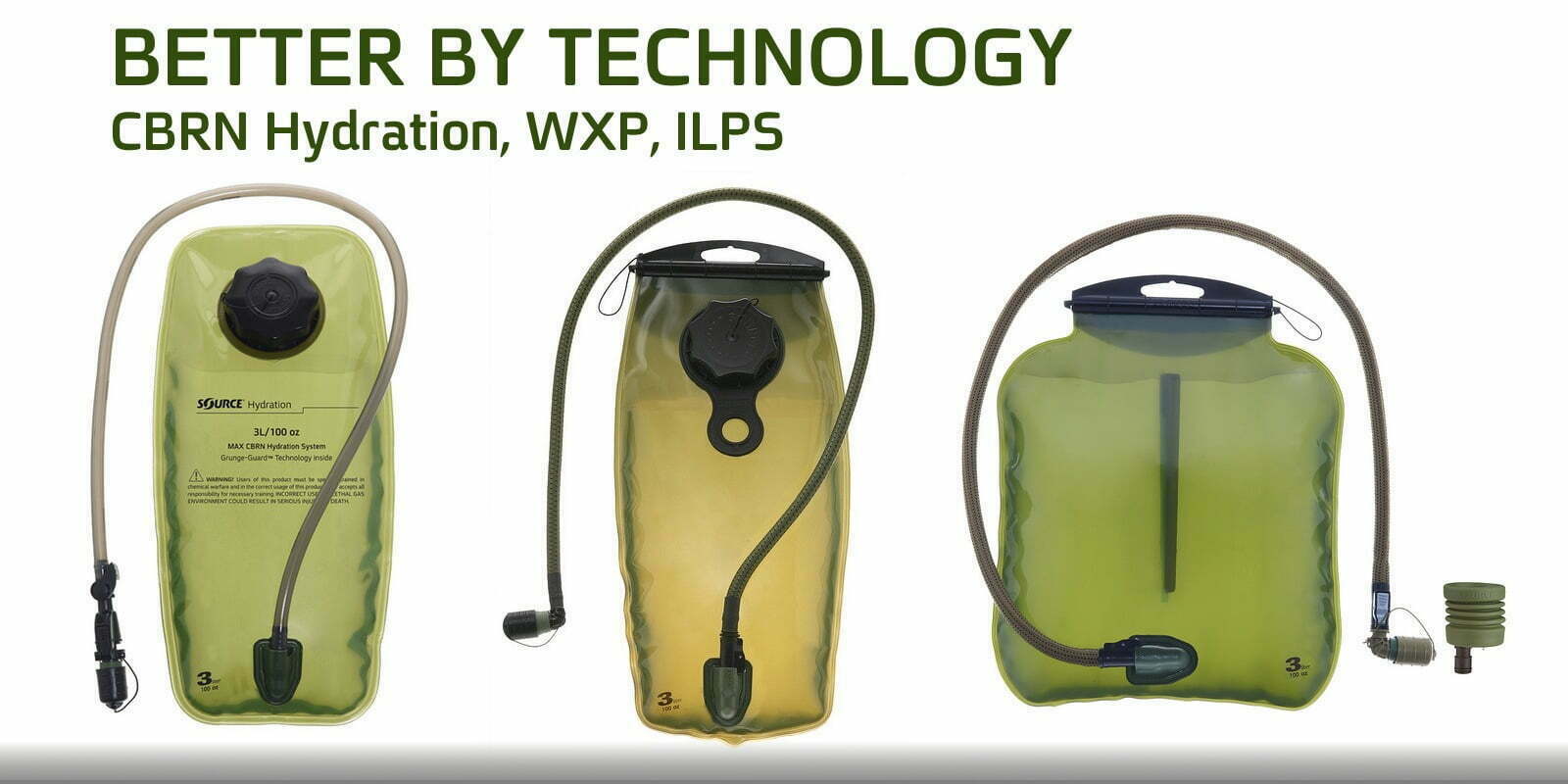 Smooth tastes good …
Thanks to our GrungeGuard™ technology the anti-microbial agent is embedded in the actual film of the bladder. It's not just a coating! That makes a world of difference: the protection does not wear off with time – making the bladder long-lasting and practically care-free.
Easy handling and care: It's the original Widepac!
Last but not least: Testers and users all love the easy handling of our bladders. Amongst other details, we invented the original Widepac opening – Source reservoirs opening wide like a paper bag. A feature that others have tried to copy.
The original Widepac opening allows easy access for filling, emptying and drying. Closing the bladder with the patented Source Wideslide is fast and easy.
And we keep inventing
The Widepac opening, the Wideslide (patented), the Universal Tube Adaptor (patented), the Convertube: All these and many more products and features were invented by Source. Try us!
Here's our full selection of Source Tactical Hydration Systems to order online (free worldwide shipping included from $60 USD).
Don't forget to also check out the special features of our non-tactical Outdoor Hydration Systems.
SOURCE hydration bladders are practically self-cleaning. One of the key reasons: The unique Glass-Like™ Film Technology, which makes the surface of our bladders almost as smooth as glass. To visualize the fact, we had specialists perform microscopic imaging of our bladder's surface.
The surface of our multi-layer Polyethylene film for the SOURCE hydration bladders is almost as smooth as glass. The microscopic detail is one of the key elements for long-lasting taste-free and hygienic storage of liquids. The Glass-Like™ surface prevents bio-film build up, making the system practically self-cleaning. The test shows: SOURCE's Glass-Like™ Film is 2,000% smoother than standard TPU films. It's obviously SOURCE – Better by technology.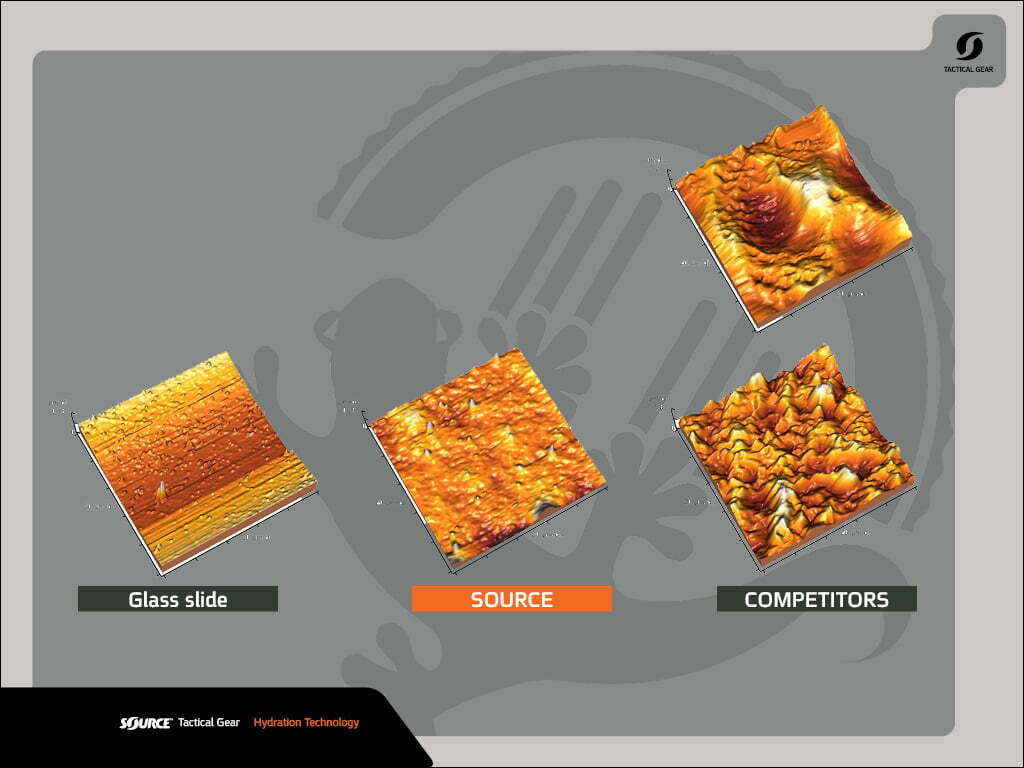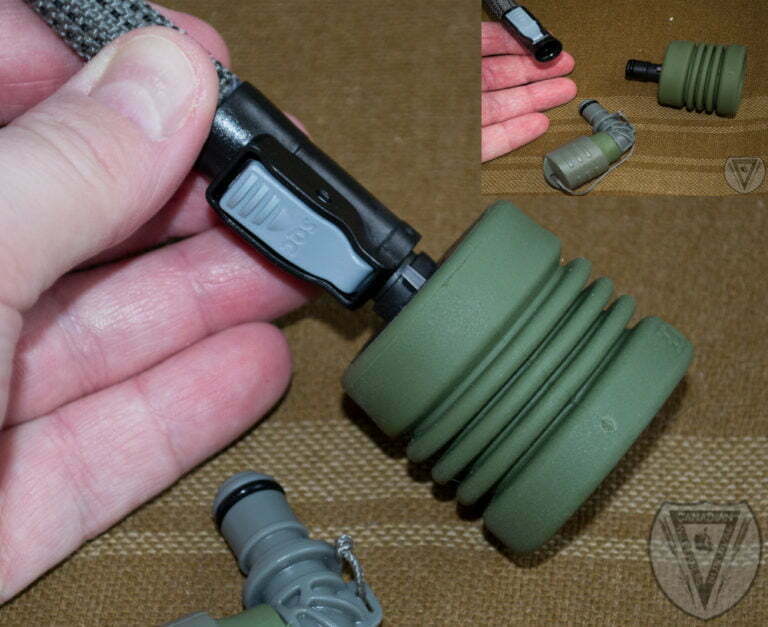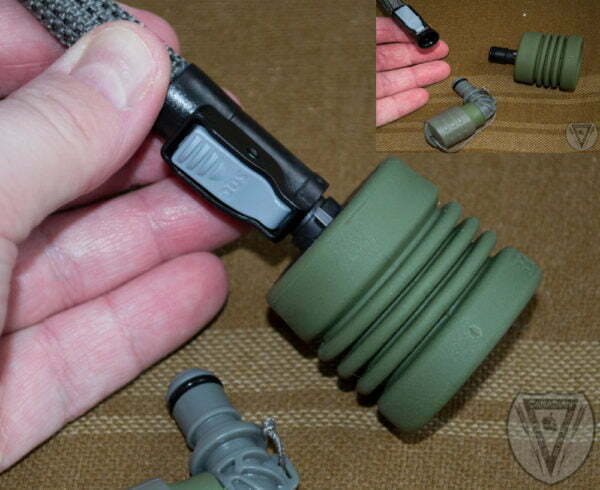 Check out this UTA review by CanadianWildernessSurvival.com:
"I carry the UTA everywhere I go and it's been outstanding, allowing me to fill up and be on my way in seconds. No longer do I have to take the pack off, pull the bladder out, open it, pour in the water, put it all back in, hell it even sounds time consuming when I say it! Now with the UTA all I do is unclip my hose tip, lock on to the bottle and pour, and you're done! I think it doesn't get any simpler or faster than that!"
Click here to read the full review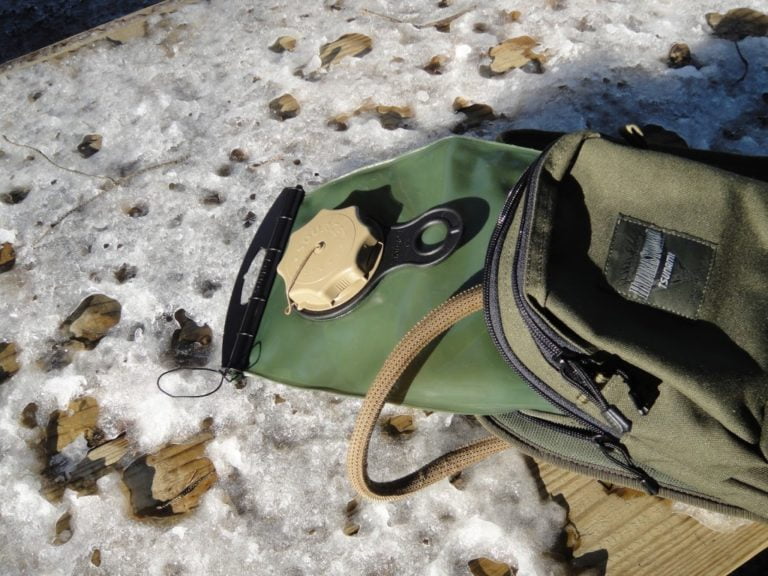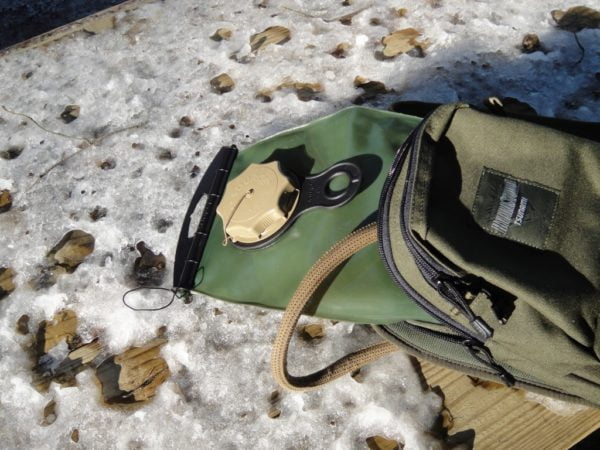 This awesome review was brought to our attention recently and we decided to share it with you.
Read this and you'll understand why:
"The Source WXP Hydration bladder is a bomb-proof, Tier 1 piece of kit that goes above and beyond the competition, and sets a new standard for what we should expect out of a Hydration bladder in the 21st century. I could not be more satisfied with it and for $30 and with many stocking retailers in the US, there is no excuse not to get one."
Click here for the full article:
http://thepracticalsurvivalist.blogspot.com/2012/02/hydration-system-review-part-2-source.html
This is the reservoir that was reviewed:
http://source-military.com/stand-alone/31-wxp-3l-helix-valve.html
Note that this is an independent review we had nothing to do with.
If you come across more SOURCE product reviews – let us know…