The Royal Marine Operational Shooting Competition (RMOSC) has one standout feature: competitors are required to carry 31 pounds of gear. Royal Marine Reservist Cpl Al Kendrick won this year's RMOSC edition – thanks, in part, to the smart load distribution features of SOURCE Virtus.
SOURCE Tactical Gear is all about providing you with smart and excellent gear enhancing your performance, lessening burden, reducing stress and enabling you to go further and achieve best possible results. Last week, Cpl Al Kendrick, Royal Marine Reservist and one of the Virtus Fielding Instructors for the UK Armed Forces, excelled in what he does: winning the prestigious Royal Marine Operational Shooting Competition (RMOSC) – utilizing VIRTUS to carry the required 31 pounds of gear.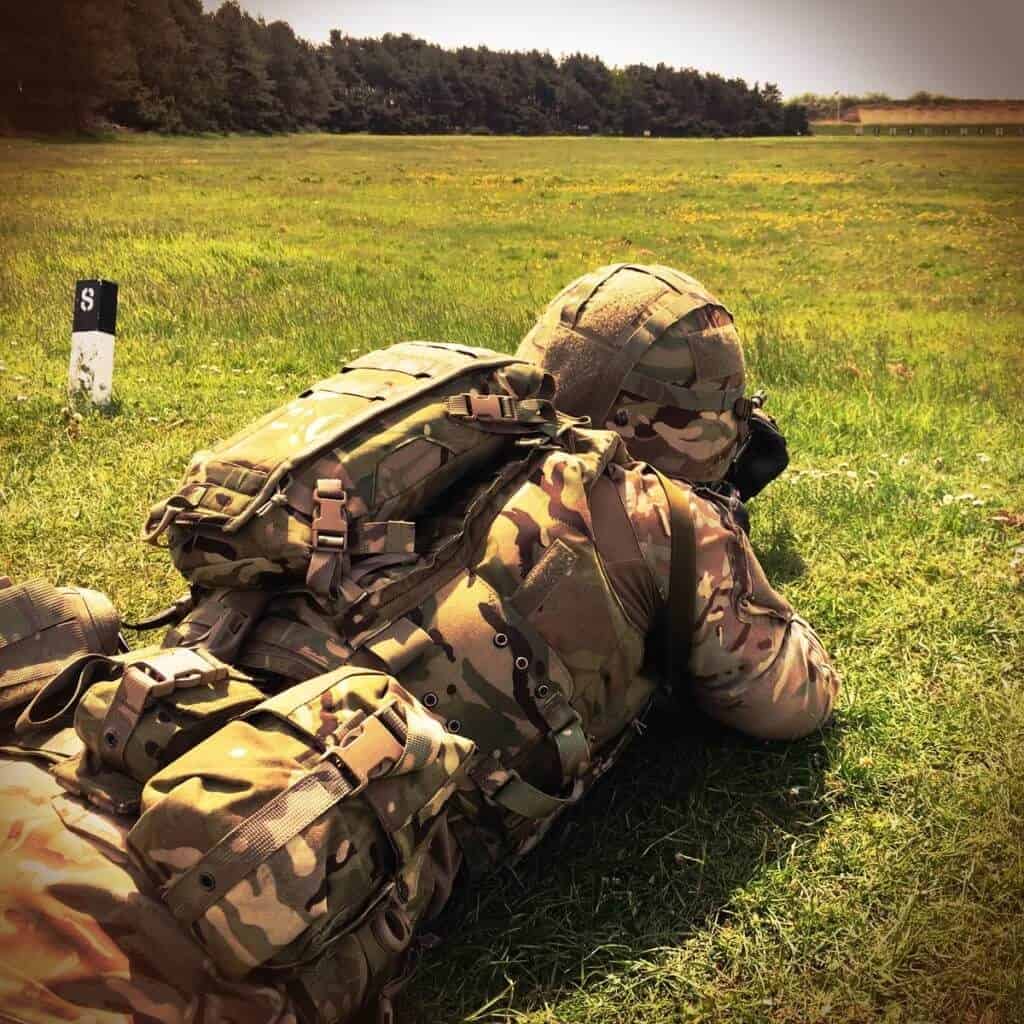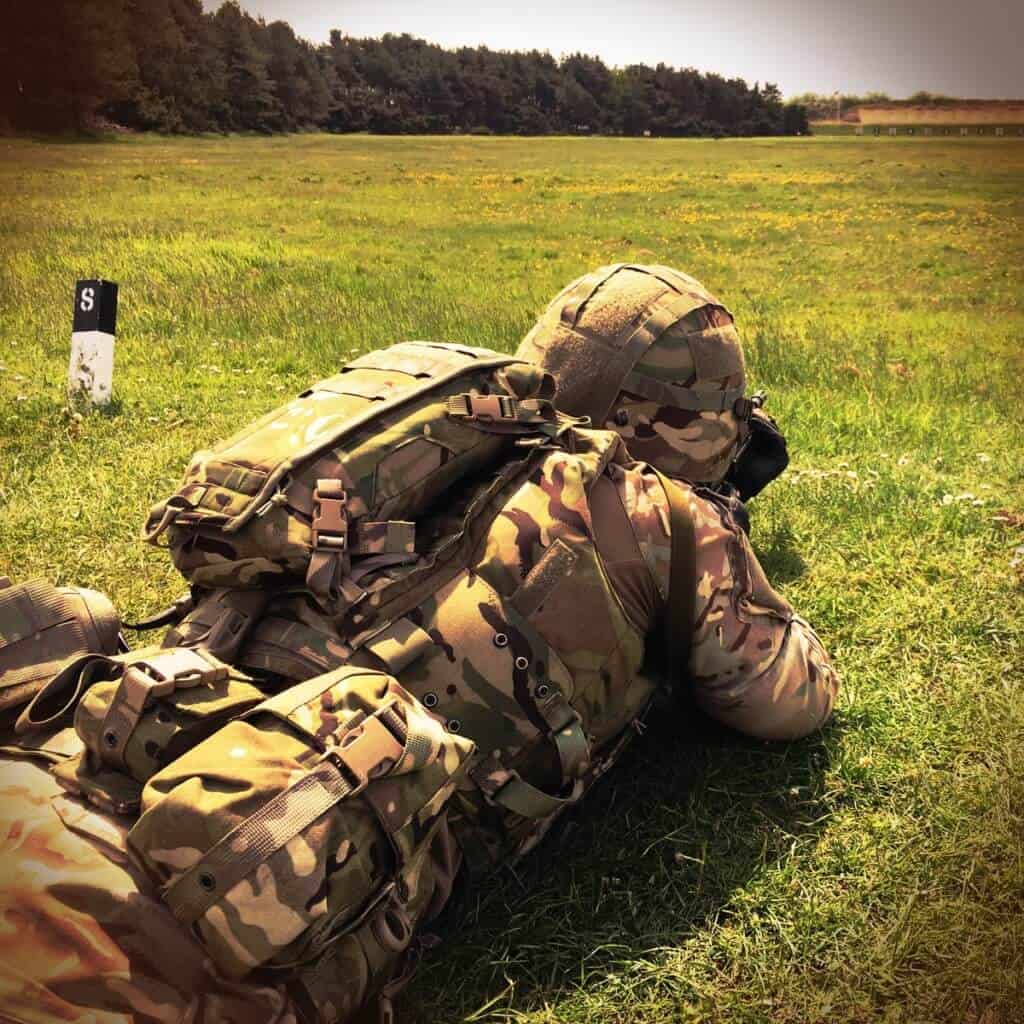 100M Sprints, Stretchers and a 1.5 Mile March …
The different stages and shoots in the two-week RMOSC involve 14 pistol and rifle shoots, replicating different combat scenarios, some more some less physical, involving different types of targets and directives. In all of the shoots, participants are required to carry armor, helmet, webbing and gear weighing in at over 30 pounds.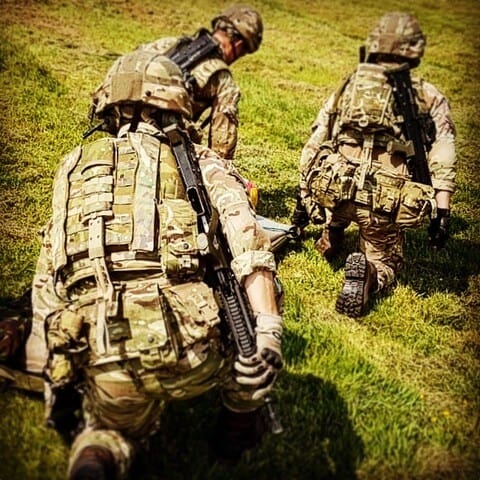 Advantage: VIRTUS Soldier System with DWD Load Distribution
"The VIRTUS Tactical Vest in combination with the DWD Load Distribution System was definitely a massive advantage over older gear" Cpl Kendrick confirmed after his win. VIRTUS gives you "more range of movement and the weight is spread almost unnoticeable around the body". Also the possibility to easily shift weight from shoulders to hips and back – depending on mission, situation and position – adds freedom of movement and comfort.
Congrats Al from all of us at SOURCE for the outstanding achievement, we're proud to have you as a member of the Virtus team!
Las Vegas SHOT Show is one of THE highlights in any professional's calendar. we are looking forward to interesting meet-ups and we're presenting VIRTUS and our latest product news at this most comprehensive destination for law enforcement, armed forces, private security and other special operations professionals.
More than 65,000 professionals keep coming back for the Best in Defense and Safety, latest equipment, newest products, must-have technology – and nothing less is expected every year at SHOT Show.
SOURCE VIRTUS Soldier System + Product News
This year we present our SOURCE VIRTUS Soldier System as chosen by the UK MoD including the groundbreaking SOURCE DWD Weight Distribution System – which had its industry premiere at last year's SHOT Show. We will have VIRTUS on display and demonstrations on request and by appointment only (get in touch to apply for a last minute appointment).
Discover our product news and the new colors of our best selling Patrol 3 day pack and Kangaroo hydration pouch (also available shortly in our SourceTacticalGear.com Online Shop). Download our 2016 SOURCE Tactical Gear Calendar hot off the press, and come see us at SHOT Show booth no 7106, Level 1, Law Enforcement section!
SOURCE Virtus Soldier System, the new personal protection and load carriage system developed by SOURCE Tactical Gear for the British Army, is premiering at the 2015 DSEI exhibition in London.
SOURCE is supplying the British Army with SOURCE Virtus Soldier System, a new fully integrated, groundbreaking personal protection and load carriage system. At the biennial Defence & Security Equipment International (DSEI) exhibition in London we proudly present Virtus, which is based on, amongst other key attributes, its class leading VIRTUS Dynamic Weight Distribution system, enhancing the operation effectiveness of the dismounted combatant.
Our SOURCE Tactical Gear booth at DESI London has been buzzing, check out the pictures below for a glimpse of the action and get a first look in our SOURCE Virtus Soldier Systems First Look clip above!
From all our Tactical Hydration Systems, Packs and Footwear on display, one particular exhibit attracted special attention at our SHOT booth last month: For the first time we displayed the revolutionary DWD load distribution system our developers have been working on for years.
In the coming months we'll follow up in our blog here with more details about the unique new Dynamic Weight Distribution System (DWD). At IWA Show in Nuremberg (March 6-9) we'll have the DWD on display as well. Please set an appointment for presentation and demonstration of the unique features and functionality. And sign up for our newsletter now and we'll keep you up to date!
SOURCE Vagabond Systems Ltd. awarded a multi-year contract by the UK MOD to supply integrated personal protection and load carriage systems to the British Military.
SOURCE Vagabond announces that it has been awarded a multi-year contract to supply an initial quantity of 9000 personal protection and load carriage systems to the British Army, based on, amongst other key attributes, its class leading VIRTUS Dynamic Weight Distribution system, to enhance the operation effectiveness of the dismounted combatant. The awarded contract is for a firm term of three years, and can be extended, by the UK MOD, until 2026. The first systems are scheduled to be delivered to the Army in September, 2015.
Major General Paul Jaques, Director Land Equipment at MOD Defence Equipment and Support (DE&S), said: "DE&S is committed to supporting the Armed Forces by providing them with a high standard of equipment and this new personal protection and load carriage system meets that requirement. In challenging troop trials we found it performed exceptionally well and was a step change improvement on the in-service equipment. Key is the integrated nature of the system that enables the soldier to operate far more effectively."
SOURCE CEO Ronny Arazi said: "This is a capstone contract for SOURCE, and validates our position as a world class designer and manufacturer of tactical gear including integrated protection and load carriage systems. We are delighted to be able to provide our VIRTUS system to the British Army, after the most comprehensive and challenging competition of its kind."
SOURCE Founder and Chief Innovation Officer, Yoki Gill, added: "The VIRTUS competition provided a once in a life time opportunity to work with a customer with the genuine determination and vision to break the mould when it comes to addressing the needs of the infantry. The award of this contract demonstrates the level of expertise that we have built within SOURCE, in terms of enhancing human performance, in an in-field and combat environment".
SOURCE DWD Dynamic Weight Distribution System
The VIRTUS Dynamic Weight Distribution component represents state-of-the-art performance in relieving the burden experienced by the Infantryman from his personal protection and load carriage equipment. Building on SOURCE's 30 years of experience of human factors integration in both the outdoor leisure and military markets, VIRTUS is the result of a three year R&D programme by SOURCE, working in conjunction with several leading research institutes in Israel. The VIRTUS system has been demonstrated to reduce the biomechanical, physiological and cognitive stress experienced by the infantryman, enhancing his endurance and operational effectiveness.
In securing the VIRTUS contract, SOURCE has been supported throughout by its UK partners, including SEA Ltd, the Cooneen Group Ltd, and its military agent Falco-P Ltd, managed by Charles Clee and by its global partners, Revison Military BV, Barrday Inc., Ahidtex Ltd. and Wise-Pearl Ltd.