Meet Melanie Faville, WOR Pro Team Member
"Since the start of the Obstacle Course Racing phenomenon, it was clear the sport was lacking in the level of female participation and representation," says Melanie Faville, one of the founders of the WOR Women of Obstacle Racing movement.
Obstacle Course Racing (OCR) continues to be one of the fastest growing sports. Millions of participants sign up annually to test their physical and mental grit by running up mountains, maneuvering through mud, climbing walls, crawling under barbed wire, suffering electrocution and any other obstacle that is thrown at them. The sport of OCR is quickly growing as it appeals to everyone from the weekend warrior to the fittest athletes in the world.
Mother of two boys – Member of 'Women of Obstacle Racing'
Melanie Faville, member of the Women of Obstacle Racing WOR Pro Team approached us recently about Hydration Systems for testing and feedback. As it is: Obstacle Racing asks for maximum flexibility and durability of all gear. This was the ideal opportunity to test our Trail Running-proof SOURCE DUNE Hydration Pack under new extra tough conditions.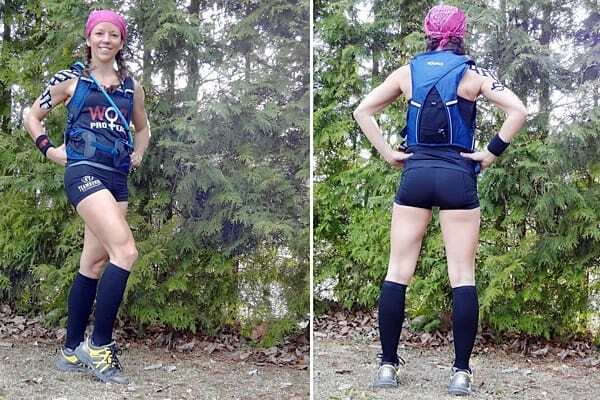 First running for stress relief …
Also, we were impressed with Faville's approach to sports and to life. She is a mother of two young energetic boys, and she shares her love for fitness and Obstacle Course Racing (OCR) with her "amazingly supportive husband", as she tells us in an email about herself. But how did she get into Obstacle Course Racing?
"I have a past that's sprinkled with athletics and I've always taken part in some sort of sport or outdoor adventure." After her children were born, she got into running, first just "to relieve stress", then races, and over the last years Obstacle Course Racing.
… now WOR Pro Team Member
She is part of an active community, a team called Team Burgh counting about 100 members, with a core group training on a daily basis. Proudly she adds: "I am currently a WOR (Women of Obstacle Racing) Pro Team member. A group of women in the Obstacle Racing circuit that promote and empower women to go beyond what they may think they are capable of."
Faville is happy to share her passion, to inspire and to encourage healthy living. And to encourage more women to sign up for OCR. We'll have her feedback on the SOURCE DUNE Hydration Pack pack here in our blog in the coming weeks.