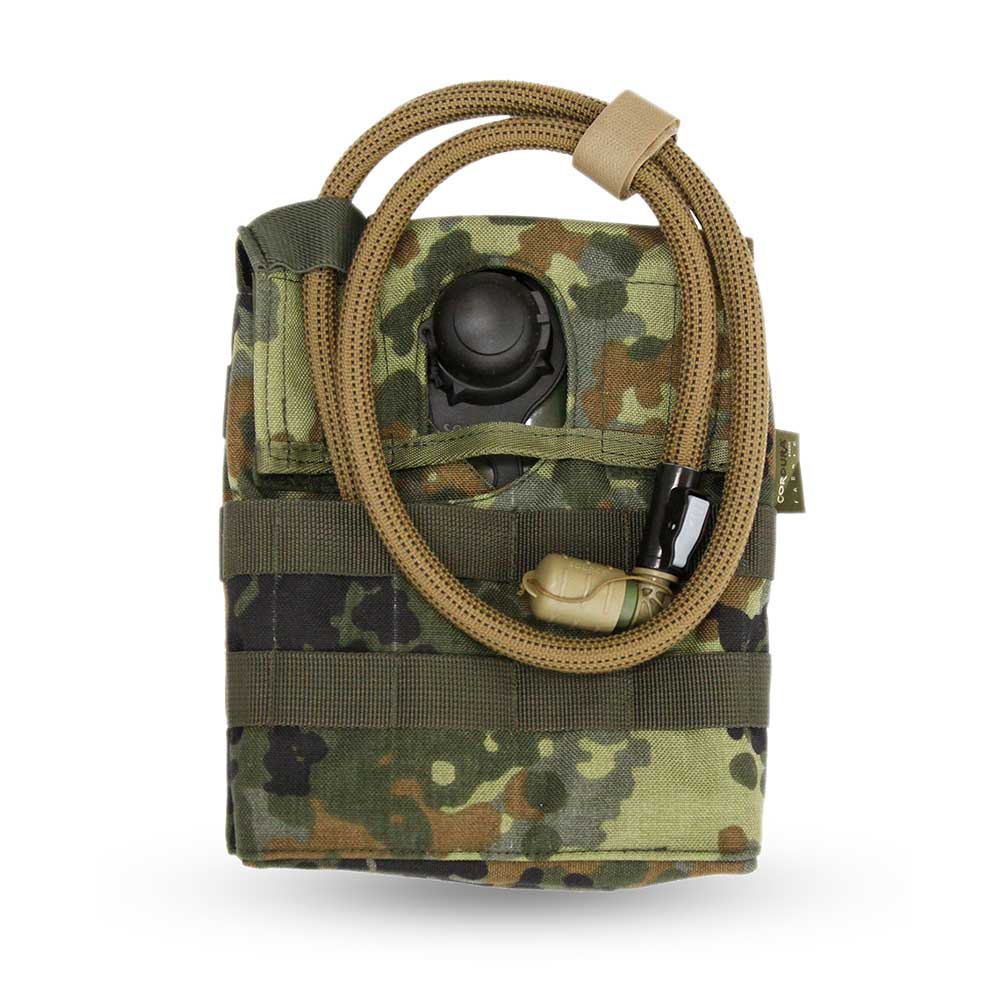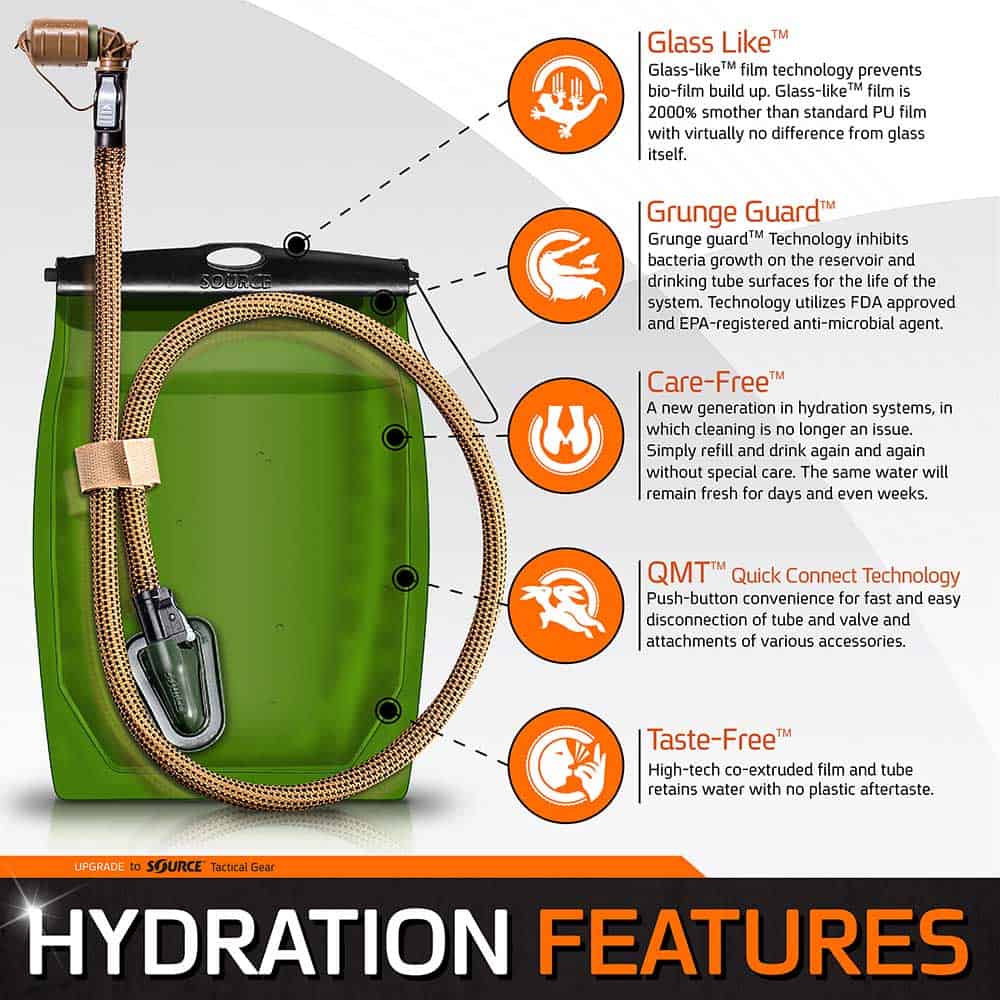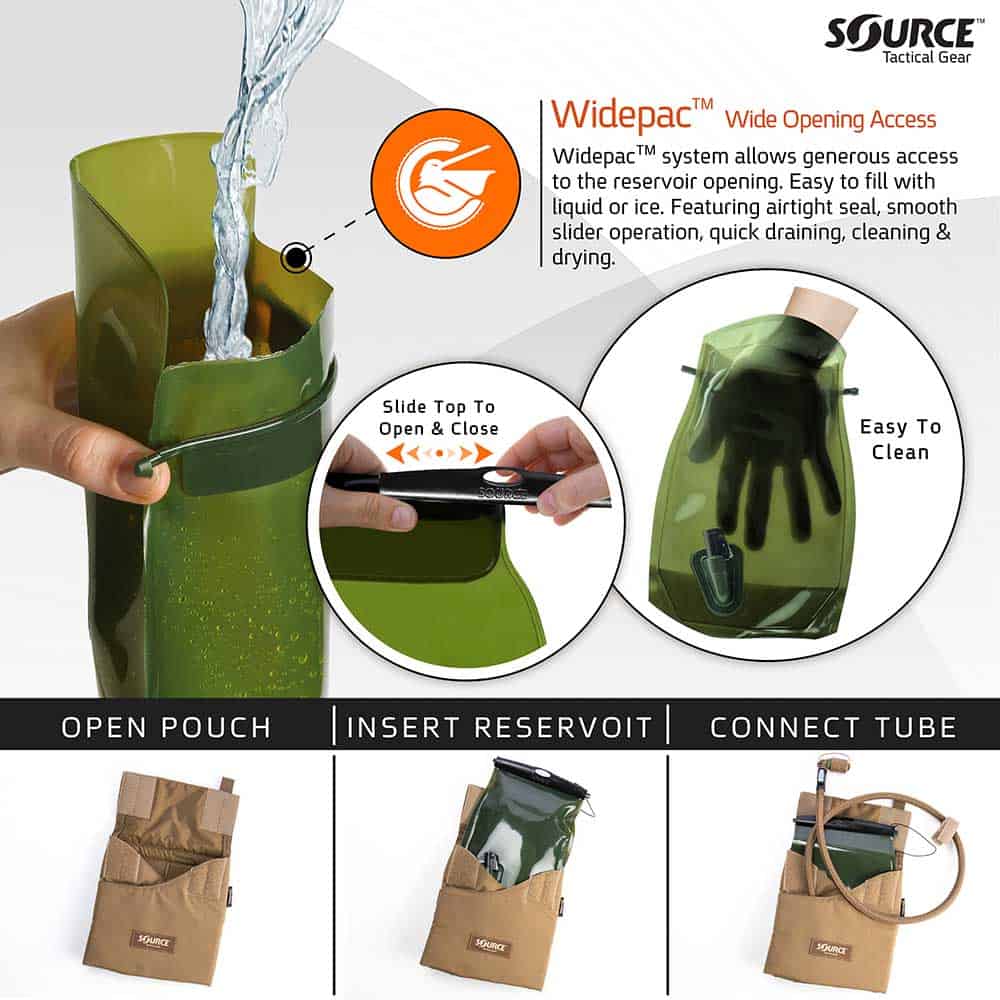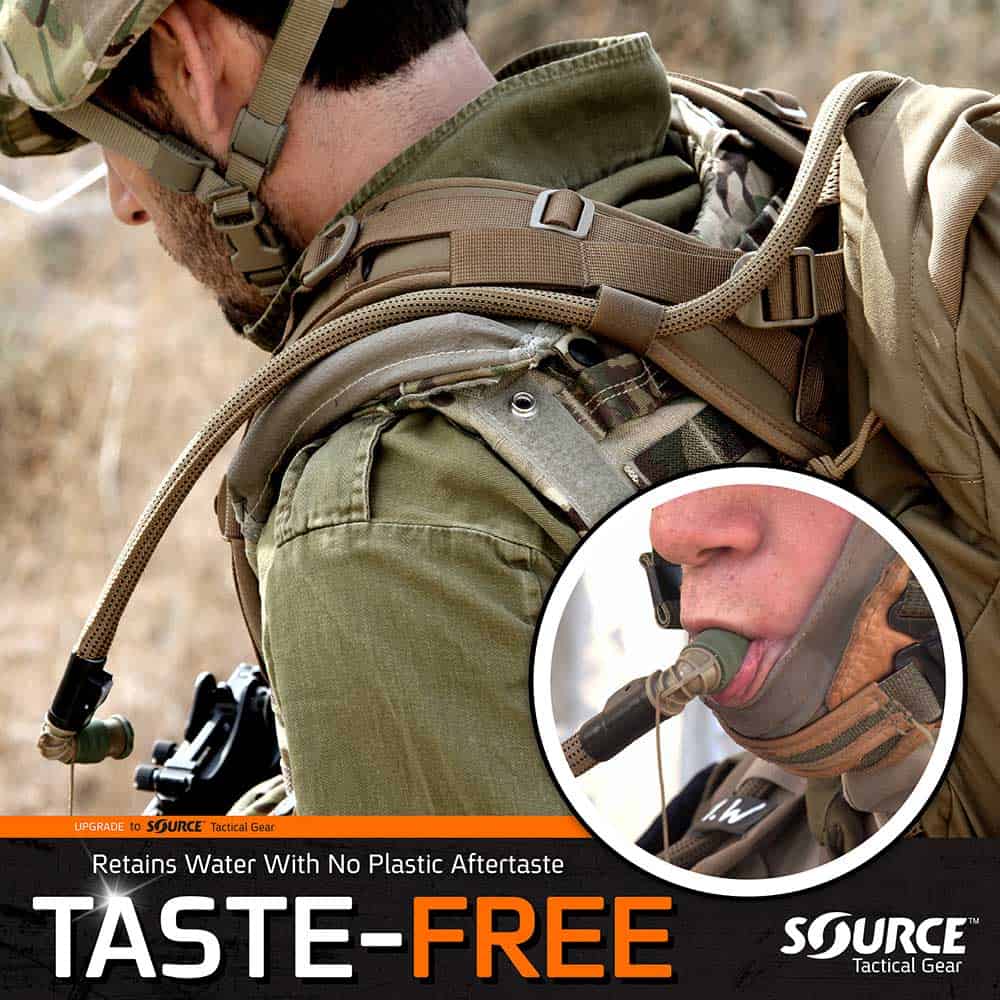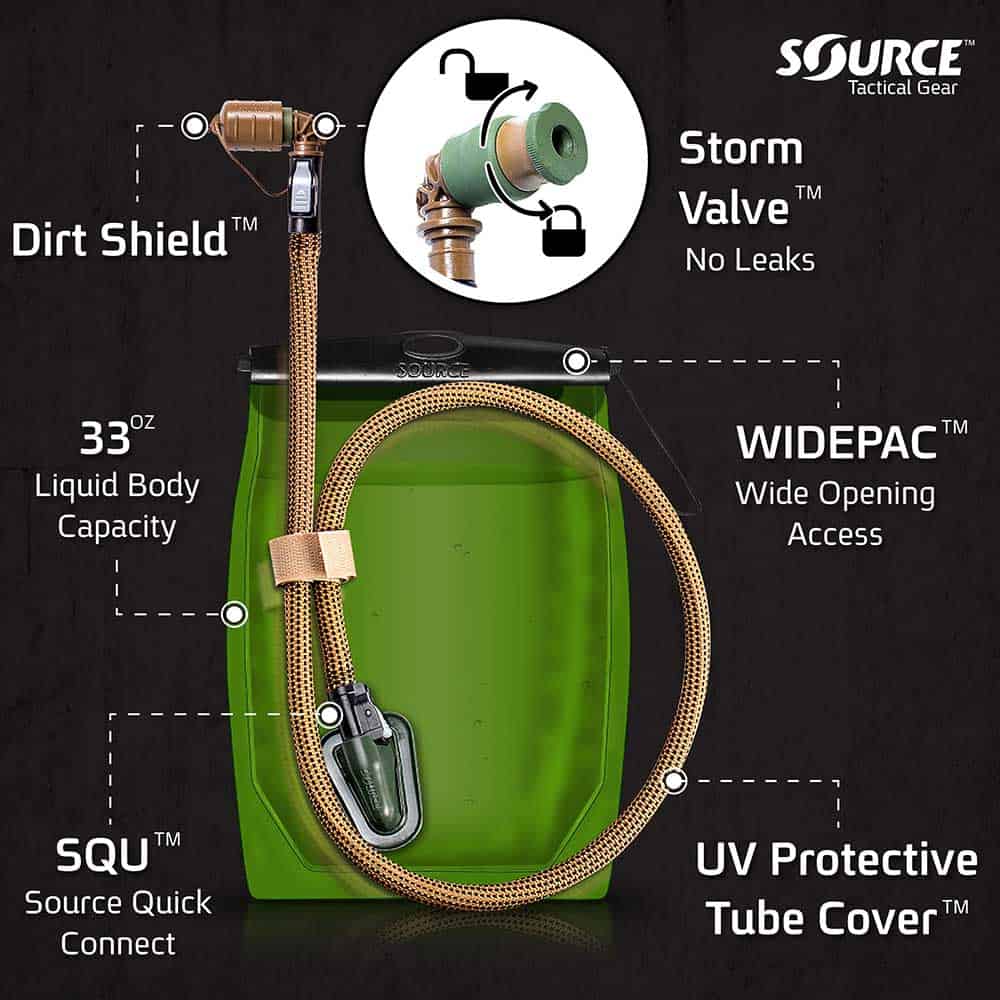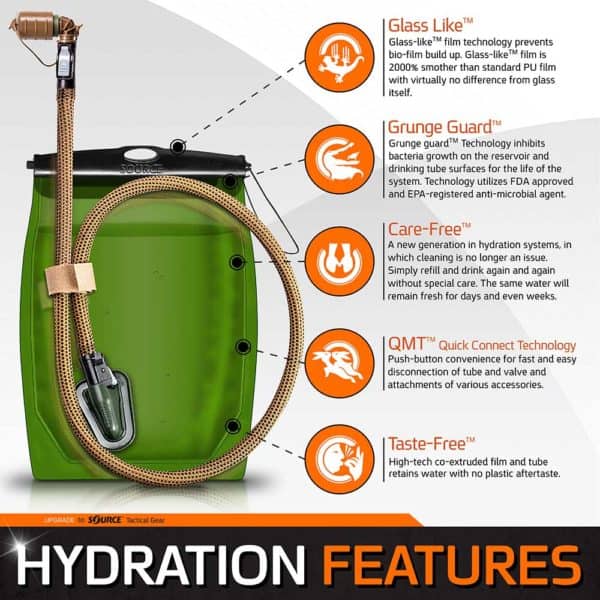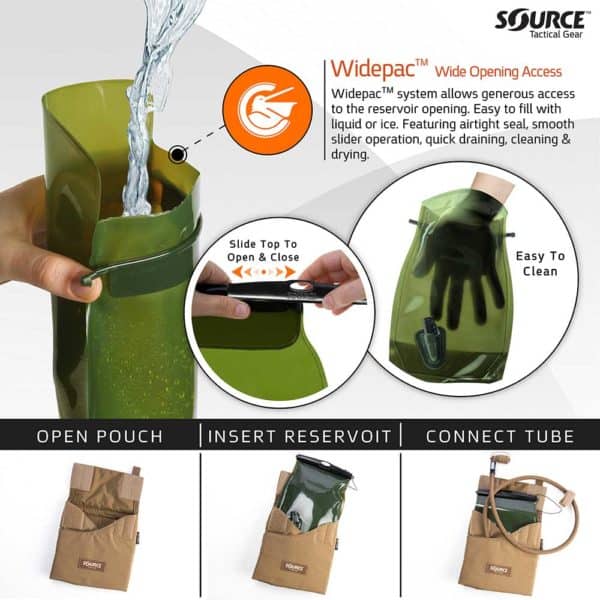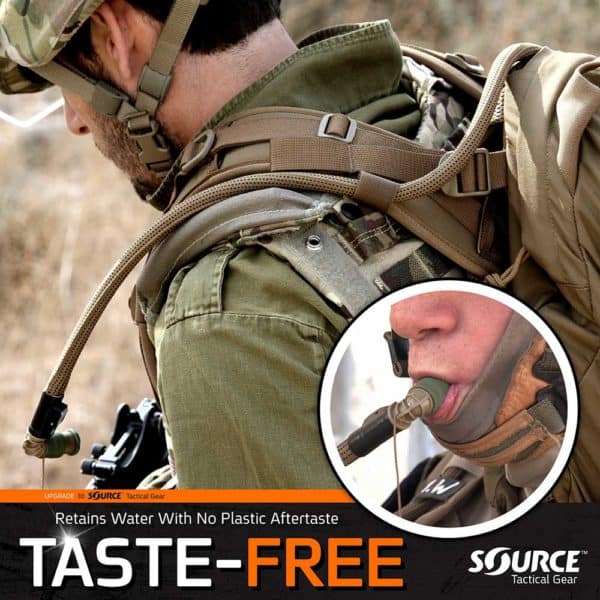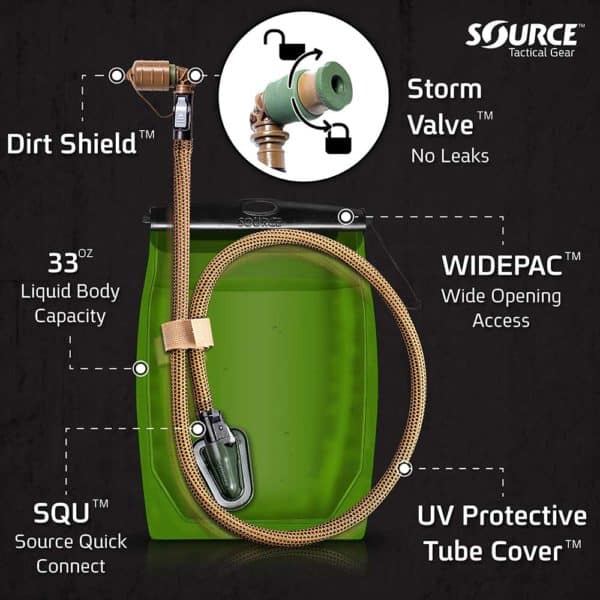 Kangaroo Pouch |
Woodland | Outlet |
Tactical Hydration
Pack | 1L (32 oz.)
The Kangaroo pouch is a modular pouch canteen/hydration system that works where back mounted systems often do not. Its 1L hydration bladder is made from SOURCE-developed, 3 layers of coextruded Polyethylene film featuring Taste-Free, low maintenance, a Glass-Like surface, and integrated Grunge-Guard antimicrobial protection.
Enter your email address to notified when this item is back to stock.
Information
Color
German Flecktarn Woodland
Exterior Fabric
Cordura 500
Adjusting Straps
Heavy Duty PP
Reservoir Capacity
1 Liter
Hydration Extras
Dirt Shield
Tube Cover
Drinking Valve
Storm Push-Pull Valve
Drinking Tube Length
94 cm / 37 in
Bladder Design
Widepac Opening
Dimensions (cm)
19 × 1 × 21 cm
Description
Tactical Hydration Kangaroo Pouch is compatible with the Kangaroo Hydration System for easy attachment to vest or war belt via MOLLE webbing. Never worry again about drinking during a hike, tactical mission, or camping adventure. Carry your military hydration pack inside the Source velcro Kangaroo Pouch.
Transfer it easily from your tactical hydration backpack, to your MOLLE carrier, or to your bulletproof vest. The Kangaroo Pouch will protect and insulate your Souce tactical bladder, by blocking UV light to prevent bacteria growth.
Features of the Kangaroo Pouch
High performance 1L Hydration Pack for attachment via MOLLE to vest or war belt.
Compatible with 1L Kangaroo bladder (sold separately).
Velcro opening for easy access to the hydration bladder.
Closed-cell insulation keeps water cool.
The tube routing velcro strap prevents the tube from dangling.
Drain eyelet drains condensation in the insulated reservoir sleeve.
Features of the 1L Kangaroo Hydration Bladder
Hi-Flow Storm-Valve: No-bite, push-pull valve with integrated shut-off mechanism. Easy disassembly for cleaning. Can be exchanged easily with our Helix bite valve (sold separately).
Angled valve design: Turns 360 degrees for perfect valve/mouth orientation; allows the tube to be 25cm shorter; less excess tube bouncing around the chest.
The drinking tube comes with a weave cover sleeve that keeps the water in the tube insulated, and blocks UV light to inhibit bacteria growth. A dirt shield valve cover to protect the mouthpiece from dirt is included.
Leak-proof Wideslide opening for easy filling, emptying and drying.
The dirt shield valve cover protects the mouthpiece from dirt.
Self-sealing SQC connecting the drinking tube to the bladder: simply disconnect the drinking tube when inserting/refilling the bladder.
A drinking valve connected with quick coupling allows for a quick attachment of accessories like SOURCE UTA Rapid RefillAdaptor, Helix Valve, or filters without spilling.
Tough 3-layer construction featuring Glass-Like, Taste-Free, and Grunge-Guard antimicrobial protection.
This version includes a Bottlecap opening.
Customer Reviews
01/26/2023
David D.

CA
Kangaroo 1 Ltr H2O pouch
Very well crafted, little smaller at 1Lt than I'm used to (2-3ltr) but will be excellent for small day walks. The mollie helps with attachments to my day pack.. the quick release is brilliant. Tried it out with a 500ml plastic bottle for refilling while wearing it, work out well. I could have done with this system during my 33 years in the military 😂 instead of having to strip the camelbak off every time it needed refilling.
Related Products